Connected Freeview comes a step closer today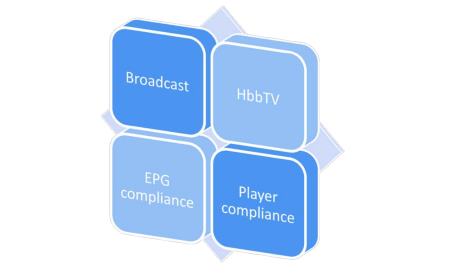 Brian Butterworth
published on
UK Free TV
Isn't this YouView?
It is somewhat sad that YouView has ended up the way it is. The main two ISP (BT and TalkTalk) have seen the system as a way to front-end their internet TV services. The first hardware was too slow to deliver a desirable service (turn it on and use it) and the interface seemed to have all that was to be expected of an Amstrad product.
Freeview reboot?
The "Freeview's connected TV service" (a working title only) starts out with five main aims:
Easy access to both broadcast and on-demand content
Freeview is the unifying banner to drive take up
Free and unbundled service
Open and collaborative
Adopting international standards
TV in 2014
Here (thanks to Digital UK) is a diagram showing the current state of TV system in the UK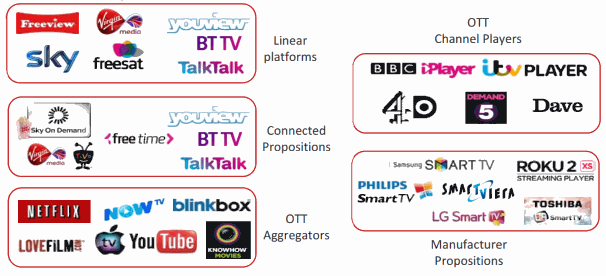 Linear platforms are systems that provide traditional TV broadcasts as most people seem to understand them.
Connected Propositions are the services that provide access to free and pay TV services adding online viewing to a linear platform. These systems own everything and provide from the broadcasting system to the set-top box.
OTT Aggregators – "Over The Top" in this sense means providing on-demand video services over the internet (and not broadcast channels). OTT means provision of the content, but not the user's hardware.
OTT Channel Players are both the user interface software interface and marketing of content by a broadcasting business.
Manufacturer Propositions is the software and interface that is provided as part of a "Smart TV" or by a small computer that attaches to a TV via HDMI and the internet.
Connected Freeview
Connected Freeview will start out by using existing technical standards, merging current Freeview box standards (D Book Part A, DV- T2) with international standard HbbTV 2.0. This will keep costs down, as with Freeview and DVB-T.
The service will set the rules for the boxes interface design and provide the "metadata" to allow for a backwards EPG as well as access to VoD services such as iPlayer, ITV Player and 4OD.
The specification will also provide clear testing to ensure that boxes sold to customers will be worthy of the multi-million pound marketing campaign to promote them.
Does anyone want this?
According to Digital UK research:
Homes with connected TV prefer their set-top box because they are "quick and seamless"
Freeview is a trusted brand, a connected service would keep consumers choosing Freeview
Free catch-up makes consumers questions pay TV.
Want to know more?
The technical specification is available at digitaluk.co.uk/connectedtv
Comments
Monday, 1 December 2014

But it is not so good for those in areas where the internet provision is only 2 Mbps at best or even non-existent. A number of the more rural areas are not being covered by the Government promoted provision of fibre-based services and the minimum service expectation, it is not a requirement, is just too slow for streaming live TV - especially if the house occupants try to do something else on the internet at the same time.
At least UHF terrestrial signals reach the vast majority of the population, even though some don't get the COM services coverage due to the restricted numbers of people to see the advertising which pays for the services. I know a few areas have topographical problems (such as hills and mountains or big buildings in the way) preventing UHF reception but many of those, not all though, can get a satellite based TV service such as Freesat.
The issue is about the lack of 'universal' coverage at a data rate good enough for TV streaming as well as other normal usage at the same time (Mum and Dad watching TV while children play on-line games, etc).
People have come to expect a universal TV service covering virtually the whole UK land mass, the internet does not do that (my friend in Sutherland is too far away from a town to get internet but does get TV) so the service could not be 'universal'.
Add to that the fact that there are people who do not want and will not have anything to do with internet services, partly because of the extra costs involved and they see no usage for it in their household. 'Techies' will wonder if such people exist - I can assure them they do and in larger numbers than some care to admit.
Internet is not, in my considered view, the future for TV services.

MikeP's 3,056 posts
Tuesday, 2 December 2014

"The issue is about the lack of 'universal' coverage at a data rate good enough for TV streaming as well as other normal usage at the same time (Mum and Dad watching TV while children play on-line games, etc). "

Exactly. To pick on our own circumstance, even if it is possible to just about scrape though, would it be fair for me to view some streaming video knowing full well I'm making my father's life on ebay difficult? The policy we have at home is about sharing a limited resource as best we can.

Jon's 15 posts
Wednesday, 10 December 2014

Freeview over internet sounds great... if you have broadband.

Unfortunately, millions of TV viewers in the UK do not have an internet connection for reasons of cost, geographic location or even personal choice. Among those that do have internet access, many are only able to receive dial-up services while others have broadband speeds below 2 Mbps.

Since the demise of the universal analogue service, Freeview is the only free service available. Moving Freeview to the internet - even for part of the service - would disadvantage millions who have no alternative, and that is unacceptable.


Vic's 3 posts

Vic:

Here, Here. I totally agree having just moved from a rural area that can't get a reliable internet service and certainly not one that achieves 2 Mbps. Even that is too slow for modern usage just for the TV service in SD. Addin other uses (google searches, games, etc) plus Skype of VoIP and it's way too slow. Many homes have more than 1 TV set and would wnat at least the same services from the internet - and often at the same time (family with kids having TV in bedrooms, computer for homework, etc) and 2 Mbps is woefully lacking.
Plus, as you say, there are huge areas that are still 'Not Spots' for internet. And of course there is personal choice. We also have to realiused that many people in the older age range do not have an wish to have anything to do with the internet at all, so it is wrong for people to imagine that 'everyone' wants internet or digital anything.

MikeP's 3,056 posts
Select more comments
Your comment please