What is in store for the next round of BBC cuts?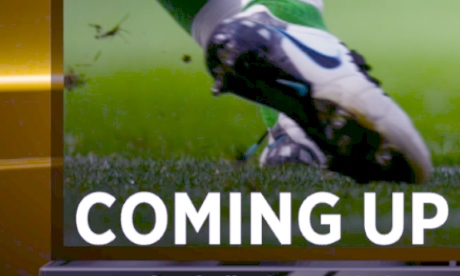 Brian Butterworth
published on
UK Free TV
Perhaps one should not be suspicious, but Anne Bulford's "Driving efficiency" report[1] was published by Reform, rather than the BBC and it missed out one rather important graphic[2], which I have shown here: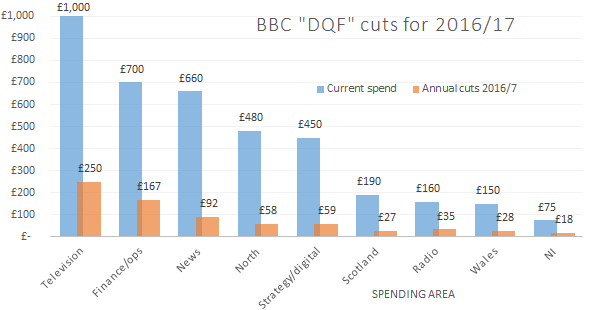 Let's explore what this means. Here from my earlier posting are the costs per hour and the total annual costs of various BBC services.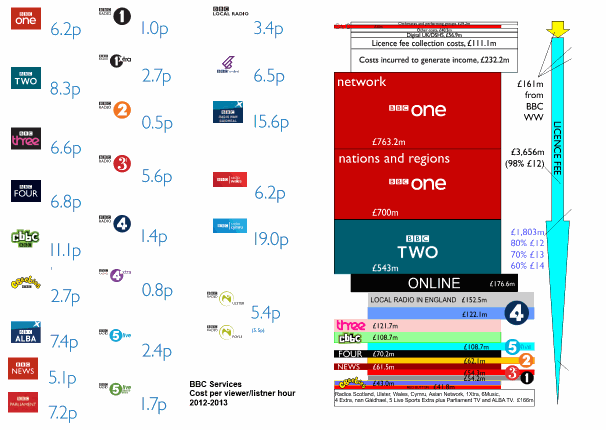 The BBC is going to have to take tough decisions because this amount of money cannot be saved without some services going off air or being cut considerably.
£35m a year from Radio
If Radio 4 is protected, I suspect that this means that Radio 3 will be reduced by two-thirds to a peak hour's service, plus the possible "merger" of 1Xtra into Radio 1. Other possibilities might be the "merger" of Radio 3 and 4, with classical music being reduced to The Proms and selected other evenings.
More networking of BBC Local radio in England, using Radio 5 Live as a sustaining feed.
£250m a year from television (not sports, news or Children's)
With BBC One being generally efficient, the cuts could be achieved by making BBC Two a less extensive service (perhaps making half of peak as repeats), with the parallel closure of BBC 4, replacing the channel with a cheap BBC Two+1.
Cut back of BBC regional news to evening programme only and reduction in length of programme to 20 minutes daily, much in line what ITV has done. Also the merge-back of the Oxfordshire service into South Today and the recombination of Look East into a single programme.
£92m a year from News
General cut of 14% from the scope of programmes.
£58m a year from "BBC North" (Sports, Children's, 5 Live)
Probably cuts like closing of Breakfast at weekends and holidays and reduction in weekday hours, large reduction in CBBC budget, overnight service from 5 Live and so forth. Or moving 5 Live to just relay the TV News channel outside Breakfast and Drivetime news shows.
Given the cost of sports right, perhaps the reduction in scope will mean cutting back BBC Sport to just sports news?
£59m a year from Strategy/Digital
Reduction in scope of new services.
£27m a year from Scotland
Closing of expensive drama, River City plus "merger" of BBC Scotland and Gaelic radio service. Reduction in Scottish news to 20 minutes evening weekdays.
£28m a year from BBC Wales
Cut of welsh-language drama, "merger" of Welsh and English language radio services. Reduction in Welsh news to 20 minutes evening weekdays.
£18m a year from BBC NI
Reduction in NI news to 20 minutes evening weekdays.
£167m a year from finance and operations
This is mainly the cost of workplaces, technology and distribution. Distribution needs to take the most and this will no doubt mean the closing of AM radio, possible move the remains of Radio 3 to digital only.
[1]
Driving efficiency at the BBC: To deliver quality content for the Licence Fee payer -November 2014 [pdf]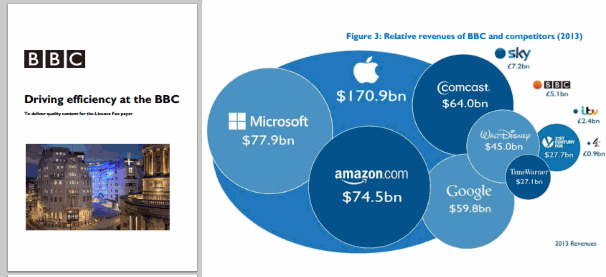 [2] From http://www.broadcastnow.co.uk/broadcasters/bbc-hints-at-savings-focus/5080644.article but with corrections.
Over to you
Try and imaging, rather than what you personally like, but what you think would be best for the country as a whole.
Comments
Sunday, 7 December 2014

For a potential preview of what can happen to the BBC look at what the Abbott government has done to the ABC in Australia.
Be afraid, be very afraid.

Tim's 8 posts

Tim: The BBC's structure (the Trust, the Licence Fee) does allow it to distance itself from the direct interference from government that ABC has taken.

However it does actually mean that the "agreement" that DG Thompson took on board will have much the same effect, just over a longer timeframe.

Briantist's 38,902 posts

Has the idea of the BBC offering it's own dedicated sports TV channel been knocked on the head? It could have been the ideal vehicle for the BBC to experiment with advertising!

SeeMoreDigital's 40 posts

SeeMoreDigital: As far as I know that was never an option.

For one thing it would require a change to the BBC charter (and these cuts happen before that), and with most sport being supported by subscription channels (Sky Sports, BT Sport) and not adverts (see ITV) it seems an rather uneconomic suggestion.

Briantist's 38,902 posts
S
SeeMoreDigital
10:56 AM
Nottingham

Out of interest...

Are all the BBC's 'non UK' broadcast services funded entirely without the support of the UK TV license payer?

SeeMoreDigital's 40 posts
SeeMoreDigital's:
map
S's Freeview map
terrain
S's terrain plot
waves
S's frequency data
S's Freeview Detailed Coverage

SeeMoreDigital: For TV, yes, BBC Worldwide make a profit.

The international radio services are no longer funded by the Foreign Office and are now, from this year, paid for out of the TV Licence. From the report, the BBC has picked up ...

"£500 million per annum of new obligations placed on the BBC, including broadband roll-out, the World Service and funding local TV and S4C. "

Briantist's 38,902 posts

Close it!

Not fit for purpose: massive leftist bias, abysmal production quality, massive bureaucracy, hopelessly inefficient, duplication and redundancy - need I go on?

Richard Baguley's 85 posts

Richard Baguley: Please don't. If you have nothing constructive to say, please say it elsewhere.

Thanks.

Briantist's 38,902 posts

Very nearly all of my listening and viewing is of BBC channels. I can find no programming from any other UK broadcasters worth listening to or watching. I would be happy to pay double the present licence fee to restore the BBC to its 2010 state, or see premium TV content move to subscription only to make up the difference. I would be among the first subscribers.

David Cox's 1 post

David Cox: Sadly, however, the agreement that Mark Thompson didn't allow for that.[1]

It's cut £734 million a year from the budget or nothing. Who would have thought that after a bank crisis that inflation might go above 2%? Who?

[1] BBC budget cut by 16% in spending review, George Osborne confirms | Media | The Guardian

Briantist's 38,902 posts
Select more comments
Your comment please