What is in store for the next round of BBC cuts?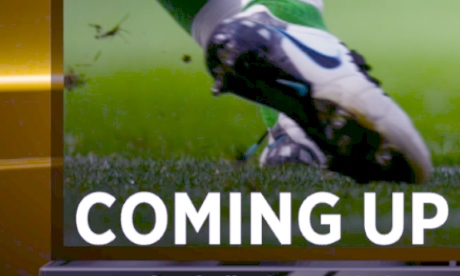 Brian Butterworth
published on
UK Free TV
Perhaps one should not be suspicious, but Anne Bulford's "Driving efficiency" report[1] was published by Reform, rather than the BBC and it missed out one rather important graphic[2], which I have shown here: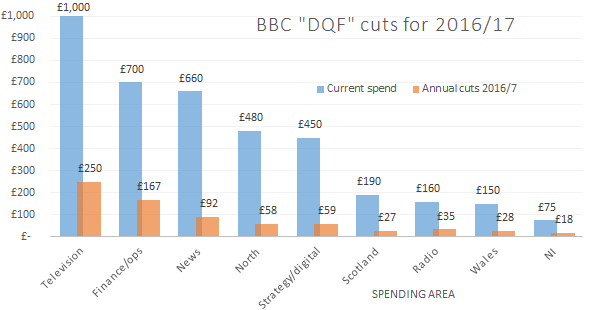 Let's explore what this means. Here from my earlier posting are the costs per hour and the total annual costs of various BBC services.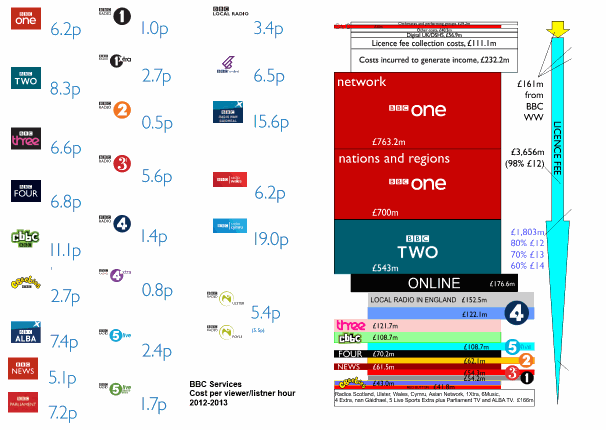 The BBC is going to have to take tough decisions because this amount of money cannot be saved without some services going off air or being cut considerably.
£35m a year from Radio
If Radio 4 is protected, I suspect that this means that Radio 3 will be reduced by two-thirds to a peak hour's service, plus the possible "merger" of 1Xtra into Radio 1. Other possibilities might be the "merger" of Radio 3 and 4, with classical music being reduced to The Proms and selected other evenings.
More networking of BBC Local radio in England, using Radio 5 Live as a sustaining feed.
£250m a year from television (not sports, news or Children's)
With BBC One being generally efficient, the cuts could be achieved by making BBC Two a less extensive service (perhaps making half of peak as repeats), with the parallel closure of BBC 4, replacing the channel with a cheap BBC Two+1.
Cut back of BBC regional news to evening programme only and reduction in length of programme to 20 minutes daily, much in line what ITV has done. Also the merge-back of the Oxfordshire service into South Today and the recombination of Look East into a single programme.
£92m a year from News
General cut of 14% from the scope of programmes.
£58m a year from "BBC North" (Sports, Children's, 5 Live)
Probably cuts like closing of Breakfast at weekends and holidays and reduction in weekday hours, large reduction in CBBC budget, overnight service from 5 Live and so forth. Or moving 5 Live to just relay the TV News channel outside Breakfast and Drivetime news shows.
Given the cost of sports right, perhaps the reduction in scope will mean cutting back BBC Sport to just sports news?
£59m a year from Strategy/Digital
Reduction in scope of new services.
£27m a year from Scotland
Closing of expensive drama, River City plus "merger" of BBC Scotland and Gaelic radio service. Reduction in Scottish news to 20 minutes evening weekdays.
£28m a year from BBC Wales
Cut of welsh-language drama, "merger" of Welsh and English language radio services. Reduction in Welsh news to 20 minutes evening weekdays.
£18m a year from BBC NI
Reduction in NI news to 20 minutes evening weekdays.
£167m a year from finance and operations
This is mainly the cost of workplaces, technology and distribution. Distribution needs to take the most and this will no doubt mean the closing of AM radio, possible move the remains of Radio 3 to digital only.
[1]
Driving efficiency at the BBC: To deliver quality content for the Licence Fee payer -November 2014 [pdf]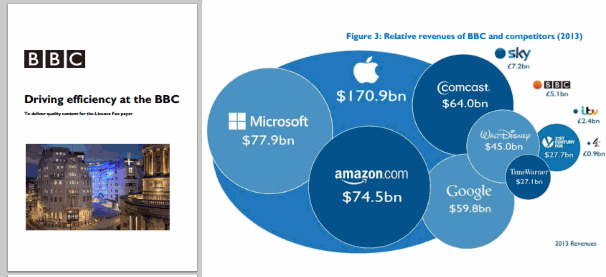 [2] From http://www.broadcastnow.co.uk/broadcasters/bbc-hints-at-savings-focus/5080644.article but with corrections.
Over to you
Try and imaging, rather than what you personally like, but what you think would be best for the country as a whole.
Comments
Sunday, 7 December 2014

David Cox: Sadly, however, the agreement that Mark Thompson didn't allow for that.[1]

It's cut £734 million a year from the budget or nothing. Who would have thought that after a bank crisis that inflation might go above 2%? Who?

[1] BBC budget cut by 16% in spending review, George Osborne confirms | Media | The Guardian

Briantist's 38,899 posts

It is just another broadcaster after all. The only difference between it and likes of Sky is I have to pay for it if I have a TV. .Thankfully I don,t have to pay for sky. I see the demise of BBC3 has risen its head again today.

John Martin's 103 posts

John Martin: Of course you have to pay for ITV even if you don't watch it or have a TV (as the costs are added to everyone's shopping bills).

Briantist's 38,899 posts

Briantist: There are one or two cuts they could make that would impact relatively few people, but I suspect that the small minorities that are hit would complain very loudly.

It wasn't until there was a discussion last year on the merits of analogue radio that I found out just how much LW cost per listener. Yet I'm sure there will be waves of outraged articles in much of the press when the BBC wants to close it down. Much the same goes for Radio 3. In fact I like Radio 3, and the fact that its does do things that are non commercial. Yet the costs per listener are relatively high, and Radio 6, for instance, now gets more listeners http://www.theguardian.co…ital (which vindicates those who fought to save it). Radio 3, though, is 'special' - and the press will accuse the BBC of being Philistines in wanting to cut it, whilst demanding the BBC makes savings.

And don't even start on the 'FM is in stereo, DAB is mono' types...they are going to have a field day.

BBC3 had a similar problem - its demographic is highly complex and simply does not have the 'pull' of the those who love BBC4. BBC4 has fewer viewers, but its seen as 'quality', and pretty much every TV reviewer is going to champion it. I love BBC4 (there is a fan club on Britmovies), but its not really fair to favour one over the other, simply because one audience is more likely to organise a letter writing campaign.

Cuts to CBBC, etc? Since the BBC got most of the Bafta awards this year for kids programming, thats not going to help anyone - the commercial sector certainly isn't going to up its budget. Again, the sort of people who think it should be cut, are the people who dont have kids. And its below the radar of the average TV reviewer.

Regional programming? Yes, although I'm always confused by South Today's area anyway. I grew up in Dorset, and could never quite work out why we had reports about people in Kent. Now there are apparently reports about people in Northamptonshire!

There is the chance to fold in (or just ditch) programmses made for Wales, Scotland, etc. The S4C being paid for by the licence fee, in opposition to the BBC's service is a bit crazy, and even more so when you discover that the BBC supplies S4C with some of its programmes anyway!

Some things do make sense - Radio 1 Xtra being folded into Radio 1 might bring a edge thats been missing from the older channel, and start to recapture some of the demographic it so needed to keep.

The problem about cuts is that when you ask people what can go, they will say the stuff that they do not use or do not like - and since everyone is different, pretty much every service is precious to someone, even if almost nobody uses it.

And in the case of the BBC, its expected, since it is non commercial, to do those things which nobody else does. So its between a rock and a hard place. People want something 'different', but thats costs money, which is something they are adverse to paying for.

Personally, perhaps we should be asking people to stump up extra if they do want to listen to LW, etc - they cost a lot more than the average service, so pay for it. And all those expats who love LW but dont pay for it...show us the money!



MikeB's 2,579 posts

Briantist:

When reading this article, I keep getting an annoying but fleeting appearance to the left of the main text area that appears to be some other page's text. It's only there for a brief moment but is enough to 'drag' the eye focus. Not sure what the cause is but it does happen on other pages. I'm not sure whther others have noticed this either.

I use W7Pro and FF34.0 or IE11 (happens on both browsers).

Any ideas?

MikeP's 3,056 posts

MikeP: Really sorry to hear that.

The problem you have sounds more like a "video driver problem", rather than a web page issue - you shouldn't be able to display another pages text even if you wanted to!

I've got this page open in Firefox 34.0, Safari 5.1.7, IE11 and Chrome 40.0 on Windows 7 Ultimate and I can't replicate the problem.

Also the same bunch of browsers on Windows 10.

We've also been testing on an iPad with Safari/iOS8, iPhone 5with Safari/iOS8 as well as Android 5.0 Chrome on Nexus 4 and a Nexus 7.

There is a one-minute timer event that refreshes the "update bar" at the top of the page (only if it in the "closed state") and that doesn't cause the rest of the page to change.

I'm a bit of a loss to know what to suggest, unless you've got an ad-blocker or Anti-virus that is doing something odd perhaps?

I'm using New Relic to get Browser errors, but I've looked and I can't see anything there at the moment.

Briantist's 38,899 posts

MikeB: I've expanded on the possiblities for the radio cuts on a follow-up page What is in store for the next round of BBC Radio cuts?

I'm guessing that the BBC is going to get a torrent of abuse from people who really don't like the cuts that are going to come up now, but I suppose people will say "the cuts are pre-agreed. We have to cut the LW transmissions".

Yes, people are going to throw around words like "philistine" whatever happens to Radio 3 (which is very good at what it does, but when it's down to it Classical Music recordings can be bought).

I suspect the DAB tolls are going to at the back of the queue when the torrent of changes. They might be happy if services are merged (combined R3/R4, R4LW bits to 4X, R1 and R1X) as there might be more bits for the resultant services.
CBBC is brilliant, but ... expensive. What do you do when you've got to cut things?

You know I think that Regional News is the product of the BBC mirroring the IBA/ITV network, "regions" make no sense otherwise. I'm guessing that they will be cut back a lot, because it is easy to save the money there. The problem is then having expensive studios set up for 15 minutes a day.

I would close S4C and replace it with subtitles (and/or overdubs) in Welsh for BBC One. Could do the whole year's output for £100k, rather than £100m. Works well in other countries.

I always wonder about people who "depend" on Long wave... no TV, no Licence equals no obligation!



Briantist's 38,899 posts

Briantist: Frankly, its fairly depressing - just 50p per day per household would bring the licence fee back up to around £180 a year, which is still an absolute bargain.

I agree with closing S4C - its having competing stations for the sake of it. Is it possible to get the devolved governments of Scotland and Wales to pony up some cash? If they want expensive programmes, then they have to put their money where their mouth is.

CBBC, Radio 3, Radio 1 Xtra and so on are classic cases of good programming for minorities which the commercial sector really does not cater for. In other words, the BBC at its best. Yet we apparently dont want to pay for them. If the BBC drops them, the people who dont want to pay for them will complain...

What makes me angry is this is a death spiral caused by a mixture of spite, ideological delusion, a sense of vacous self interest and the attacks of media bosses with a fairly naked self interest, even though their own empires are in part, in terminal decline. The BBC is popular, excellent value, and does a good job. Apparently that is a bad thing. Truely, the stupid, it burns.


MikeB's 2,579 posts
Monday, 8 December 2014

Savings are easy at local level, take BBC LOOK East, only on for half an hour at 6.30 pm yet 3 people present it. First half is supposed to be ''your local area' then second half is over to the other 2 presenters, who each say a line each in between looking at each other,having a private laugh or just looking at the camera , it is so naff.
Plus of course there is an army of 'local 'reporters who seem to spend their whole day preparing a very short less than riveting report; oh yes and of course there is a 'local' weather forecaster as well.


Bucks Boy's 5 posts

Bucks Boy: These points do come up.

First it is worth remembering that the role of "Presenter" is just the front-man (or front-woman) for a whole heap of journalists and other specialists. If you look at page 46 of the Anne Bulford report, it shows that around 2% of the BBC workforce is "Presenters", with 31% doing Journalism.




Cutting back presenters won't make much of a saving, and given that talking for half an hour to a live audience is a non-trivial skill, better for the studio to have an extra pair of hands, than have a problem and end up with a blank screen.

Of course for Look East (and some other regions too) the "third" presenter is a COST-SAVING measure. Rather than have two programmes, the to halve of the region share a lot of content, with with some considerable time spent doing either CAMBRIDGE or NORWICH news.

The very fact that you don't notice the joins (watch the two programmes in parallel in iPlayer) does rather show the skill the BBC have in doing this type of split-production.

You need to remember that "a very short less than riveting report" also means turning up and finding out what is going on, writing that into a script and then filming it and editing it into a suitable package. It's non-trivial too.

I've looked more into the regional news issue here - What is in store for the next round of BBC regional TV cuts?

Briantist's 38,899 posts
Select more comments
Your comment please