2014 Christmas Quiz - answers

Brian Butterworth
published on
UK Free TV
Here are the answer's to this year's Xmas Quiz!
Q1 Last Christmas: name the top three TV shows that were watched on catch-up. They had 2.79m, 2.67m and 2.17m viewers.
Doctor Who
Still Open All Hours
Downtown Abbey
Q2 Count the days. ITV Digital started out life as ONdigital. How many more days did it spend "on air" than British Satellite Broadcasting did?
1041= 1263-222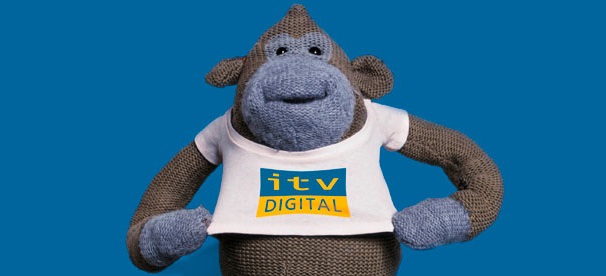 Q3 You can get 4 pints of milk for £1 from the supermarket. To the nearest 100ml, how of the white stuff can you drink to pay for a viewer-hour of EastEnders, Casualty, River City and Pobol y Cwm?
EastEnders (4p/vh) 0.1 litre
Casualty (9.5p/vh) 0.2 litre
River City (45p/vh) 0.9 litre
pyC (210p/vh) 4 litres
Q4 The transmitter that Sky use to send a signal to your dish is above a National Park. Name it.
Maiko National Park, Congo
Q5 What month and year, and why, was the last time only two TV channels were on air in the UK?
6th Aug 1979- October 1979 (Strikes takes ITV off the air for nine weeks)
Q6 Name the first transmitter in the United Kingdom to switch over to digital only transmissions. What day was this?
Ferryside 29th November 2004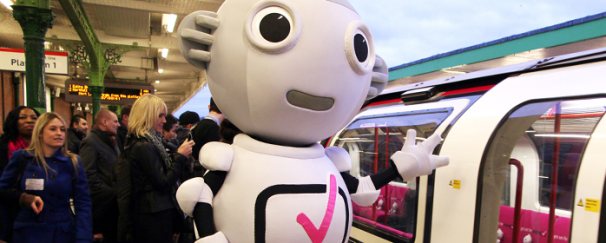 Q7 If Apple's annual revenue is the size of an apple, how big is the BBC's?
From page 11 of Driving efficiency at the BBC - Anne Bulford OBE 2013 annual revenue for $171,000m = £110,000m Apple and £5.1m = BBC
0.0046% of a 150g Apple the BBC is 7g, 10 apple seeds.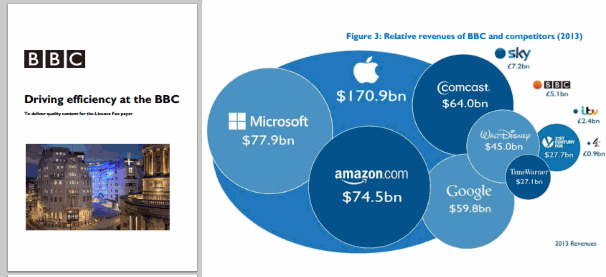 Q8 Which news channel closed the two days before Christmas?
ITV News Channel closed 23 December 2005
Q9 Once there was only black and white TV… there was once a powerful 10kW IBA 405 line-transmitter that now serves just 17,000 Freeview Light homes. Name it.
Arfon - see https://ukfree.tv/transmitters/tv/ARFON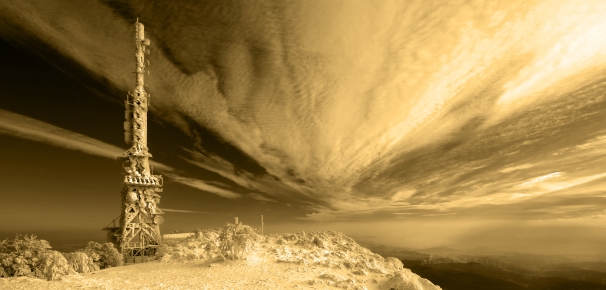 Q10 Part of the BBC was privatized in 1997, what was the name when the sale was made, and the names it has since. To the nearest million, how much was the sale for?
Castle Transmission International aka Crown Castle aka National Grid Wireless aka Arqiva

£244 million
Q11 How many, exactly, Freeview homes were effected by interference from 4G services that used the Crystal Palace Mast?
0

Q12 Know your radio transmitters do you? Which is the most western and eastern UK radio transmitters? What's the name of the most Northerly and Southerly non-BBC local radio station?
Hospital Radio Yare https://ukfree.tv/transmitters/analogueradio/Hospital_TG524087
Enniskillen
60 North FM
Channel 103 - Trinity mast
Q13 Converted to 2014 prices: what was the price of the Colour Television Licence when it was introduced and what was the price of the Radio Licence when it was abolished?
£155.48, £17.61
Q14 This year's ITV Annual report shows the "whole UK Share of viewing (SOV)". Put in order from high to low the family of channels from the five main broadcasters.
BBC 33.6%
ITV 22.3%
C4 11.6%
Sky 8.3%
C5 6.0%
Q15 What proportion of BBC spending is spent of "Presenters"?
2%
Q16 Of the 25,100,000 homes in the UK, how many have Sky, Freesat AND Cable?
10,000
Q17 How much – if you average it out – does everyone in the UK pay towards the cost of Channel 5 every day?
1.1p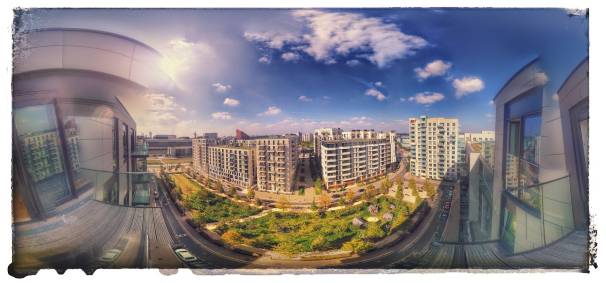 Q18 Digital UK asked viewers where what the BBC1 HD channel number should be? Of those who had a preference, what did they pick and what did Freeview do about it?
Most suggested 1, it was moved to 101.
Q19 What £5m+ a year fees was cut this year, and when?
The Sky EPG "retransmission" fees for PSB broadcasters, 28 February.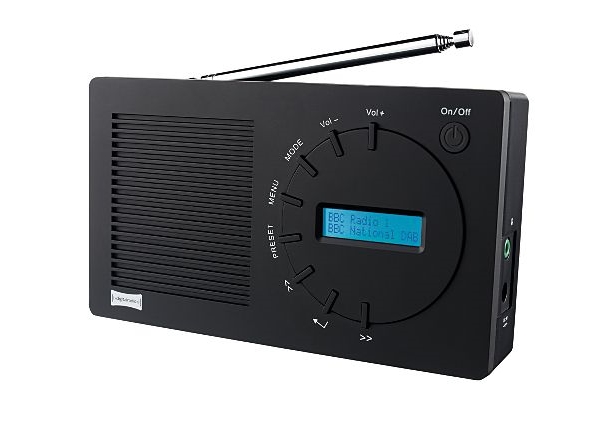 Q20 How many UK 10,000W DAB transmitters are there? What is the most common starting letter of their names?
22
D (Davel, Daventry, Divis, Durrus) (there are 3Ms, 3Ws and 3Ss)
Comments
Tuesday, 30 December 2014

Q6. According to Wikipedia, "Ferryside television relay station" continued to broadcast "Analogue BBC Two Wales" until "August 2009". Care to clarify?

Q17. It's interesting to see that B.B.C. costs nearly double I.T.V.!

Alan G's 19 posts

Alan G: Correct. See the report on the Ferryside "switchover", paragraph 4.7 for an explanation of to why BBC Two analogue remained on air until 2009:

http://webarchive.nationa…e=27

Dave Lindsay's 5,724 posts
Saturday, 3 January 2015

I'm sure that more than 0% have Freeview and Freesat.
Have you added it (Freeview and Freesat) to the Freeview and Sky?

Mark Agius's 374 posts

You could do a survey on how many UKFree.tv visitors have Freeview, Freesat, Freesat from Sky, Sky packages, cable etc.

Mark Agius's 374 posts
Monday, 5 January 2015

Freesat and Freeview will continue to rise as new tv sets have freeview and freesat built in tuners. i saw in John Lewis almost every large screen tv sets have both tuners.

rob's 171 posts
Tuesday, 27 January 2015

Since COM7 started locally,at Beacon Hill,I have been studying the many online transmitter details and aerial group recommendations and I am very disappointed that too many web sites are both out of date and consequently are giving wrong advice for aerial groups. Arquiva have confirmed that COM8 is starting this year and more people will be missing out on extra HD and SD channels. It is an important issue because the transmitted power levels of COM7 and COM8 are quite low and wrong group aerials can have lower gain at COM7 and COM8 frequencies for some transmitters.Despite writing to one manufacturer and not really getting anywhere the 'aerial' industry continues to remain indifferent in part! It's a sad situation because freeview can now get,in some areas,new channels,including HD,that are not on freesat. I appreciate that COM7 and COM8 are limited in area coverage but not enough is being done to address this changing opportunity. I am a freeview and freesat fan. Astra 2G should help dramatically in a couple of months onwards. UH-D is coming............!

michael scott's 8 posts

michael scott: The same sort of thing affected some, depending on transmitter, with respect to reception of Channel 5 analogue and/or the Commercial (COM) multiplexes 4 to 6 i.e. they are sometimes "out-of-group" for aerials installed in the days of four-channel analogue. The four-channel analogue system was a wonderful set-up, "common sense" you might say. It is sadly departed.

Dave Lindsay's 5,724 posts
Your comment please