Show me the 55 TV channels have moved to the new Astra 2G satellite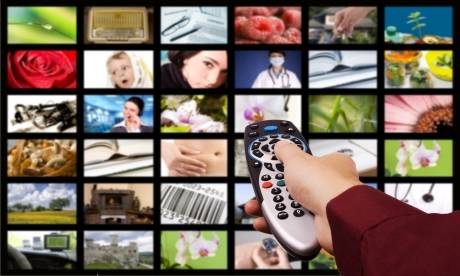 Brian Butterworth
published on
UK Free TV
Due to the poor reception many people were finding from the Eutelsat 28A satellite, over 50 TV channels have moved to a new satellite.
The https://ukfree.tv/extras/satellite_footprints page has been updated to show the new allocations.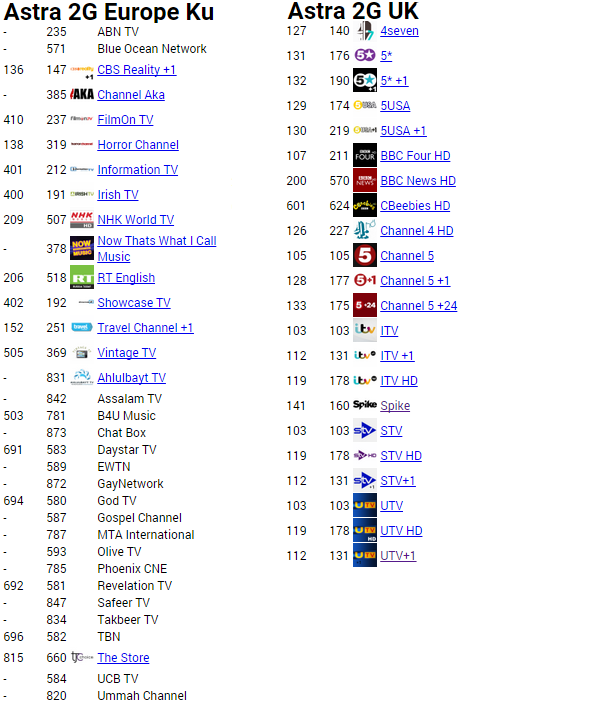 What do I need to do?
If you use Freesat or Sky (paid or non-subscription) your set-top box will automatically change to the new transmissions. The very most you may have to do is power off the box and back on again.
If I'm not in the UK or have unbranded satellite kit?
The channels now on the Astra 2G UK satellite beams will be received OK in the UK and Ireland, but will require a large dish to stand any chance outside this area.
The coverage areas for the new 2G Europe and UK beams are shown here.
See also Satellite Update: Astra 2G is live - the big reshuffle is underway | a516digital
Comments
Tuesday, 8 September 2015

Sorry if this is posted in the wrong place but I have just been reading the latest post about retuning Freeview and some problems with the EPG.

I have just done the retune of Freeview and at the same time retuned the FreeSat. My system has a combined Freeview/FreeSat tuner so the two systems tend to get done together but I then have to do some editing of the combined EPG to avoid clashing channel numbers.

I now find that the Freeview channels have a correctly functioning EPG but most of the FreeSat channels say "data not available" and the few that do work only give programme information one hour ahead.

So my question is: From where does FreeSat get its programme information? It appears that during the FreeSat retune something to do with the EPG has been "lost" or not downloaded correctly but I don't really know where to start looking.

Chris's 7 posts
Wednesday, 9 September 2015

Chris: If you are still "receiving the signals via a Black Gold tuner in the PC and Media Centre under Windows 7" then I suggest using a proper app written by real programmers such as DVBViewer.

DVBViewer will do what you want and more.

"From where does FreeSat get its programme information?"

Full Freesat programme information is present on all Freesat transponders.

Here is Freesat summary generated from the Freesat Service Tables off 10802.75 H:

Freesat 09-09-2015 16 50.txt - Pastebin.com

11427.83 H is the Freesat Home transponder where the EIT cycle time is less than 30 seconds.

The EIT (EPG) cycle time is 30 minutes on all other transponders.


js's 826 posts

diffs Freesat 08-09-2015 17 56 to 09-09-2015 16 50

Changed:
11052.75 H 23000 3/4 DVB-S2 0.25 8PSK 028.2E :TSID = 2063 -->
11052.75 H 23000 2/3 DVB-S2 0.25 8PSK 028.2E :TSID = 2063

FEC of 2/3 will enable more robust reception of -
ITV Wales HD
ITV HD [ITV1 HD Granada]


js's 826 posts
Thursday, 10 September 2015

Whilst perusing the Freesat summary linked to earlier and again here:

Freesat 09-09-2015 16 50.txt - Pastebin.com

I noticed what seems to be a mistake in the Freesat data in that Gems TV has LCN 802 in the "Northern Ireland HD" bouquet and 805 everywhere else.

Earth shattering, I know, but maybe someone with a Freesat HD box (not G2 or Freetime) can enter "BT" as the postcode and confirm this is the case?


js's 826 posts

js: Re: Gems TV. Rescanned one of my Freesat HD boxes using BT1 1LT as the post code, the result being, that although having punched LCN805 into the remote, the LCN number on the screen appeared as LCN802, in other words, the box did not accept LCN805 as being operational.

By the way, the programme channel was indeed Gems TV.

jb38's 7,179 posts
jb38's:
map
J's Freeview map
terrain
J's terrain plot
waves
J's frequency data
J's Freeview Detailed Coverage

js: Also meant to say, that 805 is not listed as being a channel in the programme guide associated with the BT1 post code, the guide numbers jumping from 804 - 806.

jb38's 7,179 posts

jb38: Thanks, you have saved me the trouble of digging out and setting up the foxsat HD (which I might actually have used if it had an IF Loopthrough).

It must certainly be an error since the LCN is the expected 85 for the "Northern Ireland SD" and "Northern Ireland G2" bouquets.

js's 826 posts
Friday, 11 September 2015

Oops, the above should of course read *the LCN is the expected 805* not 85!

js's 826 posts

js: No problem, as I automatically assumed that 85 was simply a typo error. I did though state something myself which wasn't quite correct, insomuch that the guide list shown when using the NI post code jumps from 802 - 806 and not 804 - 806.

jb38's 7,179 posts
Sunday, 22 November 2015

Can't get freesat channel 157 any more

A wells's 1 post
Select more comments
Your comment please