Prepare yourself for Cord Cutting: Where do I watch TV now?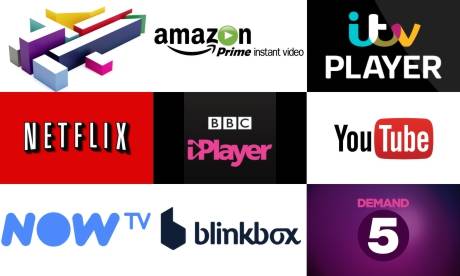 Brian Butterworth
published on
UK Free TV
Next: work out the devices you can watch online long-form video?
Let's not call it TV anymore. Television is so last century! We will call it long-form video.
There are several types of device that you can watch long-form video. These includes most smartphones, Personal Computers and tablet computing devices.

Smartphones
Smartphones are mobile phones that come with either the Android or Apple iOS operating system. They have quite small screens and even smaller batteries. To get the best from them you will need to be familiar with idea of apps. Apps are small programmes that provide a specific vendor function. To watch long-form video you will need the BBC iPlayer, All 4, ITV Player, Demand 5, YouTube and – for a fee Netflix, apps. Once installed, each one will quickly help you watch the content from the supplier.
On the upside, you can often download video content to a smartphone, so you can use the fast broadband at home to save a long-form video and watch it somewhere with a poor signal, such as on an underground train, on a bus or in the back of a car.
However, you can easily flatten the battery, so you might need to plug the smartphone into a charger if you want to watch many hours of video. A small stand might make viewing content more comfortable too.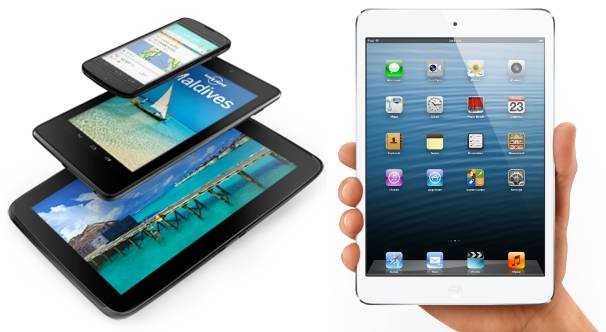 Tablet computing devices
In many ways the tablet computers are just larger versions of smartphones, but without the ability to make calls. They have larger batteries, and sometimes better battery life. Some devices have only Wifi (or wireless internet) access, other also have the ability to use (for a fee, of course) 3G and 4G mobile data.
Generally the Android devices use the same app as smartphones, scaling the content to match the device. Apple's iPad devices usually need a separate, special compatible app to make best use of the larger screens.
The larger screens are great for a single person and can be used in bed or sitting on a sofa with ease, but you will probably need to be intimate with someone if you want to share the screen.
Some tablet devices have HDMI ports: this means you can plug them into a larger screen to share the video content with a roomful of people.
Personal computers

Since the late 1980s the personal computer has general meant one of two things. Either a large metal box connected by wires to a monitor, mouse and keyboard, or a hinged portable device seemingly half screen, half keyboard.
Today, these devices usually have a version of Windows on them and made by a large number of hardware companies, or are made by Apple.
Generally speaking, on both system you will be using a web-browser to watch TV. This will probably be a software program called Chrome, Internet Explorer (possible Edge), Safari or Firefox.
To watch long form video you will visit a web site, such as BBC iPlayer , On Demand - All 4, ITV Player homepage - ITV Player, Demand 5 | Channel 5, YouTube or - if you want to pay Netflix - Watch TV Programmes Online, Watch Films Online and Watch Movies, TV shows & Sports online instantly | NOW TV.
With a laptop, you can choose here to watch TV anywhere you can rest the device. You can often use an HDMI cable to share the laptop's screen with a room of people.
Chromecast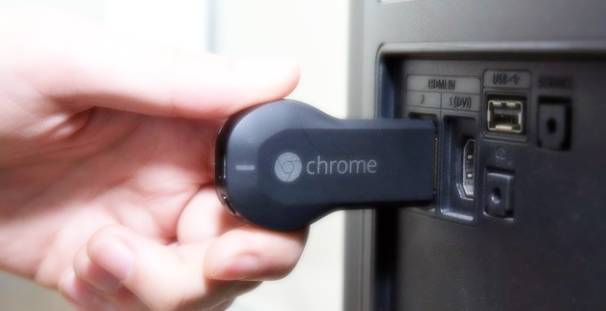 A great idea if you have a TV screen no longer connected to the live broadcast network is to use Chromecast.
This £30 device plugs into the HDMI slot of any TV. Once you have set-it up – using your mobile phone or tablet to provide it with your wireless password, you can send anything you are watching on BBC iPlayer, Youtube, Netflix or NowTV to the TV screen.
You can still use your phone or tablet to pause the video too, and it doesn't use the battery up. And, if you have Windows and Chrome, you can use the Google Cast to send literally ANY internet video to a Chromecast device.
Another Google Chrome extension Videostream for Google Chromecast will allow you to send any video on your PC to the Chromecast with the minimum of fuss.
So, are you ready to cut do the Cord Cutting now?
Comments
Tuesday, 7 July 2015

Well, it seems the latest announcements show that you will need a TV license to watch the iPlayer. Live TV via any medium will also require the license.
BTW I think the iPlayer knocks the spots off the ITV and Channel 4 players.

Chris Shaw's 16 posts

I have unlimited broadband usage but I live in rural community in Worcestershire 1/2 miles off the public highway so we can listen to the radio on iplayer radio but for video services we see the insufficient broadband speed message !!!!!!!!!!!!!!!!!!!!!!!

We can only get TV service from the Bromsgove transmitter which does not carry all the channels !!!!

Mike's 1 post

Think I will stay with good old TV for now thank you. Pay enough out at moment not going to waste more money.

john martin's 103 posts

Mike: In order to maximise your broadband speed you should take the steps that are within your control, if they haven't already been carried out and are relevant.

This includes disconnecting the bell wire and not using any flat (non-twisted) extension leads for non-filtered parts of your wiring.

If you have the simplest setup which is just one filter plugging into the master socket, no extensions, and therefore phone and router plugged directly into the master socket then this doesn't apply.

More detailed guidance can be given with knowledge of your wiring setup.

Dave Lindsay's 5,724 posts

Very nice for the privileged paying the same to BT as are plebs debited for an obscenely inferior and unreliable download speed which obviates streaming, eye-playing and any such licence-fee exemption ruse.

michael's 869 posts

This all sounds so much hassle. Remember when you used to come home, plonk yourself on the sofa, turn on tv and that was it you just watched it. There was no need to download half a dozen apps, charge things up, have cables everywhere. Great days

Rob Smith's 2 posts

Rob Smith: To be fair, most TV's are smart these days, and Apple TV, Chromecast or Now TV are not difficult to use. However, if your cutting the cord, you must must must have reliable and fast broadband. Without that, your basically looking at a little circle in the middle of whatever screen you are using.

And it depends what you watch. If your the sort of person who bascially binge watches boxsets and films (pretty much from the US), you might be fine. If you like watching sports, anything live, actual news, documentaries, etc, forget about it. I checked out the Netflix UK website the other day, and its wasn't exactly a huge range of stuff. Plenty there in theory, but if you wanted nature programmes, for instance, there wasn't a huge amount of material, and it wasn't exactly up-to-date. Kids stuff? Lots of cartoons, but decent drama was thin on the ground. There was certainly a lot more on Iplayer in those sort of programming areas. Amazon was better in some ways, but it could be seen as a large amount of material, within a relatively narrow range. And although there are deals, getting the most coverage might turn out to be more expensive than you might think.

On the other hand, a PVR, the Radio Times and even the most basic TV attached to an aerial will put together a pretty good mix for most people. And if you do want more, then there are lots of ways to get it.

MikeB's 2,579 posts
Wednesday, 8 July 2015
A
Alison Faorgroive
6:25 PM

Why do people want to watch TV on a tiny screen? Baffles me.

Alison Faorgroive's 3 posts
Thursday, 9 July 2015

Freedom of choice what people watch on their tv in the UK still I believe. If you don,t want to pay don,t. As for things being SMART I don,t think so. Nothing is Smart except living beings. Televisions are programmed not Smart.

john martin's 103 posts
Sunday, 12 July 2015

If more and more people start to use iplayer and the like to watch TV, rather than watching it live when broadcast, to save paying the licence fee or not, then the BBC will make sure that a licence fee needs to be paid for using iplayer. They have to get their funding somehow.

Ian's 5 posts
Select more comments
Your comment please