When you can't quite hear the TV, subtitles are critical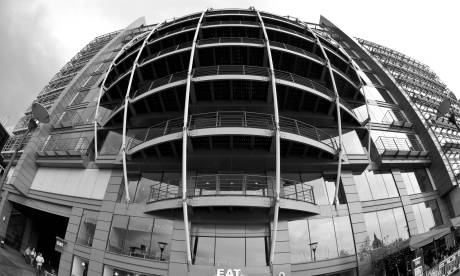 Brian Butterworth
published on
UK Free TV
For the many people with partial hearing loss or total deafness – as well as those who need to listen with the sound off – subtitles allow people to enjoy the TV.
A great deal of thought and effort has gone into providing these services: the laws to require broadcasters to provide them, the technical challenges to make them work and the human time and effort to provide them alongside upwards of 80% of the TV programmes broadcast in the UK.
The design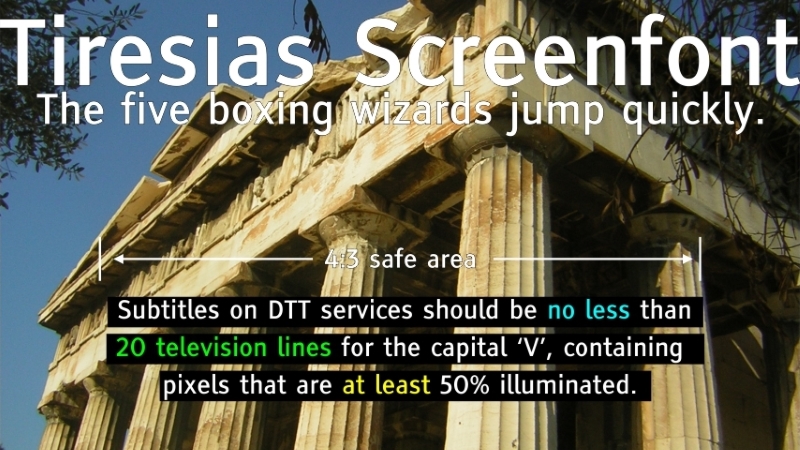 Say hello to Tiresias ScreenFont! This is a special font designed for subtitles on British TV. The proportions of the letters and numbers are designed to allow easy differentiation between similar characters (for example lower case L and number 1, zero and O) and with larger-sized lower-case letters. It also has typewriter-style "a" and long "descenders" (g j q p y) whilst being slightly narrow to get a useful number of words per line.

[1] http://www.tiresias.org/fonts/screenfont/report_screen.htm
The rules
Here are some of the rules[3] – you might be aware of them:
Capital letter (V) height is 20 pixels on a 480-line standard display and at least 50% bright. Usually they have a 100% black background.
They must sit within the 4:3 cutout so they aren't cut off on an old shaped TV.
They should never cover the face of the speaker.
They are usually white but can use yellow, cyan and green to denote different speakers.
Normally two lines, three are allowed if the picture can still be seen.
The speed of words is between 160 and 180 words per minute (three a second, keep up!)
Words must be synchronised with speech, unless they are being done live.
They use a # sign to denote music, CAPITAL LETTERS FOR SHOUTING and mumbling is written out as such. Sounds effects are also written out.
With live programmes the subtitles should not run more than three seconds behind live.
Ofcom requires…
The law requires that Ofcom demand any TV channel that has more than 0.05% of the viewing provide subtitles. This starts with a requirement to provide 10% in the first and second years rising to 35% (two more years) 60% (another two) 70% (three more) and eventually 80%.
The BBC policy is to provide subtitles on "all BBC TV programmes". Here are the list of channels that have to provide subtitles.
Why don't channels just provide subtitles?
People often ask why channels don't just provide subtitles without being required to. The answer is: money. Providing subtitles is costly and the proportion of costs for a channel with less than 0.05% of the total viewing is disproportionate.
Adding subtitles to BBC One, with over 21% of viewing costs the same as for a channel like True Entertainment that has about one hundredth. Whilst it is true that they might get some extra viewers, the cost of acquisition (creating, synchronizing and broadcasting the subtitles) would exceed any extra income they could make from showing these new viewers adverts.
It is true that channels often show programmes that have been provided with subtitles on other media (such as DVD or foreign TV closed captions) but if the content has been visually edited for timing or legal reasons, the whole show's subtitles will need careful (and therefore costly) reworking.
Which channels will have subtitles in 2016?
Channels - with their current share of viewing[2]:
BBC 1 21.157%, ITV 11.744%, BBC 2 5.116%, Channel 4 4.47%, Channel 5 3.152%, ITV 3 1.23%, ITV 2 1.113%, ITV HD 1.016%, E4 0.817%, Cbeebies 0.808%, BBC 3 0.739%, Film4 0.721%, Dave 0.702%, BBC News 0.636%, ITV 4 0.625%, More4 0.619%, Sky 1 0.573%, 5 USA 0.548%, Sky Sports 1 0.538%, BBC 4 0.529%, ITV +1 0.516%, Drama 0.49%, Channel 4+1 0.486%, Pick TV 0.484%, Sky News 0.452%, Sky Sports News HQ 0.371%, Yesterday 0.365%, E4 +1 0.35%, Sky Living 0.323%, Really 0.307%, Quest 0.305%, Sky ports 2 0.292%, 5* 0.284%, CBBC 0.283%, Comedy Central 0.277%, ITV 2 +1 0.275%, Disney Junior 0.254%, Challenge TV 0.238%, Fox 0.233%, G.O.L.D. 0.233%, ITVBe 0.226% Watch 0.221%, Nick Jr 0.214%, Universal 0.207%, Alibi 0.199%, 4Music 0.193%, 4seven 0.183%, CITV 0.169%, Sky Atlantic 0.168%, Sky Movies Disney 0.158%, Film4 +1 0.51%, TLC 0.149%, BT Sport 1 0.148%, Discovery 0.147%, Cartoon Network 0.145%, Sky Movies Premiere 0.134%, Quest+1 0.129%, Disney Channel 0.126%, ITV 3 +1 0.126%, Dave ja vu 0.12%, Sky Sports 4 0.114%, Sky Sports 3 0.114%, Nick Jr 2 0.113%, Boomerang 0.108%, Nickelodeon 0.104%, MTV 0.099%, Nicktoons 0.099%, Sky Sports 5 0.95%, Sky Movies Family 0.09%, More4 +1 0.09%, Viva 0.089%, Sky 2 0.086%, Sky Sports F1 0.08%, Sky Movies Action & Adventure 0.078%, Sky Movies Showcase 0.071%, Sky Movies Greats 0.07%, Sky Living +1 0.069%, Comedy Central +1 0.069%, Good Food 0.068%, Animal Planet 0.066%, G.O.L.D.+1 0.059%, Disney Channel +1 0.057%, Sky Movies Comedy 0.057%, Sky Movies Drama & Romance 0.057%, BT Sport 2 0.056%, ITV Encore 0.056%, Disney XD 0.055%.
Note that BBC Alba, ITVBe, ITV Encore, Sky Sports 5, BT Sport 2 and Fox will start their requirement to provide in 2016.
Which channels will have subtitles in 2017?
Looking further ahead, looking at the current year to date, these extra channels will be required to provide subtitles in 2017:
CBS Reality 0.306%, True Entertainment 0.228%, more>movies/movies mix 0.215%, Star Plus 0.187%, Movies4Men 0.176%, Pop 0.157%, CBS Action 0.57%, Tiny Pop 0.15%, Syfy 0.131%, Food Network 0.122%, TruTV 0.117%, Horror Channel 0.099%, Disney Junior Plus 0.094%, Eurosport 0.093%, Investigation Discovery 0.085%,History 0.081%, TCM 0.08%, Crime + Investigation 0.079%, Lifetime 0.073%, Colors TV 0.071%, E! 0.07%, Eurosport 2 0.069%, HUM Europe 0.066%, National Geographic 0.063%, ARY News 0.062%, BBC RB 601 0.061%, Movies 24 0.06%, Cartoonito 0.059%, Discovery Turbo 0.057%, Spike 0.056%, attheraces 0.053%, Rishtey .052%, Movies 24+ 0.051%, True Movies 1 0.051%,
More reading
[2] http://stakeholders.ofcom.org.uk/binaries/broadcast/guidance/Channels_required_to_provide_television_access_services_in_2016E.pdf
[3] http://stakeholders.ofcom.org.uk/binaries/broadcast/other-codes/tv-access-services-2015.pdf
Comments
Wednesday, 26 August 2015
M
MikeB
7:33 PM
Macclesfield

MikeP: The 575 series is a great little number, but it not designed to output from two sources, and neither were the Samsung's until the year after - not a big problem unless its something you need to do!

Actually, there are three audio outputs - the 3.5mm jack (analogue), digital optical and the ARC HDMI port. Since my 'new to me' LG flat screen has no audio outputs at all, thats sounds good to me!

If the soundbar was via the 3.5mm jack, then a simple split would be fine. LG's want you to chose one output, so if your using the optical, thats it. However, Maplin does sell an optical splitter for a whole £1.43, and that, a second optical lead and a DAC (there is one on Amazon for £6.95) should give you the option of running both with (kind of) seprate volumes. Its a bit Heath Robinson, but its should work!

MikeB's 2,579 posts
MikeB's:
map
M's Freeview map
terrain
M's terrain plot
waves
M's frequency data
M's Freeview Detailed Coverage
Thursday, 27 August 2015

MikeB:

Thanks for the ideas about splitting the optical and a DAC. My LG is a 585 model, so I presume that has the same/similar range of outputs.
I'll investigate the options you mention further once I have finished refitting the bathroom!

MikeP's 215 posts
Wednesday, 9 September 2015

Subtitles are a godsend when dialogue is drowned by over-loud, fidgety 'music'. Even some of the great Attenborough documentaries have been afflicted, by a 40-piece orchestra somehow assembled in the jungle!

A senior BBC sound mixer once remarked that all background music can be set at least 6dB lower than the director asks for, without any loss of artistic effect but enormous gain in intelligibility. I would invite creatives to bear in mind that most of us are listening on basic loudspeakers, not super-clear studio stuff, and that we have not read the script.


Howard's 6 posts
Thursday, 10 September 2015

Has any one noticed when there is singing it shows £ instead of #.... i wonder why it has changed? that's on the subtitles

rob's 171 posts

£

rob's 171 posts

Sorry i mean to show pound sign but the webpage shows ? instead..... grrrr

rob's 171 posts
Sunday, 27 September 2015

Howard: Totally agree, in fact nearly all documentaries these days suffer from absurdly loud and melodramatic background music - no idea why producers appear to think they must make sure the audience understands what a really exciting programme they're watching - if it's good, interesting and maybe exciting (not compulsory) then if it's well made, that will be apparent, music needs to be there only as a subtle way of enhancing the viewing experience, not a sledgehammer drowning out the commentary!

Rustykettle's 7 posts
Tuesday, 26 April 2016

Hi,

Does anyone know why subtitles show on a program at one time of day (or not at all on one channel) but then a bit later in the day on a catch up channel, they all show up perfectly?

I have hearing loss but can just about manage, but my mother is almost completely deaf, so rely's heavily on the subtitles, and if they are not there, it makes it such a struggle!

Thanks for listening, input would be greatly appreciated.

Elizabeth's 1 post
Sunday, 1 May 2016

Subs are vital for millions of us but sadly they are often quite poor. Slow to come up, so the programme has moved on. Totally gobbledegook often. Or just stop for some reason !

Can understand that subbing a live programme has issues talk/typing speed etc but why do they not get in there and change the nonsense error stuff before it's repeated latter in the day? Must be possible as its a digital film then and capable of editing.

Yes of course there is a cost but we pay the same tv licence as everybody and want to be able to enjoy experience the programmes too, in the case of ITV we buy stuff too, so the advertisers need to look after us as well.

Mal's 4 posts
Saturday, 29 October 2016

My friend said that iPad so BBC 1 and 2 have subtitles but itv hubs had no subtitle as well also she had not happy ok

Lynne Hickey's 2 posts
Select more comments
Your comment please