Will the World Radiocommunication Conference be the death of Freeview?
Every four years or so, a World Radiocommunication Conference is held to consider revisions to the International Telecommunication Union radio regulations.
The next one runs 2nd-27th November 2015. It will discuss many topics, one of which will be agreeing the use of the UHF radio frequencies band in Europe and Africa from 2016 to 2030.
Meetings, meetings
Prior to the Geneva conference, The Wider Spectrum Group - representing viewers and listeners, employees and employers across Europe in the fields of audio-visual, radio, and programme making - met in Brussels and urged protection for Freeview and all European TV terrestrial services.
Decisions at this year's WRC could see remaining TV airwaves opened up to mobile networks. Whilst many countries in Europe have advanced terrestrial networks, others have limited use for them and many in Africa (the same "zone") have none.
However, the potential market for mobile broadband internet connections is vast. This diagram shows the old analogue TV channel numbers from 21 to 69.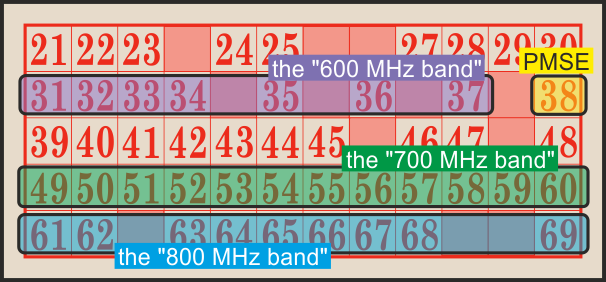 Already the 800MHz band is used for 4G, it is planned for the 700MHz band to be moved to 4G in around 2020. It is expected that the 600MHz band – currently used for the extra Freeview HD channels – will be used for Freeview when the transmitters are shuffled.
It is possible that the ITU will decide that 4G is more important than legacy TV. The broadband companies will point out that will High Efficiency Video Coding and ungrouped aerials, TV could use many fewer frequencies.
Elsewhere satellite operators are trying to protect their current C-band allocations from reused for non-fixed broadband. [2]
Who's the daddy?
It is certainly worth noting who the big beasts are today. It is popular to think that the BBC is "too big", but would take 23 years for it to get the annual income of Apple.
Digital UK's view
Jonathan Thompson, CEO of Digital UK, said: "Broadcasting remains a vital technology but is already using less and less spectrum to deliver more and more content for consumers - can the mobile sector say the same thing? There is also a big question as to which spectrum is best suited to new uses such as 5G, with all indications that the focus should be on higher frequencies. Pascal Lamy's report offers us a win-win scenario delivering both room for mobile broadband to grow and protection for DTT. It provides a sensible, pragmatic solution with the time for a further review of spectrum use is 10-years' time - let's stop having the same endless debate." [1]
DTG's Dynamic Spectrum Access forum WRC event
https://www.eventbrite.co.uk/e/dsa-wrc-event-tickets-19096461029
[1] http://www.digitaluk.co.uk/__data/assets/pdf_file/0005/88502/22-10-15_EU_urged_to_protect_free-to-air_TV.pdf
[2] http://spacenews.com/satellites-11th-hour-effort-to-stop-wireless-industrys-spectrum-grab/
Comments
Saturday, 24 October 2015

I would like to be able to get 3g in places let alone 4g, even 2 g would be nice in some places. I would hope the mobile company's improve there existing coverage before they start thinking about more 4g and 5g

Ian's 497 posts
Sunday, 25 October 2015

Ian: I agree! I can barely get 3G at my house, which is only 200m from the main south coast trunk road & the main south coast railway line. If the phone companies nick all the UHF frequencies does that mean that they will nick the transmitters as well? There are parts of the country not reached by Freeview let alone the mobile network.

Chris Shaw's 16 posts

Why can't VHF be used for digital TV?

Tim's 8 posts

Tim: In simple terms, the bitrate you can achieve for transmission is a function of the frequency used.

This means that when you move from MHz down to kHz, you also move down a factor of about 10 in terms of usable bitrate. For this reason, the "old" VHF TV frequencies have been reused for several services including DAB.

See DAB multiplexes - it shows the old VHF TV channels 10, 11 and 12 broken into 12 lots of blocks (10A, 10B, 10C, 10D up to 11D).

In each DAB block you get 1,184 kbps - compared with the UHF "BBCB DVB-T2 multiplex" which has 40 Mbps, which is 33 TIMES more.

Briantist's 38,844 posts

Do these mobile operators think they are God and entitled to take over the whole radio spectrum. It really annoys me how successive governments give in to them for a few extra quid in the British money pot selling of frequencies to the detriment of other useful services. They are gradually eating into our UHF band which should have been reserved for expansion of the existing HD Freeview transmissions. The Freeview system is excellent for most homes and even though I have BT Infinity BB I still prefer Freview HD to view or record off air.
Those who say in a few years time all TV will be via Broadband have no idea of the capacity that will be required if every home in the land watches this way. Please stop them pinching our frequencies and let them move higher up the frequency spectrum, there's little on those frequencies at the current time. Rant over.

MikeG's 31 posts

Some things don't change, IP is appropriate for on-demand and download services (depending on the capability of the delivery channel) but not for the bulk broadcast material, and TV and radio broadcasting does what it says but is not appropriate for on-demand and download. The 2 service types co-exist well and people can then choose one or other
Even though they may use IP service delivery for on-demand services, many people prefer the ease of scheduled services over broadcast networks. In some ways it's a easy/lazy option but everyone wants it easy sometimes, and content navigation and selection methods for IP services demand different skills and aptitude from broadcast which I believe many people don't have or use at present and some may lose most of their entertainment if broadcast services are lost.
In support of other comments we also have a local 2G mobile phone service at home and the 3 multiplex broadcast service package - 3G and 4G isn't even scheduled here, and many places around here don't have any reliable mobile phone service.

Dave Walton's 1 post
Monday, 26 October 2015

MikeG:Just to play devil's advocate here for a moment.

If I was one of the telecom's companies looking at the UK digital terrestrial system I think I would see that the system is highly inefficient.

For one, there are only five TV channels with regionalized content, but spread over three multiplexes.

For two, there are several channels that being broadcast in both standard and high definition format AND an hour later on +1.

For three, nationwide multiplexes broadcast in DVB-T2 can use single frequency networks.

For four, the older multiplexes are only providing 24Mbps, the DVB-T2 ones are 40Mbps.

So: put the public service channels together on a single multiplex in DVB-T2. That will need a multi-frequency network taking up 5 UHF channels, say C21-C25.

Switch four of the other multiplexes to DVB-T2, moving from 96Mbps (4 x 24) to 160Mbps (4 x 40). All using single frequency networks say C26- C29.

Keep the sixth DVB-T2 for new TV channels: C30.

That means you can use C31-C60 for 4G broadband.

All the current services in high definition. Doable in 5 years.

Briantist's 38,844 posts

Only if people change there equipment, why should they?

Ian's 497 posts
M
MikeB
8:07 PM
Macclesfield

Ian: But they already are. This subject has been discussed on another thread, but if you look at the churn rate as older equipment is replaced, then T2 tuners could be the majority fairly soon. If a TV has an HDMI port, then you can attach a reciever/PVR very easily, and at relatively low cost. Looking at the market, 5 years is very doable, even without a push from industry/government, etc.

Here is an article which clearly lays out the sort of timescale involved, and comes up with a similar conclusion to Brianist When will your Freeview box stop working? | Gone Digital

MikeB's 2,579 posts
Tuesday, 27 October 2015

Briantist:

This sounds sensible. The current system is a complete hotchpotch! My TV is new this year and my videorecorder is about 4 years old but both seem to make sense of it all (although they put all the HD channels at the end of the list & for some reason the local BBC news is not broadcast in HD, which is a nuisance).

I am continually amazed that the system works at all, though it must be frustrating for people who cannot afford to keep updating their equipment and are finding it more and more complicated.

Chrs Shaw's 16 posts
Select more comments
Your comment please