Ofcom announces 700 MHz clearance schedule 2017-20

Brian Butterworth
published on
UK Free TV
Following on from the When will I get a new Freeview aerial because of even more mobile broadband? article, this week Ofcom have published the dates for the "700MHz clearance".[1]
New "Switchover" dates
The dates are for the transmitter regions (these main transmitters and the relays of them):
July-December 2017: Bressay, Eitshal (Lewis), Keelylang Hill, Knock More, Rosemarkie, Rumster Forest, Skriaig.
January-June 2018: Bromsgrove, Crystal Palace, Hannington, Lark Stoke, Midhurst, Oxford, Ridge Hill, Rowridge, Sandy Heath, Sutton Coldfield, Tacolneston, The Wrekin, Tunbridge Wells.
July -December 2018: Black Hill, Blaenplwyf, Bluebell Hill, Craigkelly, Darvel, Durris, Hastings, Heathfield, Llanddona, Long Mountain, Moel-Y-Parc, Preseli, Rosneath, Sudbury, Torosay, Whitehawk Hill.
January-June 2019: Beacon Hill, Caradon Hill, Fremont Point, Huntshaw Cross, Kilvey Hill, Mendip, Redruth, Stockland Hill, Wenvoe.
July -December 2019: Angus, Bilsdale, Brougher Mountain, Caldbeck, Caldbeck Scotland, Carmel, Chatton, Divis, Dover, Limavady, Pontop Pike, Selkirk.
January-June 2020: Belmont, Douglas, Emley Moor, Nottingham, Olivers Mount, Waltham, Winter Hill.
I have created an interactive map showing these regions and the dates: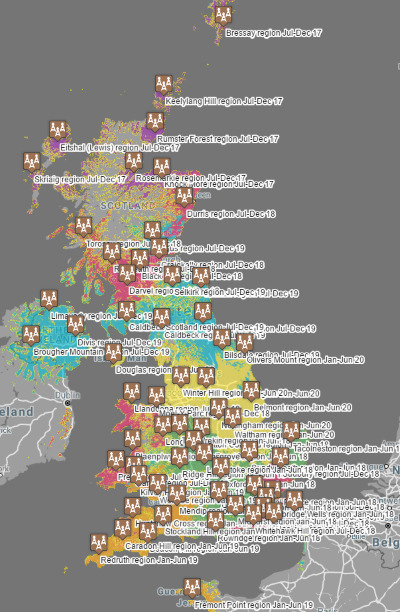 Freeview HD allocations
Channel 55 and 56 will be used for the "interim" HD multiplex com7 and com8:
[1] Maximising the benefits of 700 MHz clearance Enabling acceleration of 700 MHz clearance and use of the 700 MHz centre gap 17th October 2016
Comments
Friday, 21 October 2016

David: As I wrote 'or at least have one or two HDMI connections, able to take a seperate HD box'.

DVB-T2 tuners appeared about the time of digital switchover in 2012, so of course they would not be built into older sets/PVR's. But as long as they have an HDMI (or even in theory a scart) connection, thats fine.

Since most people buy TV's on a 5-10 year cycle, with 7 years currently being roughly the average time between upgrades, and the bulk of TV's sold since about 2014 have had DVB-T2 tuners, by the time it comes to switching off DVB only transmissions, the majority of main TV's are likely to have them built in, and the rest easily capable of upgrade.

A fair number of my customers last week bought a TV about 8-10 years ago. Their new one will have Freeview HD, probably Freesat, wifi, be smart and 4K. And will be much cheaper in real terms than the one they bought previously. The market is moving ahead - and will probably make DVB tuners very largely obsolescent some time before the regulators decide to make the switch.

MikeB's 2,579 posts

MikeB:

I didn't mention anything about CRT TVs!

AFAIK, all TVs sold in the last ten years will have had at least a DVB-T tuner but more recently they will have had a DVB-T2 tuner. DVB-T2 did not operate at original switchover from 2007 onwards, so sets needed a DVB-T tuner. With the future transfer of all services, probably, onto DVB-T2 multiplexes then everyone will need equipment capable of receiving those transmissions.

David:

Please read what was written more carefully.



MikeP's 3,056 posts

For me, I think the issue is that there is no longer any Switchover Help Scheme - BBC - The Switchover Help Scheme - Inside the BBC - so there is no help for those people who need assistance - due to being infirm or disabled.

These scheme allowed people who need subtitles (due to deafness) or special remote controls to have one-on-one help. This isn't going to happen for 700 Clearance because the changes are supposed to be just re-scans and the "odd" aerial change.

If, when, DVB-T2 happens there will need to be another Switchover Help Scheme.

Briantist's 38,906 posts

MikeP: The CRT bit was just referring to the 'at least ten years' bit of your answer (which I totally agreed with), since there were still some new ones around 10-12 years ago. Of course, even the remaining CRT's could use a T2 tuner, but I suspect the bulk of them will have vanished by the time they really need to get one.

Brianist: If there are almost no TV's that are not capable of having a T2 tuner fitted in some way, does there really need to be a help scheme? Ok, so perhaps some help on a cheapo HD box, but by and large, its just a simple replacement. It would also be interesting the actual numbers involved and the criteria.

MikeB's 2,579 posts
Saturday, 22 October 2016

MikeB:

Mentioning CRT is a total red herring. I was talking about the tuners fitted to TV set in recent years.



MikeP's 3,056 posts

MikeP: My point about CRT's is that they dont have HDMI's - pretty much all flat screens do (and if it doesn't, its getting a bit long in the tooth anyway). And that makes them really really simple to upgrade with a T2 tuner, no matter what they have internally.

MikeB's 2,579 posts
Monday, 24 October 2016

I get Freeview from the Limavady transmitter which does not transmit Com 7 and Com 8.

It appears that that Com 7 and Com 8 are to be transferred to a single frequency network on Channel 48.

Will this single frequency network be transmitted from Limavady?

PATRICK NEILL's 2 posts

PATRICK NEILL: COM7 & 8 are temporary services which are transmitter from 30 main transmitters. They won't be added to any additional transmitters and are expected to close in 2020.

StevensOnln1's 3,568 posts

PATRICK NEILL: As per the Ofcom diagram above - com7 and com8 will be on C55 and C56.

Briantist's 38,906 posts
Thursday, 3 November 2016

Briantist:

It will be interesting to find out what channels the multiplexes will be transmitted on when they are moved/combined. Some viewers will hardly notice any change but others will need a full retune and some a new aerial if they do not have a wideband or log-periodic in place before the change. I already use a Log-45 on Mendip so should only need to do the retune come first half of 2019, if the plan outlined above is adhered to.
I will not notice any change of mobile reception, I don't use a 'smartphone' and so don't have any usage of 3G, 4G nor 5G - just poor reception locally.



MikeP's 3,056 posts
Select more comments
Your comment please