BBC One HD
Aims to speak to everyone in the UK through programming that celebrates the richness and diversity of life in new and surprising ways.
Main TV standard-definiton channels
How to Watch: BBC One HD
Below is a list of all the television and radio channels that you can watch in the UK using one of the free services: DAB (for radio), Freeview, Sky No Card - Sky without a viewing card (Freesat from Sky (or fSfS)) and Freesat.. Where a channel can be watched for free, the channel number is listed below. In addition, if you can watch (or listen) immediately online, press the button in the "web" column.

As some channels are exclusive to one service alone, you may need to get receive more than one service to get all the channels you want. The coverage for Freeview differs too - those channels not provided by the public service "Freeview Light" transmitters the current coverage shown thus

(54%)

, taken from Connected Nations Report 2017: Data analysis' Key: wb_sunny daytime; watch_later nighttime; account_box funded from the TV License; flags show Freeview channel limits.
High definition channels
Regional content
: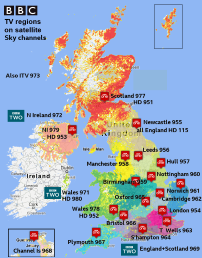 BBC nations and regions TV network - 14 English regions plus Wales, Scotland and Northern Ireland - for regional news. See
BBC nations and regions - overview map - interactive maps
. .
media.info
: For full details of broadcaster contacts, see the
media.info BBC One HD page
.
Official site
: See the
BBC One HD website
.
From Wikipedia
: The channel's annual budget for 2011/12 is 1,166.6 million.3 Along with the BBC's other domestic television stations, and many European broadcasters and some in Asia, it is funded principally by the television licence fee, and therefore shows uninterrupted programming with no commercial advertising at any time. It is currently the most watched television channel in the United Kingdom, ahead of its traditional rival for ratings leadership, ITV1. This system used a vertically-scanned image of 30 lines just enough resolution for a close-up of one person, and with a bandwidth low enough to use existing radio transmitters. - en.wikipedia.org
read more about BBC One HD on wikipedia
(summary by
Clipped
).
Freeview multiplex
: BBC One HD is on
multiplex PSB3
in
.
This channel carries a subtitles service for the deaf, hard of hearing and quiet environments.
Comments
Thursday, 5 April 2012
Wednesday, 11 April 2012

My freeview box was working fine until 4th April. Now I cannot receive either BBC1 or BBC2 but have fine reception for ITV channels.
Is anyone else in the Weybridge area having he same problems?

Penny's 1 post

Penny: Some Freeview boxes and TVs will not work after switchover.

From Crystal Palace, BBC standard definition services have "switched" and others have not.

What's the make and model number of your box or TV that does not receive BBC channels?

Dave Lindsay's 5,724 posts
Wednesday, 30 May 2012

Up untill now I have been using an old Tv with a freeview box Also attached is a VCR. I have just purchased a Panasonic with HD installed and plan to purchase a Humax HD box.Can I still connect my VCR and get all the free channels.We change over early in June To HD and no anologue. If I can connect the VCR will I be able to record on it and watch another channel

Ron Robson's 2 posts
Sunday, 10 June 2012

Ron Robson: Hi, I have found that I can still watch videos but have been unable to record from my freeview TVs. Have been trying to find out why !!!!

Wendy's 3 posts

Ron Robson: Not fully sure what you are intending to use the VCR for regarding the "free" channels, but when analogue is switched off in your area then the only way that the VCR will work is via its two scart sockets, as its aerial connection will then be redundant.

If you are meaning to record from the Humax and play back via the TV, then a scart cable would be run from the Humax's No2 scart socket to the VCR's AV2 input, and the VCR's AV1 output going to the TV's scart socket,
the VCR's "input" selector being permanently left on AV2 as otherwise it would try to record from its internal tuner, which of course will be inoperative.


jb38's 7,179 posts
Saturday, 23 June 2012
F
Furnace
4:16 PM
Edenbridge

I am near Tunbridge Wells and cannot receive the HD channels. They should be on UHF channel 47, but my STB shows nothing on that channel. All the other MUXs (41,42,44,49 and 52) are fine, showing about 50% signal strength. Anybody else using the TWells transmitter got this issue?

Furnace's 8 posts
Furnace's:
map
F's Freeview map
terrain
F's terrain plot
waves
F's frequency data
F's Freeview Detailed Coverage
Tuesday, 26 June 2012

I have recently purchased a Sony KDL46EX653 TV it is supposed to have full HD built in but I am unable to get BBC1 HD or ITV 1 HD. It auto tunes all channels except 50 to 59 what would you suggest

Arnold Hague's 1 post
Saturday, 30 June 2012

Bluebell Hill area.(very Close)Panasonic Viera,old model,plasma with built in Freeview unable to find 4 HD channels50-60 missing after retune.However in other room have LG 3D with Freeview and Sky can get these channels O.K.after retune on Freeview.Any thoughts how I can get channels on Panasonic Please??

Pete's 1 post

Arnold Hague: I found the manual for it here:

http://www.sony.co.uk/sup…x653

However, it doesn't go into much detail about tuning.

If there is manual tune, then try manually tuning to the HD channel of your transmitter. HD services are broadcast using DVB-T2 standard whereas standard definition services use DVB-T. Therefore, there "may" be an option to select this when manually tuning.

Dave Lindsay's 5,724 posts
Select more comments
Your comment please