CBS Action
CBS Action is the home of modern action classics. From action-packed dramas, tense thrillers and nail-biting suspense, to science fiction and fast-paced primetime movies, the channel is a magnet for thrill seekers. You'll share the ride with some of your favourite heroes - every tough guy, good cop, bad cop - taking you on thrilling adventures through time and with every squeal of a tyre. CBS Action will keep you on the edge of your seat.
Main TV channels
How to Watch: CBS Action
Regional content
: National channel with no regional content or variations.
media.info
: For full details of broadcaster contacts, see the
media.info CBS Action page
.
Official site
: See the
CBS Action website
.
From Wikipedia
: - en.wikipedia.org
read more about CBS Action on wikipedia
(summary by
Clipped
).
Freeview multiplex
: CBS Action is on
multiplex COM6
in
England
Scotland
Northern Ireland
Wales .
Comments
Sunday, 22 September 2013

Martin Haresign: Yes, Sky can be difficult to deal with and especially if its in any way connected with a complaint.

But as far as retaining use of the recording / playback side of the box is concerned, what usually happens is when anyone phones up to cancel their contract they can "at that same time" request to retain use of the recording side of the box and Sky will then draw up a contract purely for that purpose and nothing else, as they will still kill the access codes in your card that allows you to view subscription channels but "not" the code that allows you to use the boxes recording facility.

That said, many people consider that £10.50 per month does not represent very good value to money and so opts to purchase a Freesat twin tuner recorder (PVR) which gives exactly the same facilities as a Sky+ box but free of charge, as Freesat and Sky are 100% compatible as far as the dish / LNB is concerned.

jb38's 7,179 posts
Platinum
Thursday, 28 August 2014

CBS ACTION its coming to freeview - great news

paul denning's 17 posts

paul denning: so is trutv+1 on channel 69

Sharealam's 223 posts
Silver
Sunday, 31 August 2014

does anybody no when CBS Action starts?

Sean's 1 post

paul denning: yes trutv+1 is on channel 69

sharealam's 223 posts
Silver
Monday, 1 September 2014

sharealam: new channel it be on channel 26,retune required

Sharealam's 223 posts
Silver

New channel on channel 26 called itvBE retune required

Sharealam's 223 posts
Silver

Sharealam: Thank for posting that. I had spotted truTV +1 | ukfree.tv - 12 years of independent, free digital TV advice in the auto update, but ITV Be | ukfree.tv - 12 years of independent, free digital TV advice had not made it past my caching system.



Briantist's 38,786 posts
Owner

@Sean: The channel is live on Freesat, but I'm getting this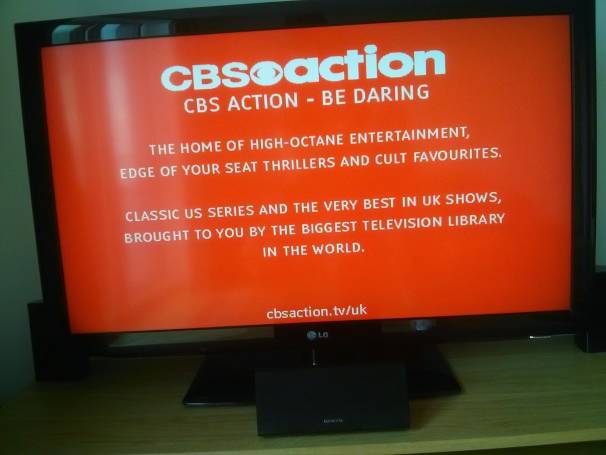 On Freeview. There's nothing in the EPG for this week... yet.

Also TruTV+1 is showing another MHEG5 screen


Briantist's 38,786 posts
Owner
Thursday, 4 September 2014

CBS Action is to start on Freeview 66 on 1st October 2014 according to digitalspy.co.uk

Alan F's 2 posts
Select more comments
Your comment please