ITV 1 (SD)
The heart of popular culture.
Main TV standard-definiton channels
How to Watch: ITV 1 (SD)
Below is a list of all the television and radio channels that you can watch in the UK using one of the free services: DAB (for radio), Freeview, Sky No Card - Sky without a viewing card (Freesat from Sky (or fSfS)) and Freesat.. Where a channel can be watched for free, the channel number is listed below. In addition, if you can watch (or listen) immediately online, press the button in the "web" column.

As some channels are exclusive to one service alone, you may need to get receive more than one service to get all the channels you want. The coverage for Freeview differs too - those channels not provided by the public service "Freeview Light" transmitters the current coverage shown thus

(54%)

, taken from Connected Nations Report 2017: Data analysis' Key: wb_sunny daytime; watch_later nighttime; account_box funded from the TV License; flags show Freeview channel limits.
Main TV standard-definiton channels
Regional content
: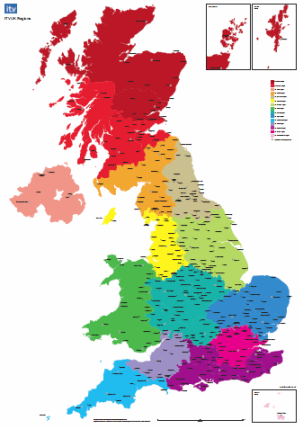 Channel 3 network for adverts and regional news. See
ITV, UTV and STV regions - overview map - interactive maps
. .
media.info
: For full details of broadcaster contacts, see the
media.info ITV 1 (SD) page
.
Official site
: See the
ITV 1 (SD) website
.
From Wikipedia
: The ITV1 brand was introduced by Carlton and Granada in 2001, alongside the regional identities of their eleven regional companies. However in line with other terrestrial channels, ITV1's audience share has fallen in the era of multi-channel television. ITV existed in a region-heavy form from its inception to the 2000s, although the switch was gradual. - en.wikipedia.org
read more about ITV 1 (SD) on wikipedia
(summary by
Clipped
).
Freeview multiplex
: ITV 1 (SD) is on
multiplex PSB2
in
.
Comments
Tuesday, 17 January 2012

A block of channels suddenly disappeared a week ago- including ITV1,2, Ch4, Ch5 ....all on the same multiplex I think. What is the solution, short of an expensive aerial change. I have tried retuning both the recorder tuner and the tv tuner to no avail.

Bob1's 1 post
Bob1's:
map
B's Freeview map
terrain
B's terrain plot
waves
B's frequency data
B's Freeview Detailed Coverage

My previou post had a mistype on the email address. Sorry.

Bob1's 1 post
Bob1's:
map
B's Freeview map
terrain
B's terrain plot
waves
B's frequency data
B's Freeview Detailed Coverage
Wednesday, 18 January 2012
Saturday, 28 January 2012

Jura

Alan's 1 post
Wednesday, 1 February 2012

Hi there, in the last two weeks we have lost the signal to get most ITV channels. This is true on more than one antenna. We have checked all cables and they seem fine. We have retuned our humax several times with no change. We have tried different tuners with the same result. We are using the pondtop pike transmitter.

Any advice at this stage would be greatly appreciated

Roy finch

Roy finch's 1 post
Friday, 3 February 2012

Roy finch: Please can you look at the Single frequency interference | ukfree.tv - independent free digital TV advice page?

Briantist's 38,901 posts
Thursday, 1 March 2012

Still no ITV channel4 etc. It worked for a short while yesterday evening but missed the last two goals!
All squeaky and pixelated now.
What is happening please?
You did not asswer yesterdays mail either by the way!
regards
Mike Knowles

Mike Knowles's 2 posts
Friday, 9 March 2012
G
Gerard Gregg-Smith
11:27 AM
London

Mike Knowles: And everyone else. I spoke to Digital.co.uk who said that transmitter work will probably be affecting digital channels in the weeks before the digital switchover in April. We have lost all channels except sometimes BBC4, but even that disappeared over the last 2 days. This has been going on since 20 Feb here in SW13. I do not know what can be done, if anything, other than get the transmitter engineers to change something. Gerard

Gerard Gregg-Smith's 6 posts
Gerard's:
map
G's Freeview map
terrain
G's terrain plot
waves
G's frequency data
G's Freeview Detailed Coverage
Wednesday, 11 April 2012
S
Simon Darlington
7:03 PM
Downham Market

Hi

We live in Downham Market (Norfolk) - PE38 9NX which we assume connects via the Kings Lynn Transmitter.

How do I configure my Freeview box to receive ITV Anglia ?

We currently receive ITV North which means most of the News we get is Sheffield focused and not Norwich / East Anglia focused.

Simon Darlington's 1 post
Simon's:
map
S's Freeview map
terrain
S's terrain plot
waves
S's frequency data
S's Freeview Detailed Coverage

Simon Darlington: If your aerial is directed to King's Lynn transmitter it will be vertical. All other transmitters that you can pick up at your location are horizontal.

King's Lynn transmitter is situated in the grounds of the Royal Estate at Sandringham. If your aerial does not point to it and if it isn't vertical then good reception may not be available to you.


You are picking up Yorkshire from Belmont in Lincolnshire. This uses low channels, so run the automatic tuning scan with the aerial unplugged for the first 30% and unplug again at 61% so as to scan for King's Lynn and avoid others.

Once completed, go to BBC One bring up the signal strength screen and it should be tuned to UHF channel 49 for King's Lynn. Do likewise for ITV1 and it should be tuned to C46 for KL.

Dave Lindsay's 5,724 posts
Select more comments
Your comment please