ITV1 +1
Another chance to watch your favourite shows an hour later on ITV+1
Main TV standard-definiton channels
How to Watch: ITV1 +1
Below is a list of all the television and radio channels that you can watch in the UK using one of the free services: DAB (for radio), Freeview, Sky No Card - Sky without a viewing card (Freesat from Sky (or fSfS)) and Freesat.. Where a channel can be watched for free, the channel number is listed below. In addition, if you can watch (or listen) immediately online, press the button in the "web" column.

As some channels are exclusive to one service alone, you may need to get receive more than one service to get all the channels you want. The coverage for Freeview differs too - those channels not provided by the public service "Freeview Light" transmitters the current coverage shown thus

(54%)

, taken from Connected Nations Report 2017: Data analysis' Key: wb_sunny daytime; watch_later nighttime; account_box funded from the TV License; flags show Freeview channel limits.
Main TV standard-definiton channels
Regional content
: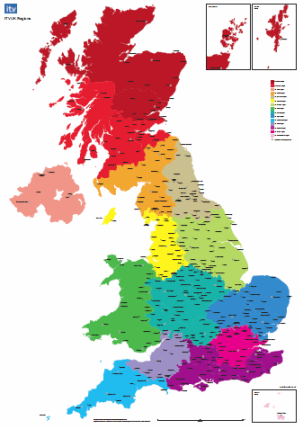 Channel 3 network for adverts and regional news. See
ITV, UTV and STV regions - overview map - interactive maps
. .
media.info
: For full details of broadcaster contacts, see the
media.info ITV1 +1 page
.
Official site
: See the
ITV1 +1 website
.
From Wikipedia
: The ITV1 brand was introduced by Carlton and Granada in 2001, alongside the regional identities of their eleven regional companies. However in line with other terrestrial channels, ITV1's audience share has fallen in the era of multi-channel television. ITV existed in a region-heavy form from its inception to the 2000s, although the switch was gradual. - en.wikipedia.org
read more about ITV1 +1 on wikipedia
(summary by
Clipped
).
Freeview multiplex
: ITV1 +1 is on
multiplex PSB2
in
.
Comments
Wednesday, 12 January 2011

I have retuned all my digital TV's and all channels still available as before BUT the ITV1+1 being fed from the Mendip tranmitter is showing as ITV1+1 Wales and as such welsh news and weather. Is this going to resolved as its the news and weather that I will benefit the most for on thois new +1 channel.

K Pearce's 3 posts

K Pearce- I receive signals from the Sandy Heath transmitter and am getting Meridian ITV1+1 on Freeview and Freesat. I am sure this will be explained(and possibly rectified) in due course.


LutonFan's 382 posts

K Pearce- please see


ITV ITV1plus1


Will I receive my normal regional programming on ITV1+1?

section.

LutonFan's 382 posts
Thursday, 13 January 2011
K
K Pearce
6:42 AM
Weston-super-mare

LutonFan
Thanks for the info.
Obviously it must me a lot more complicated than replaying a regionalised transmission 1 hr later on a different channel.

K Pearce's 3 posts
K's:
map
K's Freeview map
terrain
K's terrain plot
waves
K's frequency data
K's Freeview Detailed Coverage

K Pearce: Yes, I've written it all up here - ITV1+1 11 January 2011 (at last) | ukfree.tv - independent free digital TV advice .

Briantist's 38,903 posts

After completing a complete reset and having retuned, my ITV 1+1 is also showing as ITV 1+1 Wales, although I live in Plymouth and signal is from Caradon Hill. Also EPG is now showing a mixture of ITV 1+1 and ITV 2+1 for channel 33.

Chris's 2 posts
Friday, 14 January 2011

Chris: Please do this My Freeview box has no EPG, is blank on FIVE, ITV3, ITV4, ITV2+1, has no sound or the channel line up is wrong | ukfree.tv - independent free digital TV advice to fix the EPG problem.

Briantist's 38,903 posts
Tuesday, 8 March 2011

ben page: What more are you expecting?

Briantist's 38,903 posts
Sunday, 17 July 2011

I am only getting the Welsh version of ITV1+1 despite the fact that I live in S E Devon.

Can anyone tell me why this is please?

A retune doesn't change it. All my TV's are the same.

As much as I like Wales, I really don't need to know what happened in Cardiff last night, nor do I have any use for the local weather information.

Barnaby's 1 post

Barnaby: That is correct, there are only limited regions on ITV1+1: Yorkshire West, Wales, Central West, London, Granada and Meridian South.

These are "one per advertising region", so everyone in the West and South West of England gets ITV 1 Wales +1.

Briantist's 38,903 posts
Select more comments
Your comment please