ITV 1 HD
ITV HD has arrived, offering everything you know and love about ITV1 but in even shinier, brighter high definition. So now you can get even closer to all your favourite shows, whether it's The X Factor, Coronation Street or Ray Mears' Wild Britain. High Definition TV offers the very latest in picture quality with sharp images, rich colours and amazing detail. It's the closest you'll get to the action, without being there.
Main TV standard-definiton channels
How to Watch: ITV 1 HD
Below is a list of all the television and radio channels that you can watch in the UK using one of the free services: DAB (for radio), Freeview, Sky No Card - Sky without a viewing card (Freesat from Sky (or fSfS)) and Freesat.. Where a channel can be watched for free, the channel number is listed below. In addition, if you can watch (or listen) immediately online, press the button in the "web" column.

As some channels are exclusive to one service alone, you may need to get receive more than one service to get all the channels you want. The coverage for Freeview differs too - those channels not provided by the public service "Freeview Light" transmitters the current coverage shown thus

(54%)

, taken from Connected Nations Report 2017: Data analysis' Key: wb_sunny daytime; watch_later nighttime; account_box funded from the TV License; flags show Freeview channel limits.
High definition channels
Regional content
: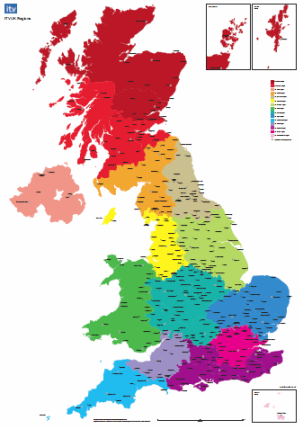 Channel 3 network for adverts and regional news. See
ITV, UTV and STV regions - overview map - interactive maps
. .
media.info
: For full details of broadcaster contacts, see the
media.info ITV 1 HD page
.
Official site
: See the
ITV 1 HD website
.
From Wikipedia
: From 2 April 2010, ITV1 HD became a standard channel available on all digital platforms. It was available on Telewest channel 118 and Freeview channel 503 in homes which were involved in the HD trial. The original ITV HD stopped broadcasting on the 30 November 2006. - en.wikipedia.org
read more about ITV 1 HD on wikipedia
(summary by
Clipped
).
Freeview multiplex
: ITV 1 HD is on
multiplex PSB3
in
.
This channel carries a subtitles service for the deaf, hard of hearing and quiet environments.
Comments
Tuesday, 25 August 2015

Yesterday (24th Aug 2015), I noticed my YouView box was displaying ITV Wales HD on 103, but the 'regional' news on it was still for the Central area. However just now, I noticed that the 'regional' news was for the ITV Wales area, so it seems that there is now an ITV Wales HD variant!

I'm getting it from the Llanddona transmitter, btw!

Arg's 1 post
Thursday, 26 November 2015

We live in Wimborne, Dorset.
Our Meridian content seems to cover the East Meridian region only and not the West Meridian, this normally only effects the local news, which as you can, is not local to us.
Have tried re-tuning, but it does not seem to make any difference and continues to pick up the East Meridian news.
Are Meridian only transmitting the Eastern area news, as I suspect, or is there a solution to this problem.
As far as I can ascertain we are receiving our signal from the I.O.W transmitter, if that is the case then Meridian must be at fault.













B.D.Lowe's 1 post
Thursday, 7 April 2016

hi there. i have been unable to receive ITV HD on channel 119 through my Humax freesat 1000s STB for a few days now. is there any issue with the broadcast?

kev's 1 post

I have also lost its he on my human box does anybody know why?

ian gumbleton's 1 post
Sunday, 12 June 2016
R
Richard Cooper
9:42 PM
Norwich

B.D.Lowe: Hi, BD Lowe. Firstly, I need to inform you that ITV HD is not fully regionalised on Freeview HD yet, so Freeview viewers find that they can't necessarily watch the news for their 'sub-region' on ITVHD, whereas they can on SD. As far as HD is concerned, you will find you are part of a very large 'macro' region, called 'South' which sends Meridian News (East version) to anyone watching ITV HD from Dorset right up to Cromer in Norfolk, because the Anglia region has not gone on to Freeview HD yet, just as Meridian West hasn't either. So you are indeed correct to say that Meridian is only proving its Eastern area news in HD, so there's nothing you can do until it is thought that it is commercially viable to provide Meridian West news in HD on Freeview. All we can do is to continue to watch the 'correct' news sub-region by viewing it in standard definition Freeview, or switch from Freeview to Freesat, where more HD regions are provided for! If we don't want the expense of switching to Freesat, we just have to wait until ITV News HD 'in our region' is commercially viable for us. Hope this helps, Richard, Norwich, Sunday 12th. June, 9:30 p.m.

Richard Cooper's 466 posts
Richard's:
map
R's Freeview map
terrain
R's terrain plot
waves
R's frequency data
R's Freeview Detailed Coverage
Thursday, 28 June 2018

Yet again today hd channels from Eyemouth transmitter go off air. What is he problem

Brian Stanley's 8 posts
Saturday, 9 February 2019

Hi, Does anyone know if the reception footprint of the Calne SN11 transmitter will be changed to allow reception on the Cherhill View estate.

Tony's 1 post

Tony:

They are no plans announced for such a change as yet. You should ask Arqiva directly by contacting them via their website.



MikeP's 3,056 posts
Tuesday, 19 February 2019
G
Grahame Alan Baker
8:28 PM

Channel 5HD goes off and says no signal then comes back on. I checked the TV signal on settings it said 100% good signal. What is happening I live in Bridgwater Somerset.

Grahame Alan Baker's 3 posts

Grahame Alan Baker: If you're seeing 100% signal strength then it's likely that your TV's tuner is being overloaded with too much signal. Try an attenuator to reduce the signal strength (you should be aiming for 70%-85%).

StevensOnln1's 3,569 posts
Select more comments
Your comment please