Durris (Aberdeenshire, Scotland) DAB transmitter
Are there any planned engineering works or unexpected transmitter faults on the Durris (Aberdeenshire, Scotland) mast?
UK Free TV shows the coverage area for a radio transmitter as a coloured overlay (orange for FM, other colours for DAB) on the grey map. We have computed the coverage by combining the terrain with the official radiation pattern. A single click will select the transmitter to view the coverage for a single site, and a double click goes to a page showing full details. Click on the buttons in the right-hand corner of the map to choose from different frequencies (or multiplexes for DAB).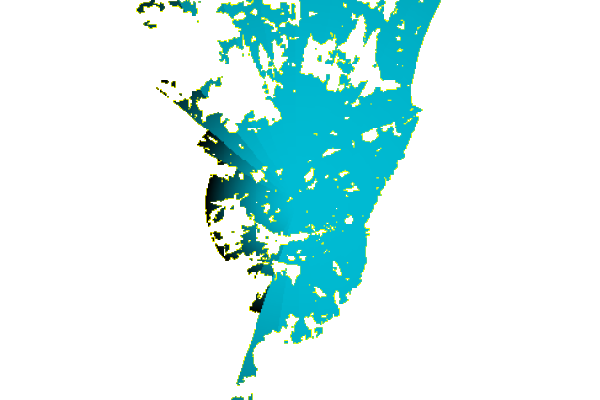 Local transmitter maps
Durris DAB
Durris AM/FM
Comments
Sunday, 25 September 2011

Briantist: These DAB coverage maps are an impressive addition to the site.

I live in Aberdeen, well inside the D1 National coverage area surrounded by the thick line on the above map. I don't have a DAB radio however the Digital One postcode checker (http://www.ukdigitalradio.com/coverage/postcodesearch/) says that I cannot receive their DAB stations at my location.

I don't know how reliable this postcode checker is but I thought I'd point it out in case a few refinements to the coverage maps are required. It is difficult though considering all the variables that have an impact on the coverage area.

Will's 39 posts
Thursday, 29 September 2011

Will: As it says above "the coverage area shown is the official radiation pattern, the actual terrain and receiver aerial position will affect reception reliability".

Trying to do pixel-based DAB reception prediction would overload the server capacity.

Briantist's 38,899 posts
Sunday, 16 November 2014

I have enjoyed good DAB reception for a few years, in Edzell, Angus, but just recently, the signal has vanished. No new buildings or obstructions that I am aware of. Any recent changes at Durris transmitter ? Thanks

Peter Gallacher's 1 post
Sunday, 21 June 2015

Since Thursday 18th June, the reception of National 1 DAB stations has been appalling in the Aberdeen area. There have always been a few dropout points to the north and north east of the city (Oldmeldrum-Ellon areas), but I never really had any problems when driving in to Dyce. Now, I cannot even get out of my driveway before I have lost the signal! Something happened I'm guessing after the maintenance on the 17th June. Anyone know when we will get a decent signal back again?

Steve Martin's 1 post
Monday, 22 June 2015

I only seem to have this reception problem with Smooth Radio, Reception was really good apart from a few dropout points up untill Friday 19th June. (Just put it back the way it was untill you can install a proved update)

Alex Morrice's 1 post
Monday, 15 May 2017

I live in Banchory, AB315TX and my TV comes on but displays the words "no signal". This happened on Saturday pm 13 May. The TV is a Sharp TV and was purchased two months ago. Can you advise, please?

J. Edmond's 1 post

J. Edmond: There are no faults showing for Durris and your coverage prediction shows that you're just 9km away and should have excellent signal for all channels. Therefore the problem is most likely at your end, start by checking all the cables and connections behind the TV, looking for anything loose or damaged, then work your way back towards the aerial as far as you can safely access.

StevensOnln1's 3,552 posts
Friday, 19 June 2020

I cannot seem to get talk radio + or talksport 2,why could that be?

kevin's 1 post

kevin: Both of those stations are now broadcast using DAB+ so some older DAB radios will no longer be able to receive them.

StevensOnln1's 3,552 posts
Saturday, 5 September 2020

"Your predicted transmitter is Durris for KY168QH"

PLEASE can you help the elderly people living around KY16 8QH? Many of us cannot afford to put up a Freeview/Sky sat. This has been a problem for years as this area is in a dip in the terrain and on the furthest south broader from Durris. The no signal is random as if someone is flicking a switch. Over 90% of the time we have NO SIGNAL or invalid channel. Previously when we have complained to the BBC the TV signal comes back and it is ok for about 2 days, then it reverts to no signal for days, weeks and the worst one was 3 months. Can this problem be fixed permanently? Many elderly unwell people live here and depend on the TV for news about Covid-19 and relaxation, I have terminal cancer and bad mobility so I fall into that category and I rely on the TV working. Everyone has had their TV, Aerials, cables, boosters checked and they are working. No other transmitter is available to us. Please can you help us?

Debs's 1 post
Select more comments
Your comment please