Full Freeview on the Hannington (Hampshire, England) transmitter

Brian Butterworth first published this on - UK Free TV
The symbol shows the location of the Hannington (Hampshire, England) transmitter which serves 470,000 homes. The bright green areas shown where the signal from this transmitter is strong, dark green areas are poorer signals. Those parts shown in yellow may have interference on the same frequency from other masts.
This transmitter has no current reported problems
The BBC and Digital UK report there are no faults or engineering work on the Hannington (Hampshire, England) transmitter.


_______
Which Freeview channels does the Hannington transmitter broadcast?
If you have any kind of Freeview fault, follow this
Freeview reset procedure
first.
Digital television services are broadcast on a multiplexes (or Mux) where many stations occupy a single broadcast frequency, as shown below.
Mux
H/V
Frequency
Height
Mode
Watts

PSB1




BBCA

H max

C45 (666.0MHz)
362m
DTG-3

50,000W


1 BBC One (SD) South, 2 BBC Two England, 9 BBC Four, 201 CBBC, 202 CBeebies, 231 BBC News, 232 BBC Parliament, 250 BBC Red Button, plus 16 others 700 BBC Radio 1, 701 BBC Radio 1Xtra, 702 BBC Radio 2, 703 BBC Radio 3, 704 BBC Radio 4 (FM), 705 BBC Radio 5 Live, 706 BBC Radio 5 Live Sports Extra, 707 BBC Radio 6 Music, 708 BBC Radio 4 Extra, 709 BBC Asian Network, 710 BBC World Service, 719 BBC Berkshire (BBC local radio), 720 BBC Sussex (BBC local radio), 721 BBC Wiltshire (BBC local radio), 722 BBC Solent (BBC local radio), 734 BBC Solent for Dorset (BBC local radio),



PSB2




D3+4

H max

C42 (642.0MHz)
362m
DTG-3

50,000W


3 ITV (SD) (Meridian/Central (Thames Valley micro region)), 4 Channel 4 (SD) South ads, 5 Channel 5 (SD), 6 ITV 2, 10 ITV3, 13 E4, 14 Film4, 15 Channel 4 +1 South ads, 18 More4, 24 ITV4, 33 ITV +1 (Meridian south coast),



PSB3




BBCB

H max

C39+ (618.2MHz)
362m
DTG-6

50,000W


74 Shopping Quarter , 101 BBC One HD (England no regional news), 102 BBC Two HD (England), 103 ITV HD (ITV Meridian Southampton), 104 Channel 4 HD South ads, 105 Channel 5 HD, 204 CBBC HD, plus 1 others 65 TBN UK,



COM4




SDN

H -3dB

C40 (626.0MHz)
362m
DTG-8

25,000W


12 Quest, 20 Drama, 21 5USA, 27 ITV2 +1, 30 5STAR, 31 Paramount Network, 34 ITV3 +1, 40 Sony Movies Action, 44 Channel 5 +1, 54 5SELECT, 58 ITVBe +1, 59 ITV4 +1, 63 Blaze, 66 CBS Reality, 70 Horror Channel, 77 TCC, 80 Blaze +1, 203 CITV, 211 Ketchup TV, plus 17 others 16 QVC, 49 TJC, 85 Hochanda, 95 Create & Craft, 252 Kiss Chat & Date, 253 Proud Dating, 261 Racing TV, 263 SonLife, 264 VisionTV, 265 On Demand 365, 269 Arise News, 670 ADULT Section (start), 675 ADULT PARTY, 680 ADULT Xpanded2, 724 Capital, 727 Absolute Radio, 728 Heart,



COM5




ArqA

H -3dB

C43 (650.0MHz)
359m
DTG-8

25,000W


11 pick, 17 Really, 19 Dave, 23 CCXTV, 28 E4 +1, 29 4Music, 38 Quest Red, 41 Food Network, 45 Film4 +1, 46 Challenge, 47 4seven, 57 Smithsonian Channel, 75 Yesterday +1, 76 Quest +1, 78 Now 70s, 88 Together TV, 233 Sky News, plus 8 others 43 Gems TV, 673 ADULT smileTV3, 678 Xpanded TV, 723 talkSPORT, 730 RNIB Connect, 731 Classic FM, 732 LBC, 733 Trans World Radio,



COM6




ArqB

H -3dB

C46 (674.0MHz)
359m
DTG-8

25,000W


25 Yesterday, 32 Sony Movies, 37 DMAX, 39 CBS Justice, 42 HGTV, 67 CBS Drama, 79 Dave ja vu, 81 Talking Pictures TV, 91 PBS America, 234 RT, 235 Aljazeera English, plus 18 others ADULT smileTV2, 22 Ideal World, 35 QVC Beauty, 36 QVC Style, 73 Jewellery Maker, 206 Pop, 674 ADULT Babestn, 679 ADULT Studio 66, 699 ADULT Section, 711 Hits Radio, 712 KISS FRESH, 713 KISS, 714 KISSTORY, 715 Magic, 716 Greatest Hits Radio, 717 Kerrang!, 718 Smooth Radio, 725 Premier Radio,



com7




H -1.3dB

C55 (746.0MHz)
362m
DTG-6

36,700W


64 FreeSports, 72 Quest Red +1, 83 NOW 80s, 86 More4 +1, 89 Together TV +1, 92 Pick +1, 93 PBS America +1, 96 Forces TV, 106 BBC Four HD, 107 BBC News HD, 113 RT HD, 114 Quest HD, 209 CBeebies HD, plus 2 others 111 QVC HD, 112 QVC Beauty HD,



com8




H -2.8dB

C56 (754.0MHz)
362m
DTG-6

26,200W





DTG-3
64QAM 8K 2/3 24.1Mb/s DVB-T MPEG2
DTG-6
256QAM 32KE 2/3 40.2Mb/s DVB-T2 MPEG4
DTG-8
64QAM 8K 3/4 27.1Mb/s DVB-T MPEG2
H/V: aerial position (horizontal or vertical)
Which BBC and ITV regional news can I watch from the Hannington transmitter?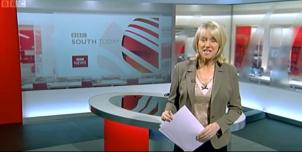 BBC South Today
1.3m homes
4.9%
from
Southampton
SO14 7PU, 46km south-southwest (194°)
to
BBC South region - 39 masts
.
ITV Meridian News
0.9m homes
3.4%
from
Whiteley
PO15 7AD, 48km south (179°)
to
ITV Meridian/Central (Thames Valley) region - 15 masts
.
Thames Valley opt-out from Meridian (South). All of lunch, weekend and 50% evening news is shared with all of Meridian+Oxford
How will the Hannington (Hampshire, England) transmission frequencies change over time?
1984-97
1997-98
1998-2012
2012-13
2013-18
2013-17
18 Apr 2018

E

E

E

B

E

T

B

E

T

W

T

W

T

C32
com7
com7
C34
com8
com8
C35
C5waves
C5waves
C39
BBC1waves
BBC1waves
BBC1waves

+

BBCB

+

BBCB

+

BBCB
BBCB
C40

+

A
SDN
C41

+

D
SDN
SDN
SDN
C42
ITVwaves
ITVwaves
ITVwaves
D3+4
D3+4
D3+4
D3+4
C43

+

2
ArqA
C44

+

C
ArqA
ArqA
ArqA
C45
BBC2waves
BBC2waves
BBC2waves
BBCA
BBCA
BBCA
BBCA
C46

+

B
ArqB
C47
ArqB
ArqB
ArqB
C50tv_off
1
C51tv_off
_local
_local
_local
C55tv_off
com7tv_off
C56tv_off
com8tv_off
C66
C4waves
C4waves
C4waves
tv_off Being removed from Freeview (for 5G use) after November 2020 - more
Table shows multiplexes names see this article;
green background for transmission frequencies
Notes:
+
and
-
denote 166kHz offset;
aerial group
are shown as
A
B
C/D
E
K
W
T
waves
denotes analogue; digital switchover was 8 Feb 12 and 22 Feb 12.
How do the old analogue and currrent digital signal levels compare?
Analogue 1-4

250kW

Analogue 5
(-6.2dB)

60kW

BBCA

,

D3+4

,

BBCB

(-7dB)

50kW

com7

(-8.3dB)

36.7kW

com8

(-9.8dB)

26.2kW

SDN

,

ARQA

,

ARQB

(-10dB)

25kW

Mux 1*

,

Mux 2*

,

Mux A*

,

Mux B*

(-11dB)

20kW

Mux C*

,

Mux D*

(-14dB)

10kW
Which companies have run the Channel 3 services in the Hannington transmitter area
| | |
| --- | --- |
| Aug 1958-Jan 1992 | Southern Television |
| Jan 1982-Dec 1992 | Television South (TVS) |
| Jan 1993-Dec 2006 | Meridian |
| Dec 2006-Feb 2009 | ITV Thames Valley |
| Feb 2009-Dec 2014 | ITV plc |

| | |
| --- | --- |
| Feb 1983-Dec 1992 | TV-am• |
| Jan 1993-Sep 2010 | GMTV• |
| Sep 2010-Dec 2014 | ITV Daybreak• |
• Breakfast ◊ Weekends ♦ Friday night and weekends † Weekdays only. Hannington was not an original Channel 3 VHF 405-line mast: the historical information shown is the details of the company responsible for the transmitter when it began transmitting Channel 3.
Comments
Wednesday, 13 May 2020

Colin Whatley:

Yes I guess ?32 is probably quite reasonable, the prices I was seeing elsewhere were considerably more., but what's the delivery cost with TLC (I haven't checked)?
You will need to amplify it a bit to make up for the losses with a loft aerial and splitting it that many ways but it's very much a case of how much and it could be easy to overdo it, but if you can get the kit cheap enough you could always add some attenuation.
I did see one bargain price at Toolstation if you have a branch near you that has one for click and collect, as it's not available for delivery SLx Megaboost Aerial Kit 4 Way it's a clearance price of ?15.61, even I would have bought one at that price if any store near me had one!
Whoever you buy from, don't forget metal coax plugs, and any double screened coax you need.

Even though you may not need it although I think you might, I would still buy this variable attenuator Satellite or Cable TV Variable 0-20dB Signal Attenuator F Type with Short Cable 5060507532225 | eBay (that's ebay item 253378790228) it is exceptional value coming with that short cable. It has the advantage it's DC pass-through so you can put it anywhere in the system. If you were to find that all outputs need attenuation, you might get away with this between the aerial and the splitter.

I'm assuming that the outputs you are thinking of splitting so you have 6 in all, will be the ones for the shortest cable runs, in which case I think I'd get a couple of the cheap plastic Y splitters as their insertion loss will provide some attenuation that you'll likely need. They are so cheap (eg. TLC 66p ?), if it were to turn out you needed the metal low loss splitters instead, it's hardly a big waste of money!

In any event, I'd start experimenting with the attenuator at your main set where you'll presumably site the PSU (at least to experiment). When you have some idea about how much attenuation might be needed you can then think about where you put it and also the PSU as you'll want the splitter powered up even when the main set is not in use?


Chris.SE's 1,432 posts
Saturday, 6 June 2020
C
Colin Whatley
9:01 PM
Basingstoke

Thanks Chris, I have installed the SLX Megaboost 4 way aerial and tested all structured outlets in the house individually direct from the aerial ie. not though the boosted 4 way amp/splitter, and they all get 100% signal quality and strength (which I guess is too much) on the test TV. Unfortunately as you predicted when I connect them through the 4 way amp/splitter they all still show 100% strength, but quality of only 40%, so I guess too much signal!? I've tried a 10b attenuator between the aerial and the amp/splitter, but doesn't improve things much. The log periodic aerial spec only shows a 6b gain from the aerial, but 16b for each output on the amp/splitter.

Is it best to try the variable attenuator between the aerial and the amp/splitter, or shall I ignore the amp and just try a 6 way splitter if the signal is really strong!?

What do you think?

Colin Whatley's 3 posts
Sunday, 7 June 2020

Colin Whatley:

You should have bought that particular variable attenuator that I mentioned at the time, it's now out of stock (I'll see if i can track down a similar one later). Yes, if the quality is dropping to 40% with the amp it could well be too much signal.
But what sort of figures were you getting for this 10dB attenuator between the aerial and amp?

If the aerial direct to a TV outlet was 100% signal and quality, it might be bordering on too much but if there's no breakup of picture or sound over a period, I wouldn't regard it as necessarily any problem. What I would try first is put the 10dB attenuator between the aerial and a single outlet (no amp) and see what figures you get. This will give you and idea of how much signal you've actually got.
Then try the 10dB attenuator between the amp and an outlet (but not the one with the PSU) and see what figures you get - again this will start to give you an idea of what is going on.

Attenuators are a very much under-rated diagnostic tool!

Chris.SE's 1,432 posts
Monday, 8 June 2020

@Colin Whatley:

As I understand it you get strong 100% quality signals from the four outputs from the mast head amp/splitter.

You want to split two of those two ways each?

If so try two cheap passive splitters similar to:
TV Aerial Metal Coaxial Signal Splitter 2 Way 1 Male to 2 Female Coax | eBay
if fitting in an accessible place,
or perhaps ones with F connectors might be better if they have to be in the loft near the aerial similar to one of these:
INDOOR SPLITTER 2 WAY 3 WAY 4 WAY 6 WAY 8 WAY TV CABLE AERIAL SIGNAL FREE F PLUG | eBay

Brian Gregory's 21 posts
Brian's:
map
B's Freeview map
terrain
B's terrain plot
waves
B's frequency data
wifi
B's R

&

TI Service
business
B's digital

uk

trade
radio
B's DAB coverage

Brian Gregory:

You understand it wrong. The signal he's getting from the amplifier outputs appears to be far too strong. Until he discovers how much signal he's getting from the aerial as well as from an attenuated amplifier output, it's not possible to decide the best way to go. If for example he's getting enough signal direct from the aerial, I would be suggesting trying one of the 6-way splitters in the 2nd link you posted, which I'd already looked at yesterday.
You need to analyse the situation before rushing off to make suggestions.
(As an aside, have you bothered to read he reply to your own post?).

Chris.SE's 1,432 posts
Wednesday, 10 June 2020

Colin Whatley:

It just been announced (personally I'm disgusted and will be complaining to OFCOM and Arqiva) that COM8 is to close on June 22nd see 22 Jun 2020 - Important channel broadcast changes | Freeview
so we'll be loosing Channels 4+1 HD, 4seven HD, TJD HD and a number of +1 SD channels. Other COM8 channels will be moving multiplex (some to COM7? & room possibly on PSB3) as well as COMs 5 & 6.
Not sure how your COM7 signal compares to COM8 and whether that will have any effect on the way you deal with this.


Chris.SE's 1,432 posts
Thursday, 11 June 2020

@Chris.SE: His reply to my own post? WTF? Where? I never got a notification email and I can't see it anywhere.

Brian Gregory's 21 posts

Brian Gregory:

It will depend on what frequency of email you signed up for, even then it's not my fault if the site hasn't sent an email when it should have (I'm getting my weekly ones, some people sign for daily etc.) have you changed your email address? If you didn't keep a note of where you posted there are still two ways of finding them -

There's a link to all your own posts at the end of each post (as well as a link to that individual post) -
In that list of your posts, each post has a link to the board where you made the post at the top of the post., and at the end of the post there's the link to the specific post, responses are obviously after that.

On the site Menu (top LH of the page) you can click News and select "Your comments" where you'll find a list of all the most recent posts made to the site, each preceded with a link to that post on the relevant board (obviously if many other posts have been made, your particular post may have gone off the end of the list).

The specific post you made, and the reply you can find here - Get to see your Freeview predictions map | free and easy

Unfortunately, sometimes these links are broken. As the site owner hasn't had the time to fix them, we contributors have to make the best of it and it can be very frustrating, but in the case of the ones I've mentioned in relation to your recent posts, they all seem to work.

Chris.SE's 1,432 posts
Select more comments
Your comment please