Freeview Light on the Skipton (North Yorkshire, England) transmitter

Brian Butterworth first published this on - UK Free TV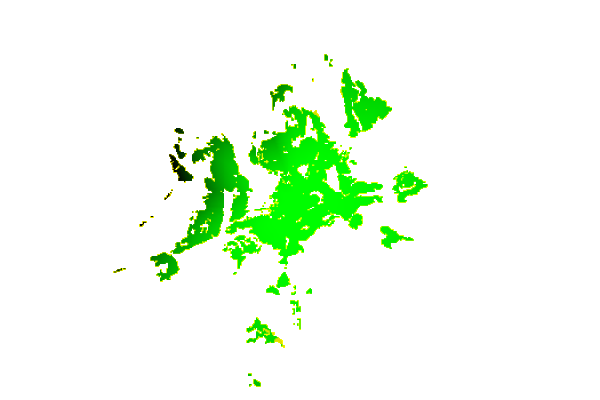 The symbol shows the location of the Skipton (North Yorkshire, England) transmitter which serves 11,000 homes. The bright green areas shown where the signal from this transmitter is strong, dark green areas are poorer signals. Those parts shown in yellow may have interference on the same frequency from other masts.
Are there any planned engineering works or unexpected transmitter faults on the Skipton (North Yorkshire, England) mast?
SKIPTON transmitter - Freeview: BBC Digital TV Off Air; DSO related from 09:03 yesterday to 10:51 yesterday, HD Digital TV Off Air; DSO related from 09:03 yesterday to 10:51 yesterday.
_______
Which Freeview channels does the Skipton transmitter broadcast?
If you have any kind of Freeview fault, follow this
Freeview reset procedure
first.
Digital television services are broadcast on a multiplexes (or Mux) where many stations occupy a single broadcast frequency, as shown below.
Mux
H/V
Frequency
Height
Mode
Watts

PSB1




BBCA

V max

C39+ (618.2MHz)
212m
DTG-3

2,000W


1 BBC One (SD) Yorkshire, 2 BBC Two England, 9 BBC Four, 201 CBBC SD, 202 CBeebies, 231 BBC News, 232 BBC Parliament, 250 BBC Red Button, plus 16 others 700 BBC Radio 1, 701 BBC Radio 1Xtra, 702 BBC Radio 2, 703 BBC Radio 3, 704 BBC Radio 4 (FM), 705 BBC Radio 5 Live, 706 BBC Radio 5 Live Sports Extra, 707 BBC Radio 6 Music, 708 BBC Radio 4 Extra, 709 BBC Asian Network, 710 BBC World Service, 719 BBC Leeds (BBC local radio), 720 BBC York (BBC local radio), 721 BBC Humberside (BBC local radio), 722 BBC Lincolnshire (BBC local radio), 734 BBC Sheffield (BBC local radio),



PSB2




D3+4

V max

C45 (666.0MHz)
212m
DTG-3

2,000W


3 ITV (SD) (Yorkshire (Emley Moor micro region)), 4 Channel 4 (SD) North ads, 5 Channel 5 (SD), 6 ITV 2, 10 ITV3, 13 E4, 14 Film4, 15 Channel 4 +1 North ads, 18 More4, 24 ITV4, 33 ITV +1 (Yorkshire Emley Moor), 45 Film4 +1,



PSB3




BBCB

V max

C42 (642.0MHz)
212m
DTG-6

2,000W


86 More4 +1, 101 BBC One HD (England no regional news), 102 BBC Two HD (England), 103 ITV HD (ITV Granada), 104 Channel 4 HD North ads, 105 Channel 5 HD, 204 CBBC HD,


DTG-3
64QAM 8K 2/3 24.1Mb/s DVB-T MPEG2
DTG-6
256QAM 32KE 2/3 40.2Mb/s DVB-T2 MPEG4
H/V: aerial position (horizontal or vertical)
Are you trying to watch these 61 Freeview channels?

The
Skipton (North Yorkshire, England)
mast is a
public service broadcasting
(PSB) transmitter, it does not provide these
commercial
(COM) channels: 4Music, 4seven, 4seven HD, 5SELECT, 5Spike, 5STAR, 5STAR +1, 5USA, 5USA +1, Aljazeera English HD, BBC Four HD, BBC News HD, Blaze, Blaze +1, CBeebies HD, CBS Drama, CBS Justice, CBS Reality, CBS Reality +1, Challenge, Channel 4+1 HD, Channel 5 +1, CITV, Dave, Dave ja vu, DMAX, Drama, E4 +1, Food Network, Forces TV, Freesports, Home, Horror Channel, ITV2 +1, ITV3 +1, ITV4 +1, ITVBe +1, Quest HD, Movies4Men, NOW 80s, Now 90s, Paramount Network, PBS America, pick, Pick +1, Quest +1, Quest Red, Quest Red +1, Really, RT HD, Sewing Quarter, Sky News, Smithsonian Channel HD, Sony Movie Channel, Talking Pictures TV, TCC, Together, True Entertainment, True Movies, Yesterday, YourTV.
If you want to watch these channels, your aerial must point to one of the 80
Full service Freeview transmitters
. For more information see the
will there ever be more services on the Freeview Light transmitters?
page.
Which BBC and ITV regional news can I watch from the Skipton transmitter?
BBC Look North (Leeds)
1.9m homes
7.4%
from
Leeds
LS9 8AH, 44km east-southeast (114°)
to
BBC Yorkshire region - 56 masts
.
ITV Calendar
1.9m homes
7.4%
from
Leeds
LS3 1JS, 41km east-southeast (115°)
to
ITV Yorkshire (Emley Moor) region - 59 masts
.
All of lunch, weekend and 80% evening news is shared with Belmont region
How will the Skipton (North Yorkshire, England) transmission frequencies change over time?
1984-97
1997-98
1998-2011
2011-13
10 Apr 13
2013-17
31 Dec 2019-

B

E

T

B

E

T

B

E

T

B

E

T

B

E

K

T

B

E

K

T

B

E

K

T

C39
BBC1waves
BBC1waves
BBC1waves
BBCA
BBCA
BBCA
C42
C4waves
C4waves
C4waves
BBCB
BBCB
BBCB
BBCB
C45
BBC2waves
BBC2waves
BBC2waves
D3+4
D3+4
D3+4
D3+4
C49tv_off
ITVwaves
ITVwaves
ITVwaves

+

BBCA
tv_off Being removed from Freeview (for 5G use) by 30 June 2020 - more
Table shows multiplexes names see this article;
green background for transmission frequencies
Notes:
+
and
-
denote 166kHz offset;
aerial group
are shown as
A
B
C/D
E
K
W
T
waves
denotes analogue; digital switchover was 7 Sep 11 and 21 Sep 11.
How do the old analogue and currrent digital signal levels compare?
Analogue 1-4

10kW

BBCA

,

D3+4

,

BBCB

(-7dB)

2kW
Which companies have run the Channel 3 services in the Emley Moor transmitter area
| | |
| --- | --- |
| May 1956-Jul 1968 | Granada Television† |
| May 1956-Jul 1968 | Associated British Corporation◊ |
| Jul 1968-Oct 2002 | Yorkshire Television |
| Oct 2002-Dec 2014 | ITV |

| | |
| --- | --- |
| Feb 1983-Dec 1992 | TV-am• |
| Jan 1993-Sep 2010 | GMTV• |
| Sep 2010-Dec 2014 | ITV Daybreak• |
• Breakfast ◊ Weekends ♦ Friday night and weekends † Weekdays only. Skipton was not an original Channel 3 VHF 405-line mast: the historical information shown is the details of the company responsible for the transmitter when it began transmitting Channel 3.
Comments
Friday, 14 June 2019
Transmitter engineering
5:09 AM

SKIPTON transmitter - Freeview: BBC Digital TV Off Air; DSO related from 09:20 yesterday to 10:04 yesterday, HD Digital TV Off Air; DSO related from 09:20 yesterday to 10:04 yesterday. [BBC]

Transmitter engineering's 119,910 posts
Transmitter engineering
11:09 AM

SKIPTON transmitter - Freeview: BBC Digital TV Off Air; DSO related from 09:03 today to 10:51 today, HD Digital TV Off Air; DSO related from 09:03 today to 10:51 today. [BBC]

Transmitter engineering's 119,910 posts
Saturday, 15 June 2019
Transmitter engineering
5:09 AM

SKIPTON transmitter - Freeview: BBC Digital TV Off Air; DSO related from 09:03 yesterday to 10:51 yesterday, HD Digital TV Off Air; DSO related from 09:03 yesterday to 10:51 yesterday. [BBC]

Transmitter engineering's 119,910 posts
Select more comments
Your comment please