Freeview Light on the Tenby (Pembrokeshire, Wales) transmitter

Brian Butterworth first published this on - UK Free TV
The symbol shows the location of the Tenby (Pembrokeshire, Wales) transmitter which serves 1,900 homes. The bright green areas shown where the signal from this transmitter is strong, dark green areas are poorer signals. Those parts shown in yellow may have interference on the same frequency from other masts.
This transmitter has no current reported problems
The BBC and Digital UK report there are no faults or engineering work on the Tenby (Pembrokeshire, Wales) transmitter.


_______
Which Freeview channels does the Tenby transmitter broadcast?
If you have any kind of Freeview fault, follow this
Freeview reset procedure
first.
Digital television services are broadcast on a multiplexes (or Mux) where many stations occupy a single broadcast frequency, as shown below.
Mux
H/V
Frequency
Height
Mode
Watts

PSB1




BBCA

V max

C56- (753.8MHz)
97m
DTG-3

20W


9 BBC Four, 201 CBBC SD, 202 CBeebies, 231 BBC News, 232 BBC Parliament, 250 BBC Red Button, plus 13 others 700 BBC Radio 1, 701 BBC Radio 1Xtra, 702 BBC Radio 2, 703 BBC Radio 3, 704 BBC Radio 4 (FM), 705 BBC Radio 5 Live, 706 BBC Radio 5 Live Sports Extra, 707 BBC Radio 6 Music, 708 BBC Radio 4 Extra, 709 BBC Asian Network, 710 BBC World Service, 719 BBC Radio Wales, 720 BBC Radio Cymru,



PSB2




D3+4

V max

C48 (690.0MHz)
97m
DTG-3

20W


5 Channel 5 (SD), 6 ITV 2, 10 ITV3, 14 Film4, 15 Channel 4 +1 South ads, 18 More4, 24 ITV4, 33 ITV +1 (Wales),



PSB3




BBCB

V max

C52- (721.8MHz)
97m
DTG-6

20W


104 Channel 4 HD South ads, 105 Channel 5 HD, 204 CBBC HD,


DTG-3
64QAM 8K 2/3 24.1Mb/s DVB-T MPEG2
DTG-6
256QAM 32KE 2/3 40.2Mb/s DVB-T2 MPEG4
H/V: aerial position (horizontal or vertical)
Are you trying to watch these 62 Freeview channels?


The
Tenby (Pembrokeshire, Wales)
mast is a
public service broadcasting
(PSB) transmitter, it does not provide these
commercial
(COM) channels: 4Music, 4seven, 4seven HD, 5SELECT, 5Spike, 5STAR, 5STAR +1, 5USA, 5USA +1, AlJazeera English (SD), Aljazeera English HD, BBC Four HD, BBC News HD, Blaze, Blaze +1, CBeebies HD, CBS Drama, CBS Justice, CBS Reality, CBS Reality +1, Challenge, Channel 4+1 HD, Channel 5 +1, CITV, Dave, Dave ja vu, DMAX, Drama, E4 +1, Film4 +1, Food Network, Forces TV, Freesports, Home, Horror Channel, ITV2 +1, ITV3 +1, ITV4 +1, ITVBe +1, Together TV +1, More4 +1, Movies4Men, NOW 80s, Now 90s, Paramount Network, PBS America, pick, Pick +1, Quest +1, Quest Red, Quest Red +1, Really, RT HD, Sewing Quarter, Sky News, Smithsonian Channel HD, Sony Movie Channel, Talking Pictures TV, TCC, Together TV, Yesterday, YourTV.
If you want to watch these channels, your aerial must point to one of the 80
Full service Freeview transmitters
. For more information see the
will there ever be more services on the Freeview Light transmitters?
page.
Which BBC and ITV regional news can I watch from the Tenby transmitter?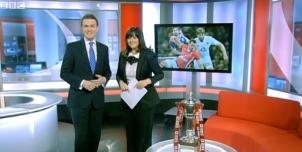 BBC Wales Today
1.2m homes
4.7%
from
Cardiff
CF5 2YQ, 106km east (101°)
to
BBC Wales region - 206 masts
.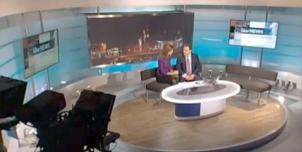 ITV Cymru Wales
1.2m homes
4.7%
from
Cardiff
CF5 6XJ, 104km east-southeast (103°)
to
ITV Wales region - 206 masts
.
How will the Tenby (Pembrokeshire, Wales) transmission frequencies change over time?
1984-97
1997-98
1998-2009
2009-13
2013-18
2013-17
31 Dec 2019-

B

E

T

B

E

T

B

E

T

C/D

E

T

C/D

E

T

C/D

E

T

C/D

E

T

C39
BBC1waves
BBC1waves
BBC1waves
C42
C4waves
C4waves
C4waves
C45
BBC2waves
BBC2waves
BBC2waves
C48
D3+4
D3+4
D3+4
D3+4
C49tv_off
ITVwaves
ITVwaves
ITVwaves
C52tv_off

-

BBCB

-

BBCB

-

BBCB
BBCB
C56tv_off

-

BBCA

-

BBCA

-

BBCA
BBCA
tv_off Being removed from Freeview (for 5G use) by 30 June 2020 - more
Table shows multiplexes names see this article;
green background for transmission frequencies
Notes:
+
and
-
denote 166kHz offset;
aerial group
are shown as
A
B
C/D
E
K
W
T
waves
denotes analogue; digital switchover was 26 Aug 09 and 23 Sep 09.
How do the old analogue and currrent digital signal levels compare?
Analogue 1-4

25W

BBCA

,

D3+4

,

BBCB

(-1dB)

20W
Which companies have run the Channel 3 services in the Carmel transmitter area
| | |
| --- | --- |
| Jan 1958-Jul 1968 | Television Wales and the West |
| Jul 1968-Feb 2004 | Harlech Television |
| Feb 2004-Dec 2014 | ITV plc |

| | |
| --- | --- |
| Feb 1983-Dec 1992 | TV-am• |
| Jan 1993-Sep 2010 | GMTV• |
| Sep 2010-Dec 2014 | ITV Daybreak• |
• Breakfast ◊ Weekends ♦ Friday night and weekends † Weekdays only. Tenby was not an original Channel 3 VHF 405-line mast: the historical information shown is the details of the company responsible for the transmitter when it began transmitting Channel 3.
Comments
Monday, 15 December 2014

The communal TV system in Paxton Court in Tenby provides digital TV I believe from the Penally transmitter. All the channels except channel 60 carrying the BBC programmes show a freeview signal strength of 10 but channel 60 shows about 3 leading to highly pixilated pictures. I have done a reset and rescan with no difference shown. Is there a way to receive good Freeview BBC channels in this location?

John Ross's 1 post

John Ross: If you are referring to high rise properties in the SA70 7ET post code area, then Carmel @ 29 miles / 71 degrees is indicated as the station covering that area, with a clear line-of-sight to said station.

As your reception is via a communal aerial, then this obviously limits your options for reception by not having any control over the aerial system, the point being, have you checked with any of the other apartment dwellers to find out if they are also suffering from BBC reception problems?

If though they are, then the matter should be referred to the building maintenance department as its their responsibility to have the problem sorted out, that said, the problem might not actually be caused by anything connected with a fault in the communal aerial system, as the possibility always exists that interference being picked up from such as a 4G mobile phone base station could be responsible, should any be located nearby?, a communal aerial mounted on top of a high rise apartment block being in an ideal position to pick up interference of this sort, 4G having a greater affect on the reception of channel 60 more than any others.

Apart from that, there really isn't much that you can do unless the property is fitted with a satellite socket?, because should it have a satellite outlet point then this would enable you to purchase a Freesat receiver box, as those outlet sockets are suitable for use with either Freesat or Sky, although satellite "recorders" do require twin outlet points, as they are fitted with two tuners.

One final point, should any enquiry reveal that others are "not" experiencing any problems with the reception of BBC, try and find out if their BBC is also being received on Mux C60 and not Mux C56, as C56 is from the local Tenby transmitter.

jb38's 7,179 posts

John Ross : That said was on the assumption that because of your location having a clear line of sight with the Carmel transmitter, the communal aerial is likely to be facing towards that station to enable the full range of channels to be received, however it may not be!, a simple way of telling being whether or not ITV3 can be received, should it not be, then the aerial will be facing towards the local Freeview "light" Tenby transmitter located @ 1.8 miles / 243 degrees, the Mux channels used by this station being: BBC1 C56 / ITV1 C48 / HD service C52, the transmissions from the station radiating on Vertical polarity, (receiving aerial elements facing up & down) whereas the undermentioned Carmel transmitter is on Horizontal.

Channels used by the Carmel transmitter being : BBC1 C60 / ITV1 C53 / HD C57 / ITV3 etc C54 / Pick etc C58 / 4Music etc C49.


jb38's 7,179 posts
Wednesday, 2 September 2015
Transmitter engineering
6:44 AM

TENBY transmitter - Possible service interruptions [DUK]

Transmitter engineering's 129,130 posts
Thursday, 10 September 2015
Transmitter engineering
4:32 AM

TENBY transmitter - Possible service interruptions [DUK]

Transmitter engineering's 129,130 posts
Monday, 16 May 2016
Transmitter engineering
10:09 AM

TENBY transmitter - Possible service interruptions [DUK]

Transmitter engineering's 129,130 posts
Your comment please