Freesat reception - all about dishes

Brian Butterworth published on UK Free TV
Satellite reception has both advantages and disadvantages compare with terrestrial (aerial) reception.

By using much higher frequencies (gigahertz, compared to terrestrial televisions megahertz) more transmission channels called transponders (the satellite equivalent of multiplexes) can be provided. For example, there are only six Freeview multiplexes, but Sky or Freesat users can access two hundred satellite transponders.

Aside from exceptional weather conditions (very heavy rain for example) digital satellite provides stable pictures and audio. Where Freeview transmitters are no more than 732 metres above sea level, the geostationary satellites used for television are 35,800,000 metres above the equator so reception is possible even where buildings, trees and hills make terrestrial reception impossible.





The downside of the transmitters being 22,300 miles up in the air is that the signals are very, very weak - so standard TV aerial is of little use. When the signals are sent to the satellites, huge dish transmitters are used to uplink the signal to the satellite. These are tens of metres from side to side, and feature an emitter that generates the signal, which is first bounced of a mirror (called a reflector) and then off the surface of the parabolic dish.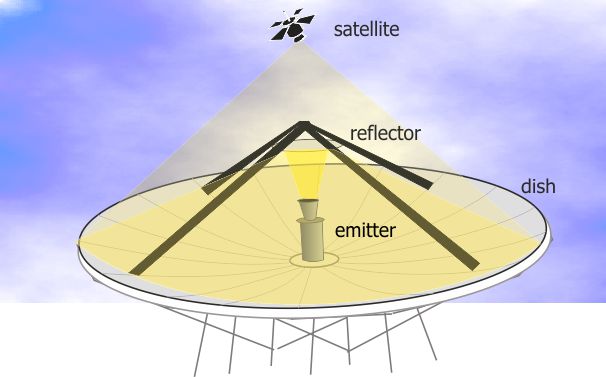 There are many satellites in the sky over the equator. Often these are in clusters over a particular position, for example there are four used for UK television are at 28.2 degrees east. There is another cluster over the 19.2 degrees east positions that are used for German television.

To receive these very weak signals from the satellite, it is necessary to use a dish for reception too. By using a reflective dish, this concentrates the signals onto a small device called a LNB. This is held in front of the dish by a metal arm.




The size of dish for reception is typically much smaller; often 60cm to 100cm in diameter, but the exact size depends upon the transmitting satellite transponder. To keep the transmission power levels down to levels that can be powered by the satellite's solar panels, each beam is focused on a particular area of the Earth's surface. If you are trying to receive the signal at the centre of this zone, a small dish is required. At the outer edges, you may need a 5 metre dish. Maps of these zones are provided by the satellite companies, and are called satellite footprints.

When the dish is installed it must be aligned carefully as the signal is very weak. The installer needs to know the inclination and the azimuth from the ground location to the satellite. If you install yourself you will find that there are markings on the dish that are used to point the dish in the correct position. It is important that the view of the satellite will not be blocked, so must take into account leaves growing on trees and potential building works.

For many people the LNB will have a single cable connected to it, however if you have Sky+ or a multi-room installation the LNB package will actually contain four receivers a quad-LNB. Unlike terrestrial television where you can split the aerial cable to feed more than one Freeview box or television set, with satelite reception you cannot. So, a Sky+ box with two receivers (so you can watch one thing and record another) has two cables connecting the box to the dish.

The cable that connects the dish to the receiver must be satellite grade cable. Whilst this looks superficially like the cable used to connect and aerial to a television, a higher grade cable is required for satellite reception.

Here is an image of a co-axial cable. This sort of cable is used to connect any type of receiving aerial to the reception equipment.




RG6, PF100 and PH100 are all types of coax cable that are suitable for the very weak signals that are received by a satellite dish. (The power is the same as you would receive from a one-bar electric heater on the moon).

The conductor in the centre passes the signals received from the dish to the set-top box. This is made from steel in RG6 cable, and from copper in the RF100 and PH100 types. This makes RG6 less suitable in the UK where rain can damage the cable.

The shielding is responsible for keeping unwanted external interference from damaging the signal. In the cheaper cable this will be a foil wrap, in better specified cables this is a braid (or mesh) of copper wires. The sheild in the RF100 covers 58% of the cable.

The non-conducting layer between the shield and the conductor is called the dielectric. This can be either a solid (RG6), foam (RF100) or air-spaced (PH100) dielectric. This makes the cables progressively more flexible (ie bendy without damage).
Comments
Sunday, 23 January 2011

I have a Ross Freesat box and Satellite that I have installed myself.
I can pick up the majority of programs but some programs, e.g. DAVE, BBC3 are not listed.
Could you suggest a possible cause for this?

Ken Swan's 1 post
Monday, 24 January 2011

hey ken swan
as far as i am aware dave is not on freesat.
bbc3 should be check signal strength and rescan.
ian 123 aerials oxford

ian's 59 posts

Ken Swan - The Ross receiver you have is an FTA - Free to Air box These channels - Dave 5 US are not on "Freesat" either due to contractual agreements with SKY. They are however on "Terrestrial Freeview" transmission - SKY being a partner in that platform.

Les Nicol's 991 posts
Tuesday, 25 January 2011

I've recently bought a new Sony TV with Freesat built in. The flat I rent has a dish from a previous tenant outside it.

On plugging in the cable, I get a "No Signal" message. I've used Dishpointer to try to align it properly, but still can't get a signal. I'm assuming that the elevation is correct. How precise does the alignment need to be? Surely I should get some signal if I'm close to lined up? Could it just be that the cable connections need cleaning?

I have no idea when the dish was last used or how old it is. Freeview works fine.

dan's 1 post
dan's:
map
D's Freeview map
terrain
D's terrain plot
waves
D's frequency data
D's Freeview Detailed Coverage
Wednesday, 26 January 2011

dan: The aliment must be 100% perfect. A millimetre off will result in no signal at all.

Briantist's 38,908 posts
Thursday, 27 January 2011
K
Keith Thacker
5:36 PM
Burnham-on-crouch

Hi Brian, I'm having great trouble aligning my ex-Sky dish. It has elevation marks on the back in 10 degree gradations and is fixed to a true vertical surface. From where I live, I need an elevation of 25.6 degrees to see the satellite. Is it as simple as selecting that figure on the elevation scale or do I have to worry about subtracting any built-in off-set angle? If so, do you know what it is for Sky dishes? Secondly, my Humax receiver cannot recognise any postcodes. I have conducted a manual tune selecting the transponder recommended by the manufacturer. This yielded only 14 TV and 3 radio channels. The TV channels are 5001 to 5014, virtually all devoted to freesat (but blank) except 5014 which was showing Men and Movies. Can you tell from this if I am looking at the wrong transponder or satellite? Am I even close? Best wishes.

Keith Thacker's 15 posts
Keith's:
map
K's Freeview map
terrain
K's terrain plot
waves
K's frequency data
K's Freeview Detailed Coverage

Keith Thacker - See Brian's previous post to dan. Installers configure the dish with a Professional meter where the required Satellites are pre-programmed and where the selected Satellite or Satellite cluster as far as the UK is concerned,can be peaked for signal strength and quality. These meters are an expensive item. It is possible to achieve an acceptable outcome with a fairly cheap basic meter that has a visible scale reading and audible output as the dish is peaked for maximum scale reading audible output(usually referred to as the "Sweet spot"). These range in price from about £8.00 to around £15.00 and can be had at Maplins or Amazon, The alternative is to have an installer peak the dish for you which will cost more, but going for a local installer to do this shouldn't see this as overly costly.

Les Nicol's 991 posts
Friday, 28 January 2011
K
Keith Thacker
3:16 PM
Burnham-on-crouch

Hello Les, thanks for your comments. I can find the required satellite using a Konig signal strength meter such as you have described. Auto tuning my Humax FOXSAT-HDR fails as I'm repeatedly told that my postcode is invalid. When I try manual tuning, the TV screen shows that I am on the Freesat satellite at 28.2 and by making tiny adjustments to the azimuth I can easily get a signal Strength of 85% and a Quality reading of 70% (one spot gave 100% for both). This suggests that at least I have got the correct elevation but I can only get the 14 (useless)TV channels mentioned in my previous post. Humax have told me that I should use "Astra2D(28.2°E) but for the system to work fully on the Freesat Network it requires a connection to Eurobird1(28.5°E) for ITVHD, EPG, Software Updates etc, this also controls the postcode checking system" and have suggested getting my dish checked for alignment. Does that make sense to you?? I'm a keen DIYer and I'm wondering whether I should invest in a new Zone 2 dish rather than pay an installer to re-align/peak the second-hand Sky dish for me. What do you think please?

Keith Thacker's 15 posts
Keith's:
map
K's Freeview map
terrain
K's terrain plot
waves
K's frequency data
K's Freeview Detailed Coverage
K
Keith Thacker
3:37 PM
Burnham-on-crouch

Sorry Les, I should have said that the transponder recommended by Humax and on which I found the 14(useless)TV channels is 11428 H 27500 A. Am I correct in thinking that as the Strength and Quality readings are so high, there should not be any problem with the existing skew on my dish? Keith

Keith Thacker's 15 posts
Keith's:
map
K's Freeview map
terrain
K's terrain plot
waves
K's frequency data
K's Freeview Detailed Coverage
Saturday, 29 January 2011

Keith Thatcher - There's a cluster of Satellites at 28.2 to 28.5 degrees south east the EPG's for "Freesat" and SKY with some SKY channels coming from. Eurobird 1 at 28.5 Most of the "Freesat" channels are beamed from Astra 2d but not all.It does seem that your current dish is the problem. To be homest I personally don't rate the SKY mesh type dishes I myself have a 64cm solid Triax TD series dish with a Technomate LNB the dish and LNB matching to a stadard 40mm collar. If your thinking of a new dish then I would recommend a 54cm slightly smaller which will be fine for your location in Essex. These are very well made and a doddle to confiqure with clearly marked scaling - note there are North and South scaling readings - You set on the South right hand side of the assembly looking from behind the dish frontwise. They are a little more price wise (not grossly) than SKY type but well worth it.

Les Nicol's 991 posts
Select more comments
Your comment please