Ofcom - our previous figures were wrong

Brian Butterworth published on UK Free TV
Ofcom has released the figures of the number of homes using both analogue and digital television, making substantial adjustments to the previous figures it published.

In an admission of error, Ofcom has removed half a million from the figures it stated to March 2006 for homes using Freeview, and 700,000 from the figures for homes where Freeview is the only digital television.

It is interesting to see that looking at all of the TVs in the UK, 57.6% are still analogue, 19.4% Freeview, 14.7% Sky subscribtion, 1.2% Freesat, and 7.0% cable TV.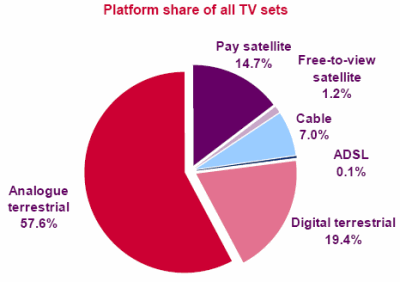 Using these new figures, Sky have added 57,000 customers to reach 7,749,000 UK subscribers, with Multiroom customers growing to 1,047,000 and Sky+ personal video recorder customers to 1,553,000.

Freesat users have increased by 50,000 to 695,000.

Between April and June 736,470 Freeview boxes and 487,725 integrated TVs have been sold.

As many people who buy a Freeview box use it to replace an old ONdigital or Freeview box, the old box goes onto the second set, and now there are over five million second TVs with Freeview, which is five times the number of people who have Sky Multiroom on a second TV.


Comments
Your comment please