ITV West extended to North Gloucestershire

Brian Butterworth published on UK Free TV
In the changes that will merge the ITV Central South region with the ITV Meridian Newbury region, ITV West has been extended to include the area covered by the Ridge Hill transmitter.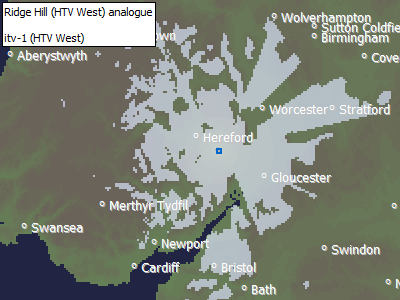 If you could receive the analogue ITV Central West from the Ridge Hill transmitter on UHF channel 25, you can now also receive ITV West on UHF channel 30.




However, this is only for analogue viewers. If you view using Freeview, you have no choice - the only service you will receive is ITV Central West.

NTL Telewest digital cable customers in the area concerned will no longer be able to see ITV Central South at EPG position 114, but will continue to receive their main ITV West service at position 103 in the EPG.

It is hoped that viewers in Gloucestershire with Sky should be able to get the extended ITV West service on Channel 103 early in 2007 - discussions are still continuing with BSkyB over the actual switch-over date.

Clive Jones, Chief Executive of ITV News and Regions, states: "ITV has an unrivalled record in delivering excellent local TV news with some of the best journalists in the country reporting on the stories local people want to see and hear.

"We have already modernised our local news studios, investing to develop state of the art digital studios. These latest changes will help improve the service further, with an expansion in the number of flagship programmes across the country, and a commitment to make local news more relevant than ever before to our viewers.

"The review aimed to prioritise our well-watched flagship programmes and to ensure we broadcast to identifiable regions. We want regions that viewers identify with not simply accidents of history."

Liz Hannam, ITV West Head of News, added: We are delighted that we will now be able to broadcast to a region that makes real sense to local people. Theres a relationship between Gloucestershire and the South West, and its great that ITV West's news service will now be better able to reflect that.
Comments
Your comment please