BBC iPlayer: how to install and use

Brian Butterworth published on UK Free TV
You can now become a BBC iPlayer user as long as you are using Windows XP and are a licence-fee payer resident in the United Kingdom.

First you must visit the bbc.co.uk/iplayerbeta/form.shtml page to register and this will provide a username and password.

You also need to register with the BBCi site too. If you have not done this already, please use this form to do so now.

The username and password is usually sent out in within a few days.

Once you have these, you can log into the iPlayer page:




First you need to select your first programme to download, so click on "Categories" and then "News and Weather" (in this example):




As you roll over the programme pictures and descriptions the number of days left for the programme to be downloaded is displayed.




Clicking on the programme icon brings up a page that describes it. Here is the information for the post-modern Tomorrows Word, "Click". A "download" button can clearly be seen on the right hand side.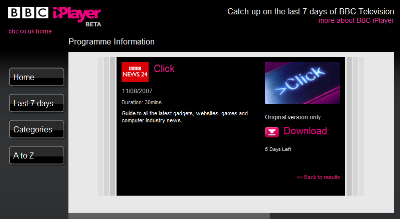 The first time you click "download" a message inviting the installation of the iPlayer code is shown. Click on "install iPlayer library":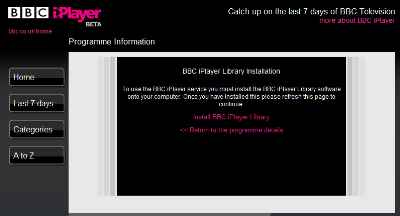 Next the usual Windows download security message is shown. Click "run" to download and install the "library":




Now Internet Explorer displays a security warning which requires "Run" to be clocked once more.




Now you have to accept Aunties (and Uncle Bills) terms and conditions:




It takes a minute or so for the installation to complete:




Once complete, click "Finish":




The "library" is now installed and displays a message indicating that there are no programmes.




A message then appears that insists that you upgrade Windows Media Player to install the relevant digital rights management (DRM) software:




You have to click "Yes" to give the installer permission to modifiy your computers settings:




Now the "Click" programme can be seen in the library this includes a progress bar:




Finally when the download is complete, you can click "watch now" to finally see the programme: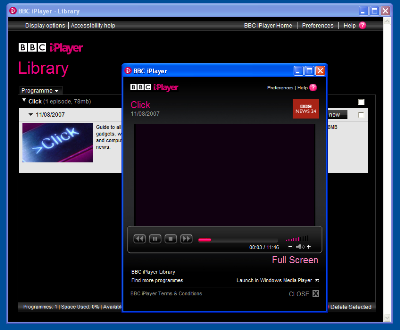 Comments
Wednesday, 26 January 2011

Thanks for giving this idea.....you can now watch bbc iplayer with the help of proxy server.

stelensmith's 1 post

stelensmith: I'm pleased we helped here.

Briantist's 38,899 posts
Your comment please