BBC iPlayer - now MP4 for iPhone

Brian Butterworth published on UK Free TV
It has emerged that you can now download the shows on the BBC iPlayer using the MP4 format, which is used by devices such as the Apple iPhone, iPod Touch and systems such as the Eee PC.

All you have to do, is to browse the BBC iPlayer as normal and find the show you want to watch.

But instead of pressing PLAY in the central zone, press [Alt]-D, then [ctrl+C] to copy the URL ...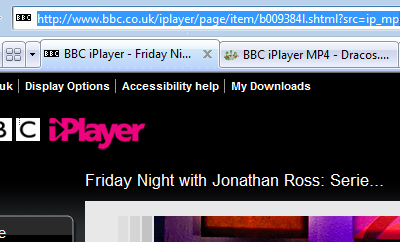 and paste it into this box (click into it and press ctrl-V, or right click and select "paste"):


You can then, with most programmes, click the "Download the MP4
video
" link to watch or
save
the file for later viewing.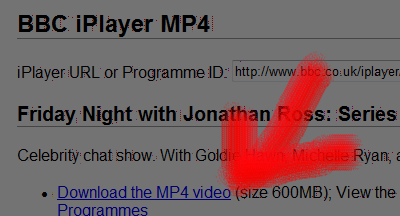 Yes, that's right, later viewing!
BBC Internet Blog - BBC iPlayer On iPhone: Behind The Scenes
.
Comments
Friday, 22 July 2011

Hello,

How can I change the standard '--get' command to save the downloaded file in avi format?

Hope someone can help.

Jo

Jo Boxer's 3 posts

Jo Boxer: Use ".avi" as the output filename.

Briantist's 38,906 posts
Sunday, 24 July 2011

Hi Brian,

If a standard request is:

get_iplayer --get 433

How do I incorporate the avi bit? Or is it just a case of renaming the extension?

Jo Boxer's 3 posts
Monday, 25 July 2011

Jo Boxer: Sorry, I'm getting my commands mixed up, and you would need to edit the actual script.

You can convert the .mp4 output video to avi using the "ffmpeg" command in the get_iplayer ffmpegbin folder.

You do ffmpeg -i input_filename.mpg output_filename.avi




Briantist's 38,906 posts

Can I watch freeview on my iPhone 4???

Lee Yateley's 1 post
Tuesday, 26 July 2011

Lee Yateley : Yes, see TVCatchup Mobile .

Briantist's 38,906 posts
Your comment please