U-switch's confusing report

Brian Butterworth published on UK Free TV
U-Switch has released a digital TV survey "of nearly 10,000 digital TV customers" (in fact 11,870 adults) which they claim "paints a far from rosy picture".

Showing their naivety, USwitch say "It is hoped that Freeview will work harder to extend its availability to enable more consumers to take advantage of this cost-effective service well before the switchover completes in 2012". Firstly, as I am sure you know, switchover is a rolling programme between 2007 and 2012; secondly, it is impossible to "extend its availability" without doing the switchover in the first place.

They also have a table marked "Winners and losers of the uSwitch Digital TV Customer Satisfaction Awards 2008" which gives a value of 26% for "customer support" from Freeview. Given that Freeview has no customer support, this is a remarkable achievement.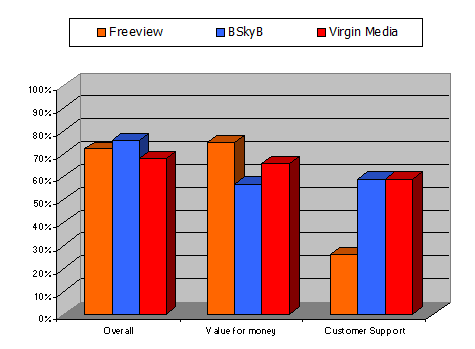 There are some serious flaws in their calculations.

Their first claim is that "Households spend on average 190 a year on their digital TV service yet 6 million (27%) are not satisfied" which they claim "According to the survey, the average monthly digital TV service bill is 15.79, or 189.48 per year. Multiplied by 22,223,771 DTV households this equates to 4,210,960,129.08 total annual spend by households with digital TV in the UK. 73% of people surveyed were satisfied overall with their DTV provider, leaving 27% not satisfied. This equates to 6,000,418 households."

However, Ofcom does a regular quarterly survey. It clearly states that there was (December 2007):

BSkyB subscribers: 8,297,000 paying an average of 421 each per year. (35pm) Virgin media subscribers: 3,253,500 on average of 507 each per year. (42.25pm)

Free-to-view digital satellite homes: 1,005,000 paying an average of 0 per year Freeview set-top boxes: 22,000,000 (in 15.3m homes) with 9,600,000 homes only having Freeview - paying 0 per year.

USwitch says "Sky customers pay an average of 31.17 per month for their digital TV service almost double the 16.70 paid by Virgin Media customers". However this is clearly against the years of information collected by Ofcom. This throws the whole survey into doubt probably explained by the fact that "the survey was carried out online".

So, to claim that there is an average of 190 per year is highly misleading. Sky sells the equipment "free" to the customer, and then charges the customer and the channel providers to reclaim the capital outlay; Virgin operates on an equipment rental basis. These figures are collected by Ofcom. However Freeview boxes are sold though retail outlets, and the total value of these sales is not known as there is no subscription figure for the service.


Comments
Your comment please