Digital Dividend Sale: possible services

Brian Butterworth published on UK Free TV
Ofcom has provided the final details about the Digital Dividend Review - the sale of the terrestrial television broadcast frequencies that are no longer required after digital switchover.

The current mixture of analogue and digital television services use a range of frequencies in the 470-790MHz range. Each analogue television channel or digital multiplex requires 8 MHz each so each block of 8MHz was designated a "channel number". For example, 550-558 MHz is called "channel 31" and is written C31 on this site.

The channels that will eventually be cleared and resold are in two sections, a "lower band" of channels 31 to 40 and an "upper band" of channels 61 to 68. Thirty channels (21 to 30 and 41 to 60) will be used for digital terrestrial (Freeview) after the process is complete this is because each multiplex requires five frequencies to operate nationwide.

In addition, at selected sites one or more reduced power frequencies will be provided for local services, using what Ofcom term 'interleaved frequencies'. These, however, serve only a restricted part of the current transmitter service areas.
What is on Offer?
The channels on offer generally will be usable directly after digital switch-over has happened in each
region
. This means that they cannot be used for UK-wide services until 2012.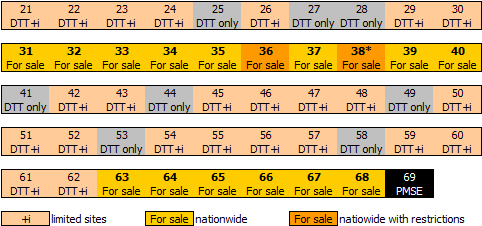 The channels fall into several further sub-categories:
Channels 31-35, 37, 39-40, 63-68: these are nationwide frequencies that can be used for any purpose;
Channel 36: This channel was used for RADAR, but is being cleared by April 2009. It could provide a single national
frequency
for a service from that date, but only with agreement with neighbour countries and at levels that do not degrade analogue channel five (on
C35
and
C37
).
Channel 38: This was used for radio-astronomy, but is being de-allocated from this purpose in the UK by the end of 2012. However, as neighbour countries will still use it for that purpose, it can only be used for very low power services. Until this channel is fully cleared the power levels on C37 and
C39
will be restricted.
Channels 61-62: These frequencies will be used for Freeview multiplex B (aka PSB3) in some areas where it is not these frequencies can be used for other purposes. This restricts the power levels that can be used on these "interleaved" channels.
Note that C69 has been reserved for Programme-making and special events (PMSE) basically radio microphones and similar devices.
Which new services can be run in these channels?
Ofcom will allow bids for the spectrum to be in blocks of 8MHz and 5MHz. This could mean that some allocations will no longer align to the traditional channel number boundaries.
The possible uses are called Spectrum Usage Rights (SUR) by Ofcom and fall into four categories:
DTT digital terrestrial television (DVB-T or DVB-T2)
MMC mobile multimedia services (for example DVB-H)
TDD mobile broadband using time division duplexing (for example WiMAX)
FDM mobile broadband using frequency division duplexing (like 3G mobile)
The phrase "duplexing" in this context indicates if the proposed bidirectional service will use timeslots or frequency slots for uploading and downloading.
Digital Terrestrial Television
One use for the frequencies can be digital terrestrial broadcasting. This would be open to existing the operators (BBC, ITV, 3&4 Ltd, NGW and Arquiva) and new ones, but with some restrictions. However, there are a number of issues.
The first is that up to five 8MHz channels would be required for a nationwide multiplex, and that to allocate frequencies that are in the 'correct'
aerial
group will require a very specific allocation. Also, the "interleaved" channels (61 and 62) are already used for DTT in many areas, so it would only be possible to them for low power services this could include local television, but only in selected areas.
Mobile Multimedia Services
MMS is Ofcom code for DVB-H, the digital terrestrial broadcasting
standard
for hand-held
reception
. As DVB-H can use a single frequency for a service that covers most of the UK, it may be possible to use ex-RADAR channel
C36
, possibly as early as 2009. These will be allocated in blocks of 8MHz, aligned with the current DTT channels. See also
Real, live mobile phone TV - ukfree.tv - independent digital television and switchover advice, since 2002
Time/ Frequency Division Duplexing Mobile Broadband services
Services such as WiMax and 3G mobile can be offered using the frequencies on offer. Ofcom will sell them in blocks of 5MHz. The TDD (WiMax for example) services use the same frequency for bi-directional communications; the FDD requires one for each direction.
Guard bands
To stop any new services from interfering with the Freeview transmissions, Ofcom have determined that a number of megahertz must be left between different types of service (SURs):
| | | | | | |
| --- | --- | --- | --- | --- | --- |
| MHz | DTT | MMS | FDD down | FDD up | TDD |
| DTT | 0 | 5 | 5 | 16 | 16 |
| MMS | 5 | 0 | 5 | 19 | 19 |
| FDD down | 5 | 5 | 0 | 5 | 10 |
| FDD up | 16 | 19 | 5 | 0 | 5 |
| TDD | 16 | 19 | 10 | 5 | 5* |
* - if different operators
The large amount of guard bands required for some inter-service the licensee has to pay for the guard band allocation as well as any usable spectrum. However, if a guard band is required to protect DTT from two or more similar services, the cost will be shared between the services. It is worth noting that 16MHz represents two traditional TV broadcast frequencies!
Comments
Your comment please