ITV, Channel 4 and five can apply for Freeview HD

Brian Butterworth published on UK Free TV
Ofcom has "officially" announced today the availability of multiplex B (or PSB3) as a high-definition DVB-T2 service. This capacity is being created by reorganizing the existing multiplexes: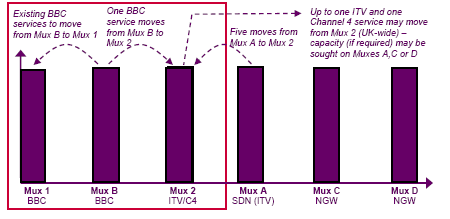 The BBC will provide one of the services. It has invited qualifying broadcasters to apply to provide other services for this multiplex. These broadcasters are:


Ofcom's timetable is
2 July 2008: The 2008 Order came into force on , Ofcom publishes its statutory notice constituting the ITA
13 August 2008, 5pm: ITA process closes (responses to be published on website soon afterwards for public inspection)
End October 2008: Ofcom issuing draft licences
End of 2008: Ofcom expects to issue licences
Ofcom's criteria for the service are:
Efficient use of spectrum
Public service content

high quality well-funded and well-produced;
original new UK content, rather than repeats or acquisitions;
innovative breaking new ideas or re-inventing exciting approaches, rather than copying old ones;
challenging making viewers think;
engaging remaining accessible and enjoyed by viewers; and
widely available if content is publicly funded, a large majority of citizens need to be given the chance to watch it

Range and diversity of High quality TV
The services are expected to start on the 30Mb/s DVB-T multiplex with two HDTV 720-line services in 2009, with a third "later".
Ofcom is particularly interested in the proposals for the "Evening Peak" (6pm-11pm) period. It expects that applicants may wish to provide a simulcast service (with regional elements replaced by other programming); a non-simulcast service (same content on a different schedule); over-night downloads (in the style of Top-Up TV Anytime, between 11pm-6am) in HD or SD; or a mixture of all three. Overnight downloads could possibly be "rented" to other broadcasters.
The Ofcom application document:
Notice of Invitation to Apply for DTT Multiplex B capacity Statutory Notice
Comments
Your comment please