The last BBC Re-Broadcast Standby test?

Brian Butterworth published on UK Free TV
Once a year the BBC analogue transmitter network undergoes a very special test that checks that BBC One and Two will still reach all corners of the nation, even if there is a large-scale disaster to the network, such as a national power failure.

As the analogue network is now partly disabled (on Border Scotland), it may be the final end of for this particular 'cold-war' system test with the test on 12 January 2009 on BBC One 3am-4am and BBC Two 4.30am to 5.30am?

Each main transmitter in the country is fed with digital data feeds that provide the analogue TV broadcast. This provides the picture, mono and NICAM sound plus the teletext to be broadcast from the transmitter in perfect quality (well high quality 16-bit sound and motion-JPEG images).

Each main transmitter is fed with the same data using 'diverse routes' where all aspects of the data links are provided independently. They have different physical routes around the country, take different physical routes into the transmitter transmission suite, independent power and so forth. On-site equipment can change the sustaining feed if one becomes damaged within a single TV frame, 1/25th of a second.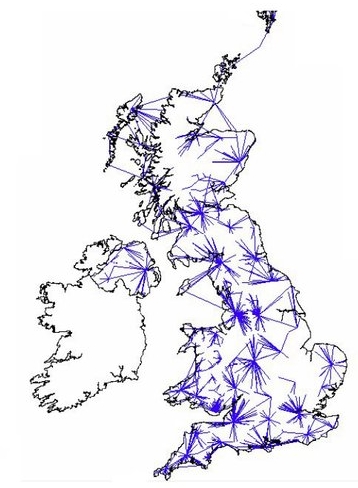 Under normal circumstances this deals with almost any kind of network failure. However, a improbable catastrophic event means that the analogue system has another trick - to take a feed from another main transmitter that is still on air.

However, the main transmitters are located far apart so they do not interfere with each other, so are not really suited to taking off-air analogue signals and rebroadcasting them, so this has to be for emergencies.

Once a year, during the middle of the night, engineers switch the BBC One and Two feeds to 'Testcard J', the 4:3 test-card for these analogue tests accompanied by a spooky speaking-clock and tone.



With the testcard playing, at each transmitter in turn the remote diagnostic system is allowed to disable (digital optical-fibre delivered) analogue feed of BBC One and BBC Two, with the on-site automation switching to the re-broadcast system (RBS).




Over the testing hour each station can then be allowed to 'fail' and automatic measure is taken of the quality of the rebroadcast feed. It is then possible to simulate the network failing in many different combinations, from a single transmitter to the whole network.

It will be interesting to see if this is the final RBS test, at least in this form. With all of Border and Granada switching off their analogue signals in the next twelve months, this will break the link for Scotland and Northern Ireland.

It would be speculative to suggest that the analogue feeds may be switched to a stand-by Freeview box at the transmitter site until switchover is completed in all regions.
Comments
Sunday, 16 January 2011

Hi
I have a freeview TV, sky+ box & sky.
How can I fast burn from sky box to a DVD recorder?
Regards HT

H T's 4 posts
Monday, 17 January 2011

H T: The only option you have is the analogue playout from the Sky+ box SCART.

Briantist's 38,902 posts
Your comment please