Sky takes GBP251.5m loss on ITV shares

Brian Butterworth published on UK Free TV
BSkyB's boss James Murdoch seems to have lost £433m of his shareholders money. And £251.5 of that has to be taken soon. Still, he won't be for the chop, will he?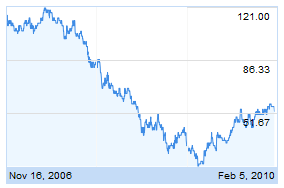 17 November 2006, Sky buys 696,000,000 ITV shares, 17.9% of ITV plc. 114.75p/share, £798.66m
26 February 2007 the Trade and Industry Secretary issues noticed to OFT to investigate under the Enterprise Act 2002 with a view to reducing holding to 7.5%
24 May 2007, after OFT and Ofcom reports the matter is referred to the Competition Commission.
20 December 2007, CC publishes report.
29 January 2008, Secretary of State approves reminded of CC that share holding be lowered to 7.5%
28 February 2008, Sky appears to Competition Appeal Tribunal.
29 September 2008, Tribunal finds against Sky
18 December 2008, Sky goes to Court of Appeal.
28/30 October 2008, Appeal Court hears from Sky.
21 January 2010, Appeal Court rejects Sky's appeal.
8 February 2010, Sky agrees to sell ITV shares. 52.50p/share, holding now worth £365.4m, paper loss of £433.26m
The date that BSkyB must sell the shares by is confidential.
Comments
Your comment please