To join, leave or change ukfree.tv updates by email, enter your email address here:
Upgrade to sharing and comments on UK Free TV

Brian Butterworth published on UK Free TV
I have made a few changes to UK Free TV to help with the sharing and comments systems.

Firstly, to help spot the most regular contributors to the site, there are now four star badges that appear next to your names.

Over 20, you get a
bronze star, over 100 a
silver star, over 300 a
gold star and over 2000 a
platinum one.

The current list stands like this:


gold: Jordy, Mark Aberfan Aerials, Les Nicol, Pete, Liam, Iain Davies, Mike Dimmick;


silver: Michael, industrycynic, michael, peter, Ian, Nedbod, KMJ,Derby, steve,bedworth, steve, mark winters, Phil, LutonFan, NottsUK, Geoff. Dixon, j, Ian, Ian Grice, David Haworth;


bronze: pml, Tony, Nick T., martin willmott, Daren cain, Ian Grice, AL, Chris.SE, sharealam, ROB MCEWEN, Clive, David S., Mark, richard, Malbro, Nick, Ian pallet, Mike C, Barry S, Ann, Ray, Brian, John Juniper, Dave finnegan, John Allen, Derv, Paul Newdick, Me, Garrif, Empire Systems, Adrian Durrant, rupert, Robert Lee, ROBERT PLANT, Mark A., michael whitbrook, Steve, harry, pikey, Jim, Briantist, oldhand, Peter Henderson, The Bear, Belinda, Dean Ensor, Trevor Harris, mjo, satandpcguy, Aerialman, Jim, Rich, Des Collier, jay, Tom, Alistair Gutcher, Eddie, Mr S M Davies, james, J Purkis, Steven Oliver, andy dog, carl, Bill, pete, Corin, sam, Kentman, Justin Smith, paul Naish, Jeff Glynn, alan, Rachel, Al, Bill McDonald, jake, M S Hahn, Ken Underwood G3SDW, Sean, Kathryn, Patrick Knight, Pickles, john, Les Nicol, Dave Pusey, eddy.

There is now a new "Please share this page" box that appears on many pages. This allows you to share it with your followers on Twitter, or your Facebook friends.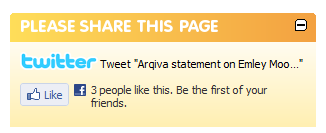 The Twitter facility now uses built-in shortcodes that use the https://ukfree.tv/s link, so there is some room for a comment in the 140 characters.

If there are any other social networks you would like to see included, please let me know below.

I hope you find this useful.
Comments
Your comment please