Update to transmitter location information

Brian Butterworth published on UK Free TV
Following some requests I have made a change to the "location information" shown on the transmitter pages.

First, the location is now show in both metric and degrees-minutes-seconds notation.

The links to see the transmitter from satellite using Google Maps, Bing maps and Google Earth now shows an icon for each.

The nearest postcode to the transmitter is shown, should you wish to use this.

Finally, there is now a "Click to recheck" when no engineering information is shown.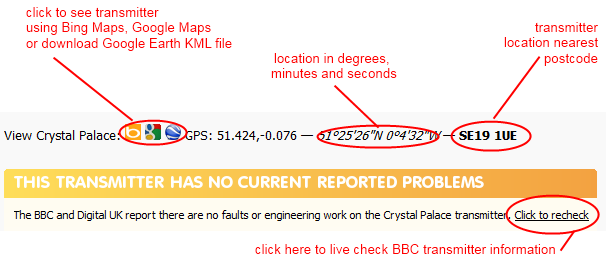 Comments
Sunday, 13 February 2011

Also, some transmitters have a little "Streetview man" icon - click this to see a picture of the transmitter.

Briantist's 38,844 posts

A picture? If you need a few you only need ask...

Jordy's 1,827 posts

Jordy: If you have some, they would be most welcome.

Briantist's 38,844 posts
Tuesday, 15 February 2011

Why bother?
Go to
mb21 - The Transmission Gallery

Anne Beesley's 13 posts

Anne Beesley: Yeah, why bother doing anything?

Briantist's 38,844 posts
Friday, 18 February 2011
D
Derek Twigg
10:25 PM
Farnborough

I live at GU147AZ close to Farnborough clockhouse roundabout. All aerials nearby are pointed to the Hannington transmitter al though other transmitters are closer. Because of the very poor reception using the aerial our block of flats have had to pay for a sat dish to be able to watch freesat. When the digital switchover happens for us in 2012, will we be able to watch freeview using Hannington or another?

Derek Twigg's 2 posts
Saturday, 19 February 2011

Derek Twigg: Easy answer for you on this one - yes.

On 22nd February 2012 you will have the full power, full Freeview service from Hannington. That's just a year to wait now.

Briantist's 38,844 posts
Tuesday, 1 March 2011

Hi

Come the switchover we gain a new 25.5 metre Relay Freeview Transmitter with PBS channels only (but lose the more distant transmitter that previously provided the full range of stations)

My MP says that this is because ALL Relay transmitters ONLY include PBS Mux.

I'm sure that this is not strictly correct (especially in the South West and Scotland) Please can you give me information on Freeview Relays Transmitters that DO carry all stations so we can pressure him to get us the full range of stations like all of the other towns in his Constituency

Thanks

John H's 1 post

John H: Sorry, but the information you have is correct. Only the main 81 Freeview transmitter have the commercial services. See Full service Freeview transmitters map | ukfree.tv - independent free digital TV advice .

The commercial operators cannot be made to do anything. If you want more channels, use Freesat/Freesat+/Freesat+HD.

Briantist's 38,844 posts

I'm gonna upload a few pictures here shortly, i don't know if you prefare the raw jpeg format or will these do... Let me Know.

Jordy's 1,827 posts
Select more comments
Your comment please