BBC iPlayer search now covers all on-demand content

Brian Butterworth published on UK Free TV
If you are on the BBC iPlayer and use the search box, you can now see content from ITV, Channel 4 and FIVE as well.

Missed The Gadget Show on Channel 5 perhaps? Or you missed Dispatches on Channel 4? Or Emmerdale on ITV1?

Well, iPlayer lists them all now.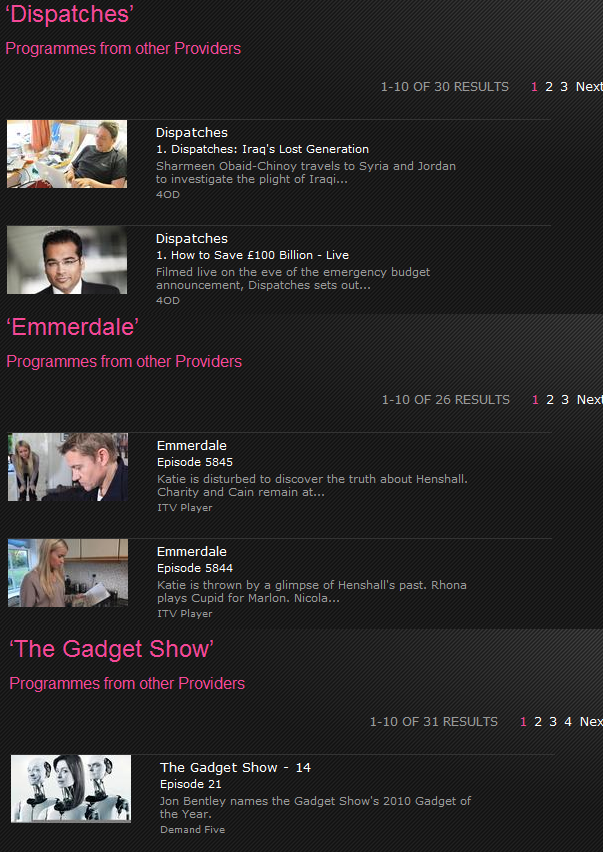 Comments
Monday, 31 October 2011

Deb Marshall: Please see Digital Region Overlap | ukfree.tv - independent free digital TV advice - but you should first do this My Freeview box has no EPG, is blank on FIVE, ITV3, ITV4, ITV2+1, has no sound or the channel line up is wrong | ukfree.tv - independent free digital TV advice

Briantist's 38,899 posts
Monday, 5 February 2018

Whenever I watch catchup pr0grammes; I.T.V. or B.B.C. for example, the programmes simply stop working and continually need to be refreshed, why?

Brrenda Gregory's 1 post

Brrenda Gregory: Are you watching on a smart TV (if so please provide the make/model), a smart stick/set top box, via a PC/laptop or a smartphone/tablet?

StevensOnln1's 3,553 posts
Tuesday, 6 February 2018

Brrenda Gregory:

Further to that said by StevensOnln1, what is your actual broadband speed? If it is too slow the service will keep buffering (stoping and restarting) as the data is not being delivered quickly enough for clear uninterupted viewing. For Sd it needs to be at least 4 Mbps and for HD it should ideally be at least 8 Mbps.



MikeP's 3,056 posts

MikeP: Thats an excellent point - the buffering would really mess things up, if its a really slow line.

The other thing that it could be is old software - apps do get a bit old and stop working properly, plus the settings could be up the spout.

BTW - why so much spam suddenly? There's loads of it.

MikeB's 2,579 posts

MikeB:

I've too have noticed that the Winter Hill page has loads of childish rubbish and so have a few others. Perhaps the fools this they look 'smart' when all it does is make them, whoever they are, look idiotic. Wo we have to look past it and see what real problem people are asking help for.

Broadband speed is a really serious issue in some area, which make the Sky idea of eventually move to internet only a daft one currently. As most can get Freeview or Freesat and Sky is available in most areas for a fee, it seems daft to me to move to a platform that has more serious problems, Whwrw I used to live in a rural hamlet we got 2 Mbps at best and that is too slow for SD and that is by no means unusual in rural areas as well as some urban locations too. Only when the USO of at least 10 Mbps is available to everyone, not just those who currently use the internet will it become feasible to deliver TV programmes via broadband.



MikeP's 3,056 posts
Wednesday, 7 February 2018

MikeP: Its a strange mixture of sexual commercial spam and gibberish. Goodness knows what they are trying to sell.....

MikeB's 2,579 posts

MikeB:

Most of it is offensive rubbish and of no relationship to this website so I hope Briantist will delete all of it soon.



MikeP's 3,056 posts
Select more comments
Your comment please