Upgrading from Sky+HD to Freesat+HD

Brian Butterworth published on UK Free TV
You might get a glossy magazine every month, but what do Sky really think of your custom?

"Give me a f**king name on a direct debit and it's mine for life,"
- Sam Chisholm, former boss of BSkyB.

Perhaps you responded to an offer like the one blow that promised a gratis Sky+HD box (for new customers taking their first Sky+HD package) with free standard set-up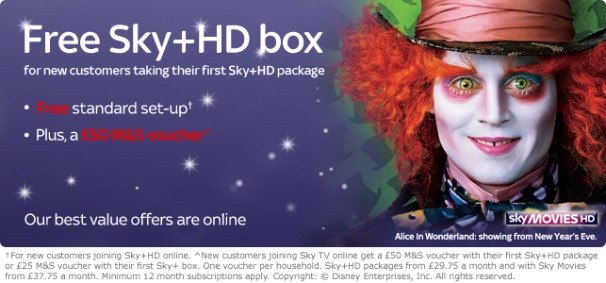 But you were so excited with the thought of a £50 M&S voucher that you didn't think to follow each of the little daggers and little stars to quite read all the terms and conditions:




So, your twelve months of commitment are over and, for reasons of budget (or politics) you have decided you want to keep all the features of Sky+ - live pause, high definition, extended electronic programme guide, series record, and recording two programmes at once whilst you watch another - but don't want to fork out every month on top of your TV Licence - and you still get hundreds of free TV channels

Here's what you can do.

First you need to buy a Freesat+HD box. There are many on the market, and can be bought from Argos, Currys DIGITAL, John Lewis, Comet and online at Amazon, as well as other stores.

When you use a Freesat+HD box NO SUBSCRIPTION HAS TO BE PAID. NONE. NOT A PENNY TO ANYONE.


Installing
This will take no more than ten minutes. First you will need to disconnect the Sky+HD box
mains
from the wall socket.
Then you will need to disconnect the cables from the back of the Sky+HD box.
Pull out the mains
power
connection (1), carefully unscrew the
satellite
dish
links (2) and (3), and then take out the HDMI lead (4) to your HDTV. If you have an "
surround sound
"
amplifier
, you may also have a
digital
audio connection (5).
Remove the Sky+HD box and put the Freesat+HD box back in the same position.
Then reconnect the cables: the mains power
cable
(1) - but not to the wall just yet, screw the two satellite dish links (2) and (3) and connect the HDMI cable (4) to your HDTV. If you had one, reconnect the digital audio connection (5).
If you have an Ethernet router, you can connect it to the Freesat+HD box at this point (5).
With everything in place, turn on the mains power and power up the Freesat+HD box.
The TV screen first displays the box's logo
The first set-up screen allows you to select the TV type, widescreen
mode
and resolution:
Next the box checks for the satellite
signal
:
Then there is a check for updated software:
Then you enter your postcode and the box checks it:
The next step is a
scan
for
channels
. This takes about 30 seconds:
And that's it. You can now view
channels
, like 108 for
BBC HD
:
Or press the GUIDE button for the EPG:
And that's it.
Comments
Friday, 13 May 2011

Would it be possible for Briantist to respond to my post of the 29th April ?

Technophobe

technophobe's 6 posts

technophobe: I think this is the one:

Briantist's 38,908 posts
Saturday, 14 May 2011

I have Sky+HD package that includes Sky Sports 1&2.
Is there any way I can continue to receive these channels if I cancel Sky and go Freesat. I have built in Freeview on my TV.
Somebody mentined to me that it was possible to purchase and insert a viewing card in the TV.

M Smith's 2 posts

M Smith: No, you can't do that. You must first subscribe to a Sky basic package using Sky equipment to access Sky Sports channels on satellite.

You can also get the channels - in SD only - via BT Vision, Top UP TV and Virgin Media.

The only option via a Freeview TV is TUTV - see Freeview, Digital TV Recorder (DTR), ESPN & More .

Briantist's 38,908 posts
Monday, 16 May 2011

If I take my Humax Freesat box to My home in Spain,will it work if I remove my current Sky box and replace it with the Humax?

Peter's 2 posts

Peter: Yes, it will.

Briantist's 38,908 posts
Friday, 27 May 2011

Will the satellite dish need to be realigned when I change from Sky to FreeSat or is it just a case of changing the receiver?
Thanks

Graham M's 1 post

Graham M: As with the article, you just change the receiver.

Briantist's 38,908 posts
Saturday, 28 May 2011

I have a basic Sky+ package fed to five TVs each with a 'magic eye' so that recordings can be accessed from anywhere in the house and also channels can be changed. What equipment/work would I need to have the same facilities from Freesat?
George

George Ingle's 1 post

George Ingle: Freesat+ boxes do not have "RF modulated" outputs.

This is because you would normally wire a Freesat box for each TV set to the dish, so you can watch any Freesat channel on each TV.

However, you can buy a "RF Modualtor", such as Maplin - Buy this Programmable RF Modulator cheap online which will allow you to do the same thing as the Sky box.

Briantist's 38,908 posts
Select more comments
Your comment please