Final switchover for The Wrekin, Ridge Hill groups on 20th April in 2011 week 4

Brian Butterworth published on UK Free TV
Viewers in Shewsbury, Telford, Bridgenorth, Wolverhampton, Ludlow, Hereford, Ross-on-Wye, Gloucester, Cheltenham and Bromsgrove will have no analogue television from Wednesday 20th April 2011. Unless you use cable or satellite to watch television, if you don't use a Freeview box or set, your screen will be blank.

Most people need only retune their Freeview box or TV, but it would be impossible with 634,600 homes covered by the transmitters, that there would be no problems.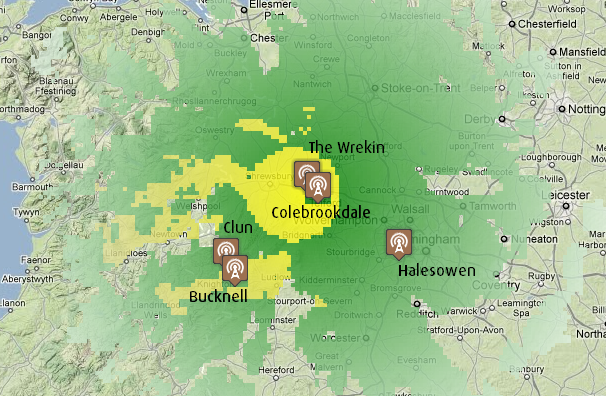 From Wednesday 20th April 2011 you MUST have a digital television device to watch TV. If you do not have a digital receiver, from Wednesday will have a blank screen.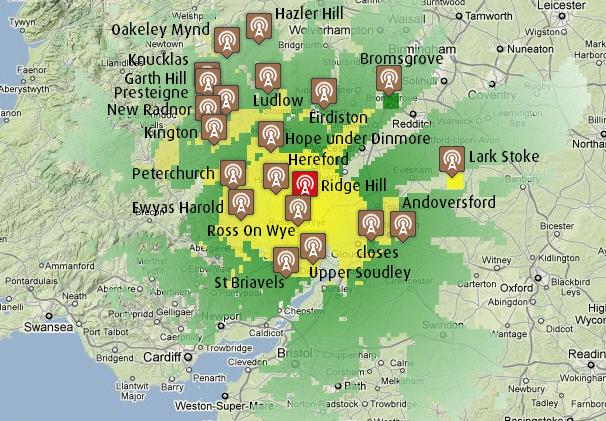 Do not expect a terrestrial television service from midnight until 6am - or a late as lunchtime on relay transmitters.

If you are over 75, get (or could get) Disability Living Allowance, Attendance Allowance, Constant Attendance Allowance or mobility supplement; or have lived in a care home for six months or more; or are registered blind or partially sighted and need assistance, please see The Switchover Help Scheme.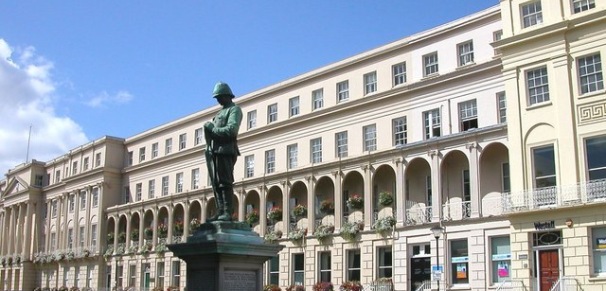 Cable and satellite
Cable (Virgin Media) and satellite (
Sky
,
Freesat
,
fSfS
) viewers are not affected by the changes. Remember, however, that you may be using analogue TV to watch on a second or third set and it might need a Freeview box.
Existing Freeview users
If you already use Freeview, and can receive all the
channels
now, check your TV or box is not listed here - TVs and boxes that do not support the 8k-
mode
. If it is, you will need a new box.
If you are not on the list, you should
scan
your box from around 6am.
When you now rescan, you MUST do a "first time installation" or "factory reset" scan, not an "add channels".
Do the procedure you did on September 30th 2009. If you can't recall what this was, please see
generic clear and rescan procedure
.
If you scanned during the first phase of
switchover
on Wednesday 6th April 2011 - you will have to do it again on Wednesday 20th April 2011.
Restrictions on SDN, Arqiva A and Arqiva B multiplexes
Because the change to
64QAM
mode on
multiplex
D/Arqiva B on Wednesday 20th April 2011, this will mean a small number of viewers will be unable to receive Arqiva B. This is to allow the provision of
Sky Sports 1
and
Sky Sports 2
to BT Vision customers.
After Wednesday 20th April 2011 at
The Wrekin
, the Arqiva multiplexes will remain on their pre-switchover frequencies and powers, and SDN will use a temporary
frequency
, for a short period before all three multiplexes adopt their final frequencies and powers during September 2011. During this transition period the commercial multiplexes will use the following frequencies: SDN
C49
and
C31
(both 2kW), Arqiva A
C53
C57
(1kW), Arqiva B
C57
C53
(1kW).
After Wednesday 20th April 2011 at Bromsgrove, Arqiva A will remain on its pre-switchover channel (33) until September 2011. Arqiva A and Arqiva B will temporarily operate on
C34
and
C29
respectively from the first stage of switchover at Bromsgrove until September 2011.
From Wednesday 20th April 2011 at
Lark Stoke
, Arqiva A and Arqiva B will remain on their existing frequencies and powers, and the SDN multiplex will use a temporary frequency. All three multiplexes will adopt their final frequencies and powers during September 2011. During this transition period following frequencies will be used: SDN C31 (50W), Arqiva A C57 (25/50W), Arqiva B
C60
(25W).
HTV West service from Ridge Hill transmitter
From Wednesday 20th April 2011 there will be a second D3+4 multiplex on C29 to supply the ITV1 (ex HTV)
West
service, in addition to the ITV1 Central West.
Using Freeview with Windows Vista
Please see Switch over and PC-based systems because you need some
updates
for your system to work.
Boosters
If you live close to the
transmitter
, you may have to disconnect any "boosters" from your
aerial
system. The new, more powerful
digital
signals may overload any amplifiers and result in no
reception
! When looking for them include a check for distribution amplifiers,
loft
boxes, set back amplifiers, bypass Amplifiers, hidden
masthead
amps in a loft space and any dodgy active splitters.
Homes without Freeview
If you had no Freeview service before, you will have the BBC channels digitally from Wednesday 6th April 2011. This is a single multiplex of the BBC channels (radio, television and text) for most people.
However, if you were on the fringes of reception from one of the main
Freeview transmitters
, you will now get all the Freeview channels.
If you didn't get this limited Freeview service in November then you may need a new aerial.
If you are served by a public service (
relay
) transmitter If you use
Andoversford
,
Bucknell
,
Churchdown Hill
,
Clun
,
Coalbrookdale
,
Eardiston
,
Ewyas Harold
,
Garth Hill
VP,
Haden Hill
,
Halesowen
,
Hazler Hill
, Hereford,
Hope under Dinmore
,
Kington
,
Knucklas
, Ludlow,
New Radnor
,
Oakeley Mynd
,
Peterchurch
,
Presteigne
,
Ross on Wye
,
St Briavels
or
Upper Soudley
you now need, from lunchtime on December 2nd to rescan, and you will get a second Multiplex with ITV 1,
ITV 2
, ITV 1 +1,
Channel 4
,
Channel 5
, Channel 4+1, E4 and
More4
. And that's your lot, see
Freeview retune - poor public service transmitters
.
Everyone who has digital TV now has
Freeview HD
.
Digital regional overlap
The old analogue TV signals provided lots of nations and regions for the public service channels, and these have large areas of overlap.
The old low
power
digital TV signals were at very low levels and reception of signals from more than one transmitter was a rare event.
All Freeview boxes automatically scan the available broadcast frequencies looking for channels, and they do this from
C21
to C69. Whilst scanning, if a duplicate version of a channel is found, such as another BBC One
region
, they are placed in the 800-899 channel range.
The 800-899 is easy to access by pressing CH- from 1, and in most programme guides is just a single scroll up.
Freeview HD
Freeview HD will start on Wednesday 20th April 2011 from the The Wrekin,
Ridge Hill
, Lark Stoke, Bromsgrove and all the relay transmitters. You will need a Freeview HD - DVB-T2
receiver
to watch the channels.
A HD TV set with Freeview is not enough
.
Comments
Tuesday, 17 May 2011
G
geoff
11:31 AM
Llanfechain

Hi, any suggestions for the best way to combine two aerials to go down 1 downlead? 1st transmitter ids the Wrekin (wideband) and the other is Welshpool( c/d)
Thanks, Geoff

geoff's 7 posts
geoff's:
map
G's Freeview map
terrain
G's terrain plot
waves
G's frequency data
G's Freeview Detailed Coverage

geoff: You should be able to combine the signal from Llanfyllin and The Wrekin using a simple Y-connector.

Briantist's 38,900 posts

geoff: The Wrekin is Group A for PSBs and Group B for COMs. Long Mountain is Group C/D.

If you're sure you can get good results from Long Mountain, you should use a diplexer which splits at C51 - e.g. Online TV Splitters, Amps & Diplexers sales . It ensures that any stray signals from The Wrekin's direction don't interfere with the signals from Long Mountain and vice versa.

However, Digital UK reckons that your best (and perhaps only) option for Welsh channels is Llanfyllin, which you're practically on top of. This is a Group A transmitter, so you would have to use a plain combiner.

Mike Dimmick's 2,486 posts
Select more comments
Your comment please