DAB updates

Brian Butterworth published on UK Free TV
Another two updates to UK Free TV to show DAB radio stations.

First on the "all channels" page, the "analogue" column has been changed to "other" and now includes "DAB" for radio stations carried on the national D1 and BBC multiplexes.




For the moment, channels that are carried on the regional and local DAB multiplexes are not included. I will provide a fix for this when I have the full information. In particular Heart and Capital FM are now networks of local stations.

I have also changed the Radio Comparson page to provide for DAB: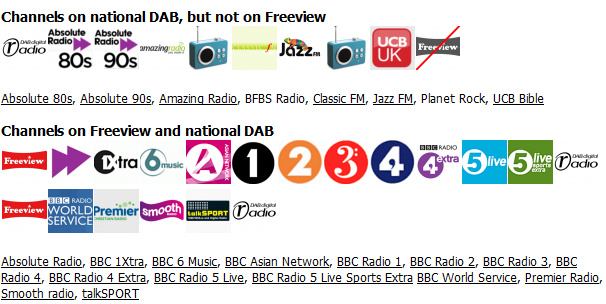 Comments
Thursday, 7 July 2011

"A BBC input to the Ofcom consulation on the approach to planning DAB build-out, 14 June 2011" - I just found this, presumably the data referred to. Please confirm if there is anything else relevant online. I have yet to read it in detail to ascertain what is indicative and what definite. Along the coast, we receive the national SFN and commercial multiplexes from Wales, but a little inland there are big moth-holes in coverage :-)

michael's 864 posts

@ michael

The Government has guaranteed that FM will not be switched off unless local DAB reaches 90% of the population (on average across the UK) and as a bare minimum it matches FM coverage in every single multiplex area.

In North Devon the FM coverage of BBC Radio Devon & Heart is around 83%, the "case 4" DSO map gives coverage just short of 93%.

If the public funding cannot be agreed for 83% coverage as a minimum (and preferably 93%) then Radio Devon & Heart's FM services will remain on-air. There is no question of FM being switched off when the coverage is at 70%, this is just the level of coverage that Now Digital shareholders are prepared to pay for out of their own pockets.

If only some websites (such as the one trying to give North Devon a "voice") had been more honest with their readers rather than deliberately misleading them into thinking that FM would be switched off in 2015 with only 70% coverage there wouldn't have been such an angry backlash.

Mark's 181 posts
Tuesday, 12 July 2011

Ofcom have today approved the Now Digital application for a DAB extension to North Devon.

As a result of this Global's local FM licence (Heart North Devon) has been extended for another 12 years.

Ofcom | Now Digital Ltd request to extend the coverage area of the local radio multiplex licence for Exeter & Torbay

Mark's 181 posts
Wednesday, 13 July 2011

DAB Block 10C North Devon - Thanks for the link, Mark. As expected, focus on main population (advertising) target areas. Even the stated post 2013 coverage will not be satisfactory - so when FM shuts down, no BBC Radio Devon DAB for many. This remains the ongoing issue that is not being seriously addressed. Looking at portable DAB receiver reviews, the most common disappoints continue to relate to coverage and current consumption.

michael's 864 posts
Select more comments
Your comment please