DAB updates

Brian Butterworth published on UK Free TV
Another two updates to UK Free TV to show DAB radio stations.

First on the "all channels" page, the "analogue" column has been changed to "other" and now includes "DAB" for radio stations carried on the national D1 and BBC multiplexes.




For the moment, channels that are carried on the regional and local DAB multiplexes are not included. I will provide a fix for this when I have the full information. In particular Heart and Capital FM are now networks of local stations.

I have also changed the Radio Comparson page to provide for DAB: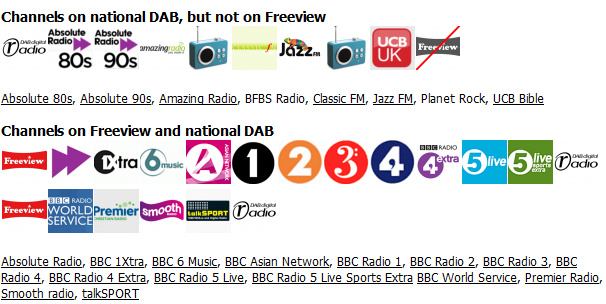 Comments
Wednesday, 8 June 2011

John Horrabin: When there is a local commercial multiplex for it to go on. When that actually will be is a good question.

Briantist's 38,906 posts
Sunday, 26 June 2011

BBC Radio Devon & Heart reach about 83% of the population of North Devon on FM.

Seven DAB sites would be needed to replicate this coverage:
http://stakeholders.ofcom.org.uk/binaries/consultations/dab-coverage-planning/858230/DSO_10C_North_Devon_DAB_V2_1.pdf

Mark's 181 posts
Monday, 27 June 2011

DAB NORTH DEVON - The Now Digital proposal map for 10C in North Devon would leave significant areas without BBC Radio Devon et al when FM and AM are switched off. Commercial operators are unlikely to invest in many additional transmitters to provide FM-equivalent coverage, so the best hope is that FM/AM will continue. DAB for major centres and motorway corridors, FM/AM for "commercially uninteresting" areas?

michael's 869 posts

@ Michael

FM will not be switched off while DAB coverage is lower than present FM coverage.

BBC Radio Devon and Heart currently serve 83% of the North Devon population and seven DAB transmitters will be needed to replicate this coverage.

The BBC, commercial radio and the Government are meeting this week to sign an agreement for an equal split of the costs for the £30 million required for local DAB rollout to equal FM coverage.

The BBC has a plan in place to build out its national multiplex to 97.2% by 2017 (98.1% of England). The BBC national mux coverage will be over 93% by the end of this year.


Mark's 181 posts

Lets hope the plans come to fruition with greater integrity than the DSO promises!

Even when DAB equals FM coverage, other issues will remain:-
1. Redundancy of millions of little-used analog radios for residual FM/AM broadcasts.
2. Robustness of BandIII DAB signals inside
the home and in-car as compared to BandII FM.
Even in strong-signal areas, the cliff-edge renders this frequently unsatisfactory.
3. Cost of replacing most domestic and in-car radios.
4. High cost of running battery-powered DAB
sets. Chips as efficient as mobile-phone chips required!
5. Low bit-rates of DAB render audio quality
inferior to current FM.

michael's 869 posts

michael: BBC Devon is required to be, and is already, carried on the Exeter and Torbay (East Devon) and Plymouth ensembles. Receivers can use channel information to roam between DAB ensembles in the same way they use RDS to roam between FM transmitters.

Mike Dimmick's 2,486 posts
Tuesday, 28 June 2011

NORTH DEVON DAB - Mike, I am pro-DAB-as-it-
could-be. The current hot issue is the Now Digital application to extend to North Devon, BUT with restricted coverage, as mapped in the Ofcom public consultation document. The Ofcom consultation ends tomorrow. Only if a substantial number of relays are added will 10C coverage, including BBC Radio Devon, in the hilly north of North Devon be assured. For commercial operators, the additional returns on such investment are unattractive. That may be why Government, BBC and commercial operators are conferring now. If agreement is reached and enough fill-in relays are included to genuinely equal current FM/AM coverage, that part of the DAB issue will be resolved. Other issues will remain, but we may be coerced into a brave new world which really only offers one significant advantage: more stations. DAB reception is interference-free if the signal is robust, as is FM now. Reduced audio quality (bitrates) might be acceptable in exchange for more stations IF coverage is genuinely at least equal to current FM/AM.

michael's 869 posts
Saturday, 2 July 2011

michael: The new plan, see "Figure 2-4. Modified Network 3" - http://stakeholders.ofcom.org.uk/binaries/consultations/dab-coverage-planning/858230/DSO_10C_North_Devon_DAB_V2_1.pdf , shows excellent coverage for all of North Devon local radio. 92.62% indoor, 91.46% in-car.

Briantist's 38,906 posts
Wednesday, 6 July 2011

Hey Brian - you've missed all the BBC DAB updates

J's 2 posts
Thursday, 7 July 2011

Block 10C, North Devon - This Ofcom plan does offer better hope of FM-equivalent coverage - except in areas including my own(!), even if the best option (Case 4, modified Network 3) were to be implemented. A big "if"! In table 2.1 do "VHF", "Airwave" and "Orange" refer to installing infill DAB relays on these existing masts? The current Now Digital proposal for 10C shows the lowest area coverage, with no indication that it would ever be improved as in this Ofcom plan. Unless wider coverage is subsidised by Government and/or the BBC for regional DAB, full implementation would seem commercially unattractive. I havent yet found the BBC DAB updates referred to by you, J. If commercial viability were to impede full implementation, amended legislation could allow the BBC to add local-SFN multiplexes to its existing national SFN installations. Where are the BBC updates listed, please?

michael's 869 posts
Select more comments
Your comment please