DAB transmitters, multiplexes and radio stations

Brian Butterworth published on UK Free TV
The information is taken from Ofcom, and is displayed in what I hope you will find a useful way.

There are six types of page shown:


Map of all DAB transmitters
On this map you can click a
transmitter
symbol to get more information about the selected transmitter.
Maps of each DAB transmitter with indoor coverage for each map shown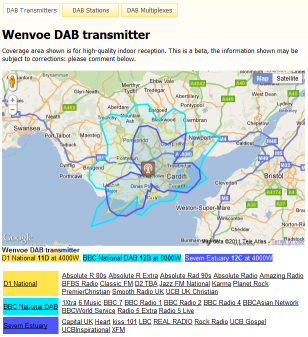 These pages show the indoor coverage area for each
multiplex
on the transmitter, listing of the
power
for each multiplex, and the stations provided.
List of all the DAB multiplexes
You can click on any multiplex name to see its details.
Lists of the stations on each DAB multiplex and the transmitters carrying the multiplex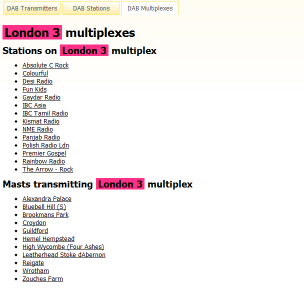 Click on a
station
name to find details of the station.
A list of all the DAB radio stations
For each
DAB
radio station, a list is shown of the multiplexes that carry the station and the transmitters for each.
Comments
Wednesday, 20 July 2011

... and details of each radio station

Briantist's 38,908 posts

What has been used as the definition for indoor coverage? I don't have a DAB radio but I'm shocked by how small the areas that are covered by each transmitter are.

Will's 39 posts
Thursday, 21 July 2011

This is great work Briantist.
There must have been a lot of work here, so thank you.

one small thing. Asian Plus station appears to be showing Aian Plus, im assuming its suppose to be Asian Plus.

Matt's 22 posts

Is there a place I can put my postcode in and it will workout the direction of the transmitter for me in degrees?

or even with my grid ref?

thanks for the help again.

Matt's 22 posts

Matt: The data all comes from Ofcom, any errors in the names of stations comes directly from the data source.

Briantist's 38,908 posts

Matt: I will look into the idea of the site showing the direction to the transmitter.

Briantist's 38,908 posts

Will: The line shows the border of the 7.94328234724E-12 watts area, which is -81 dBm. Or at least it should be showing that.

Briantist's 38,908 posts

Brian, your OBE is in the post... This is good stuff - it can only get better! I have just checked Kilvey Hill and Wenvoe on my cheapo from that place wot rhymes. Only KH and W transmitters register (nowt from Huntshaw Cross). Telescopic antenna only 30cms extended, far side of the house, radio on the floor (sic!). The punch-line : at five times the distance from KH and W, albeit over water, from the outer indoor-reception contours: all stations stable. Overland or at 60mph it would doubtless be less impressive, but even so, not bad. Will Huntshaw Cross ERP be increased? When NowDigital opens up at Huntshaw it might be worth putting up a yagi for tethered domestic fun. For floor-level and 60mph
reception we will definitely need them there DAB infills. On good phones, though not as pleasing and "full" as FM or AAC, audio above 128kb/s is acceptable. With DAB-infills, we should eventually be ok.

michael's 869 posts

Postscript : my beloved all-glowing-valves Grundig with magic eye, hefty speaker and beautiful polished wood finish is not happy with the new plasticky on-floor competition. I am going to have to be very diplomatic to keep the peace - and happy glowing :-) I might have to move the no-valves 78rpm grammophone with matching finish in to console it. 78rpm Paul Robeson audio is nearly as good as sub 128kb/s DAB - and definitely more aethestically
uplifting :-)

michael's 869 posts

Looks like pretty decent DAB coverage to me. The DAB transmitters that are on the south coast, are they restricted in which direction they broadcast in? It just seems like you could easily recieve the DAB signals in Belgium, The Netherlands and the northern part of France!

Josh's 97 posts
Josh's:
map
J's Freeview map
terrain
J's terrain plot
waves
J's frequency data
J's Freeview Detailed Coverage
Select more comments
Your comment please