ASTRA 1N satellite has entered commercial service

Brian Butterworth published on UK Free TV
From SES Astra today:

ASTRA 1N was built by Astrium on the Eurostar E3000 platform and is equipped with 52 transponders in the Ku frequency band. The satellite was successfully launched on board an Ariane 5 rocket from Kourou, French Guiana, on 6 August 2011. It had a launch mass of 5,325 kg and is the fourth Eurostar satellite in the 49 satellite-strong SES fleet.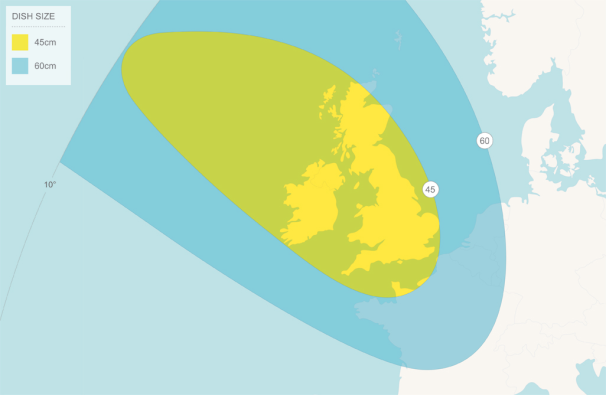 ASTRA 1N greatly enhances the flexibility of the SES satellite fleet at the orbital slot 28.2 degrees East over Europe. ASTRA 1N is notably being used by Channel 4 and ITV. The new satellite will also allow SES to offer its satellite-based broadband service ASTRA2Connect via 28.2 degrees East and thus complement its service offer from the 23.5 degrees East position. ASTRA2Connect is Europe's largest satellite broadband network with more than 80,000 end users.
Comments
Tuesday, 25 October 2011
N
Nicholas Willmott
3:39 PM

Why another 1 series Astra satellite? I thought Astra 1 series was the old Analogue, and that the Digital Astra satellites were numbered in the 2 series (as of 1998).

Nicholas Willmott's 80 posts

Nicholas Wilmott: It's a '1'-series because its final intended service position is 19.2°E. It's only filling in at 28.2°E until the proper replacements, 2E, 2F and 2G, are built and launched over the next few years.

There is nothing analogue or digital about the satellites, they just relay whatever is transmitted up to them from the ground. The first digital tests at 28.2°E were from Astra 1D, moved there at the end of its service life for that purpose. Astra 1 satellites at 19.2°E (and 2C, which has had a history of being moved here there and everywhere) now carry a mix of analogue channels and digital multiplexes on the various transponders. The remaining analogue channels have been told to move to digital before being shut down next year.

As I said, 2C is at 19.2°E, and could presumably have been moved back to 28.2°E if it was still suitable. However, that only has a single pan-European beam, and the demand is for UK-only footprint. Presumably the UK spot beam got added some time in Astra 1N's construction, too late to push up 2E to an earlier launch.

We still don't know how many of 1N's transponders can use UK-only footprint. In frequency terms, several of the transponders would overlap with Eurobird 1 (28.5°E, close enough to effectively be part of the Sky and Freesat platforms) or with 2A or 2B.

Mike Dimmick's 2,486 posts

Nicholas Willmott: In addition to Mike's comments, Astra have updated their website at
Satellite Fleet & Coverage - SES.com
.

I can understand why you might think that "Astra 1 was analogue" as the Sky analogue services were on Astra 1, and indeed there are still some analogue services ("PAL") at 19.2 east - Astra 1H/1KR/1L/1M/2C at 19.2°E - LyngSat .

However, Mike's had explained the situation to you.

Briantist's 38,901 posts

But when will we know whats going to be on it FTA????

Apart from channel 4 & 5s???

Ian's 497 posts
Ian's:
map
I's Freeview map
terrain
I's terrain plot
waves
I's frequency data
I's Freeview Detailed Coverage

Re Ian
Astra 1N at 28.2°E - LyngSat
will list the channels when they start.
(Is empty at the moment)

Europe, Africa & Middle East - LyngSat
has links to the other 28' east satellites. (RH163LB)

Mark A.'s 373 posts
Thursday, 27 October 2011

I thought ASTRA1x was the name originally given to satellites at the original 19 degrees East position (for Sky analogue & many others), but that 28.2E was all digital and generallt labelled as ASTRA2x, apart from when satellites were moved to replace those that 'died'.

Is there a reason why SES/ASTRA are now mixing/macthing the names, or was I being too simplistic in my view of how that was done?

StuartPlymouth's 14 posts

Sorry, I should've read Mike's post above before commenting. He explains it well.

My bad!

StuartPlymouth's 14 posts
Wednesday, 2 November 2011

Briantist: A new transponder has started on Astra 1N, the details are,
Frequency 11171
Polarity Horizontal
Symbol Rate 22000
DVB Standard DVB-S
Modulation QPSK
FEC 5/6.
It is a duplicate of the channels on Astra 2B transponder 26, 12207 V.

NottsUK's 345 posts

Briantist: This transponder, (11171H), has now been switched off.

NottsUK's 345 posts

NottsUK: My assumption is that everything is still in test, with experimentation on just how much or little forward-error-correction is required, and how reliable use of 8PSK will be. 8-phase-shift keying, as opposed to quadrature phase-shift keying (QPSK), delivers three bits per symbol rather than two, but requires more signal-to-noise ratio for the same error-correcting code rate.

DVB-S2 also defines 16-APSK and 32-APSK, which require multiple amplitudes as well as changing the phase, but I wouldn't expect to see support in domestic receivers, as it's not mandatory.

I'll consider testing ended when a service is deleted from a 2A/2B/2D transponder, or an FTA service appears in the Freesat EPG.

Mike Dimmick's 2,486 posts
Select more comments
Your comment please