ASTRA 1N satellite has entered commercial service

Brian Butterworth published on UK Free TV
From SES Astra today:

ASTRA 1N was built by Astrium on the Eurostar E3000 platform and is equipped with 52 transponders in the Ku frequency band. The satellite was successfully launched on board an Ariane 5 rocket from Kourou, French Guiana, on 6 August 2011. It had a launch mass of 5,325 kg and is the fourth Eurostar satellite in the 49 satellite-strong SES fleet.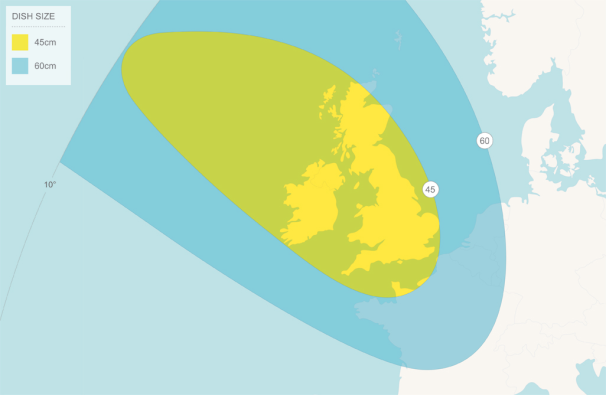 ASTRA 1N greatly enhances the flexibility of the SES satellite fleet at the orbital slot 28.2 degrees East over Europe. ASTRA 1N is notably being used by Channel 4 and ITV. The new satellite will also allow SES to offer its satellite-based broadband service ASTRA2Connect via 28.2 degrees East and thus complement its service offer from the 23.5 degrees East position. ASTRA2Connect is Europe's largest satellite broadband network with more than 80,000 end users.
Comments
Wednesday, 2 November 2011

NottsUK: My assumption is that everything is still in test, with experimentation on just how much or little forward-error-correction is required, and how reliable use of 8PSK will be. 8-phase-shift keying, as opposed to quadrature phase-shift keying (QPSK), delivers three bits per symbol rather than two, but requires more signal-to-noise ratio for the same error-correcting code rate.

DVB-S2 also defines 16-APSK and 32-APSK, which require multiple amplitudes as well as changing the phase, but I wouldn't expect to see support in domestic receivers, as it's not mandatory.

I'll consider testing ended when a service is deleted from a 2A/2B/2D transponder, or an FTA service appears in the Freesat EPG.

Mike Dimmick's 2,486 posts
Saturday, 5 November 2011

It looks like one Tp has been activated.

Astra 1N at 28.2°E - LyngSat (CO62QX)

Heinz's 25 posts

Heinz: That transponder does appear to be showing a test service. If it one that will finally be allocated to the Channel 4 corporation is unknown.

It is usual that when a "bird" reaches the correct orbital position, the whole device will undergo a period of testing.

This is largely because the users will expect a flawless service over the coming years. Al though each satellite contains redundant systems to allow parts of the system to fail, given the impossibility of repair, it is vital that testing it carried out before being used for public service.

Given the noises from Channel 5 about the launch of Channel 5+1, I think you may start seeing service up and running in three to four weeks.

Briantist's 38,899 posts
Monday, 7 November 2011

Briantist: Four Channel 5 channels, 5 USA, 5 USA+1, 5* and 5*+1 have appeared on Astra 1N. They are on transponder 10964, H, DVB-S, 22000, 5/6. At the moment they are all encrypted.

NottsUK's 345 posts

NottsUK: Thanks for that.

Briantist's 38,899 posts
Friday, 18 November 2011

Briantist: A couple of ITV 1 channels have appeared on Astra 1N at,
Frequency 11053
Polarity Horizontal
Symbol Rate 22000
FEC 5/6.
They are shown as 20710 and 20711.

NottsUK's 345 posts

Briantist: 20710 is Meridian while 20711 is Central.

NottsUK's 345 posts

Briantist: 20710 has been changed to 20700.

NottsUK's 345 posts

NottsUK: Yes, I have those two. Pictures of Birmingham and Southampton seem to check it out...

Briantist's 38,899 posts
Thursday, 8 December 2011

ITV1 central east and south are broadcasting free to air on freesat again

U's 98 posts
Select more comments
Your comment please