Mobile site version - m.ukfree.tv

Brian Butterworth published on UK Free TV
I have created a version of UK Free TV that is more suited for use on devices with small screen such as mobile phones or tablet computers.

You can access the mobile version of the site in two ways. Either visit m.ukfree.tv directly, or you can click on the words "use mobile site" on any page on the "desktop version".




The above link will take you to the mobile version of the page you are already looking at. When you visit the mobile site, there is a link on each page to use the desktop version of the site: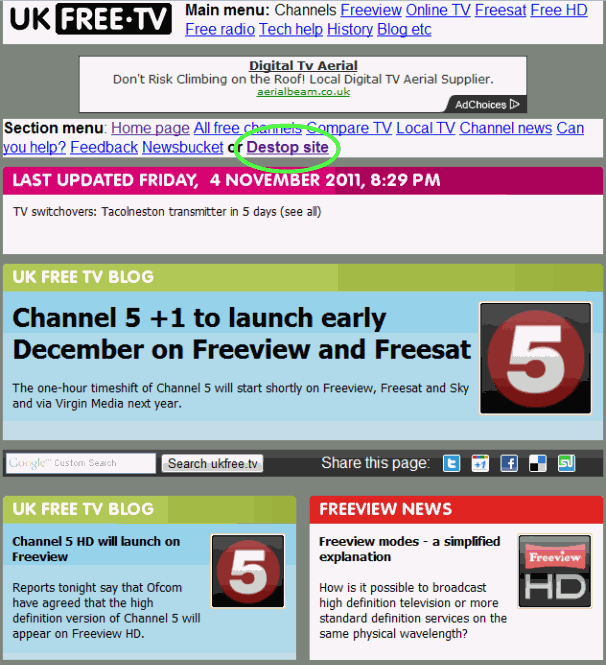 The mobile version of the site does not allow comments to be posted, and also does not have the sidebar with the many lists of useful links.

As ever, if there are any problems please let me know.
Comments
Friday, 4 November 2011

Hi Brian,

It looks good on my HTC HD2 , I've added it to my favorites on my phones browser.


Mark Aberfan Aerials

Mark Aberfan Aerials's 1,059 posts

Mark Aberfan Aerials: I'm pleased to hear that.

Briantist's 38,899 posts

Mark you are local and I'd be inersted to hear what you think about the Philex Digidome outdoor tv aerial?

bryn vaughan's 1 post
Saturday, 5 November 2011
M
Mark Fletcher
12:17 AM
Halifax

Bryn Vaughan.The Philex Digidome Outdoor TV Aerial is nothing but a gimmick.Not even a true aerial,just a group W wideband thats all it is,useless on group A frequencies,even more useless on all group A transmitters in poor reception and marginal areas.Avoid at all costs.Even an indoor group W wideband set top aerial performs better than the so called digidome aerial.

Mark Fletcher's 673 posts
Mark's:
map
M's Freeview map
terrain
M's terrain plot
waves
M's frequency data
M's Freeview Detailed Coverage

Works great on my Orange San Francisco.

Phil's 39 posts
Phil's:
map
P's Freeview map
terrain
P's terrain plot
waves
P's frequency data
P's Freeview Detailed Coverage

Hi Bryn,

Mark fletcher's comments are pretty much on the money & there are quite a few group a transmitters in the valleys ! (3 within 5 miles from my front door) I cant think of a situation where this aerial would be the best choice. A traditional aerial would be a better choice. This does not mean it wont work in some situations, but it does mean you can do better for less money.

Mark Aberfan Aerials

Mark Aberfan Aerials's 1,059 posts
Your comment please