A brief history of Internet Protocol Television

Brian Butterworth published on UK Free TV
(From: The Australian November 18, 2011 1:51PM)
"Television" is technically a synchronous broadcast. Historically, a handful of television
channels
were sent over limited
radio frequencies
, each received at the same moment (synchronous) by millions of sets and displayed to those watching it directly. The viewer can "interact" by selecting the channel, but there is no way for the viewer to communicate back.
The internet, in contrast, is an asynchronous
network
- billions of users can send and receive data to and from any other user on the network, often having connections to hundreds of other locations at once. The network automatically shares the available communications resources moment by moment.
By removing the requirement for synchronous communications, the internet protocols drastically reduced the cost of data communications. It does not matter if it takes slightly longer for a web page to appear, or if the speed of download of a data file is uneven.
Eliminating the need for both synchronous communications and for broadcasts has brought benefits worldwide. But it has made providing television
services
this way very hard.
Only when the speed of the user's connection combined with effective buffering does a usable viewer experience emerge, and this has to be provided at the same time as huge amounts of capacity that can service each end user individually.
The history of IPTV is 15 years of trying to get this right.
1995 BT Interactive TV trials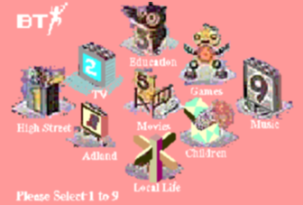 British Telecom has a research campus located at Martlesham Heath, Ipswich, and it was from here in 1995-6 that BT invested a year-long trial of "Interactive TV" using fibre-optic links provided to 2500 households in Ipswich and even as far as the NAB show in Las Vegas.
The trial was looking at commercial viability. While the 40
test
advertisers thought that the emerging "world wide web" would be a better use of their money, when BT closed the system after a year the
feedback
from the 5500 users found they were extremely disappointed to be loosing the ability to select movies on demand and watch BBC programmes broadcast in the past few weeks.
The trial also demonstrated that there was interest in shopping and online banking.
However, when BT was turned into a public company, the government imposed a ban on it providing domestic "entertainment service" to protect the
cable
companies (today merged into Virgin Media) - and MPs did not lift the ban until 2001.
Satellite NVoD
Satellite
operator British
Sky
Broadcasting launched its
digital
platform in 1998. It had seen the popularity of the on-demand movie service and offered "near
video
on demand". Popular movies were broadcast every 15 minutes or so, accessed on a pay-per-view basis.
BBC iPlayer
The BBC "catch-up" service on the BT service had been the most popular, and in 2005, with fast broadband making it possible to download video, the corporation's Future Technology started work on an "interactive media player". The initial "iMP" beta was poor - users had to download a Kontiki peer-to-peer client and had to
install
special Microsoft Windows media protection software. Viewers could only watch completely downloaded programmes.
The corporation finally realised that a web browser and Flash video player would allow all computers to be able to use the service without needing to do anything more than click "play", and on December 13, 2007, the
streaming
iPlayer launched. This followed the model of short-form video service YouTube, which had started operations in late 2005 and was a global hit within a year.
The BBC service has proved a huge success. Today the iPlayer stream 155 million long-form television and radio items a month.
This success is attributed to ease of use, high-
quality
fresh content (usually from the past seven days) on the service, constant plugging on broadcast TV and no payment being demanded. Since
BBC iPlayer
launched, the other public broadcasters (ITV,
Channel 4
and
Channel 5
) have created on demand services designed around the BBC £6 million path-finding work.
The iPlayer has expanded into other internet-connected devices such as cable boxes, games consoles and
Freesat
boxes.
Personal video recorders
It is worth noting that complementing the use of on-demand iPlayer, the use of devices that record from digital satellite and
terrestrial
Freeview
means that in homes with Sky+, Freeview+ or V+, 32 per cent of
drama
, 26 per cent of soaps and 23 per cent of documentaries are "time-shifted".
Kangaroo aka SeeSaw
Following the technical success of the BBC iPlayer, Channel 4 and ITV joined the BBC with a proposal to provide access to the broadcasters' back catalogue via a complementary commercial service. The Competition Commission blocked the proposal following complaints from BSkyB that the service would be "too popular". BSkyB also forced restrictions to the BBC iPlayer using similar tactics in April 2008. The technology for the project was sold to transmission company Arqiva, who launched the service as SeeSaw on February 17 last year. However, while having access to BBC Worldwide's back catalogue and shows from Channel 4, the service floundered. Without free on-screen promotion from the broadcasters and a limited catalogue of programmes, the service failed to cover the running costs, and the site closed last month.
Homechoice aka Tiscali aka TalkTalk TV
As far back as 2003, the Homechoice service had used IPTV to provide a 60-channel "live" television service using broadband. The service has never been popular and peaked at about 0.4 per cent of TV sets in early 2009.
As most homes could use the Freeview service at no cost to get the same channel line-up, and the pay services in direct competition with market leaders BSkyB and Virgin Media, the ADSL service is no longer available to new customers.
YouView
YouView
is an attempt to establish a platform similar to market leader Freeview for IPTV. The partners include the BBC, ITV, Channel 4, Channel 5, BT, TalkTalk and Arqiva.
While appearing to be "Freeview 2.0", YouView has met many technical hitches and has been accused of being a system that will benefit partners to the exclusion of other operators.
The industry is somewhat sceptical: three years of development for a set-top box
standard
with still no equipment on sale does not suggestion high levels of technical competence.
In addition, the EU HbbTV standard has been specified, adopted by manufacturers and demonstrated, again putting the long-term viability of YouView into doubt. It is also notable that in the US, both Apple TV and Google TV have failed to
gain
wide usage.
BT Vision
Despite being an IPTV pioneer, it was only in late 2006 that BT Vision, a Freeview box with access to pay services through an IP connection launched. This service has been a slow-burning success and now has 640,000 paying customers.
Comments
Friday, 13 January 2012

When will ITV player be available on smart Tv other than Humax Freesat boxes? It was promised years ago. Why the delaysOp

Sid's 33 posts
Sunday, 15 January 2012

Sid: It is down to ITV to provide the service, and they may now just be expecting YouView to provide their service in the future.

Briantist's 38,899 posts
Monday, 31 December 2012

"The industry is somewhat sceptical: three years of development for a set-top box standard with still no equipment on sale does not suggestion high levels of technical competence."

Don't you think this page needs updating if you are to maintain your reference site status?

Riz's 1 post
Riz's:
map
R's Freeview map
terrain
R's terrain plot
waves
R's frequency data
R's Freeview Detailed Coverage
Your comment please