Improvements to UK Free TV transmitter mapping launched

Brian Butterworth published on UK Free TV
All of the pages showing the transmitter maps now have much better resolution (200m squares) and this has allowed for more accurate mapping to be calculated displayed.

The first improvement is that the new transmitters that were added to the network during digital switchover now display with their coverage area.




For the transmitters where the system has the radiation pattern from the BBC Freedom of Information request, this is now shown in the calculated coverage area:




For the masts that have a Freeview service before the switch to digital-only transmission, this can be seen by clicking on the "pre-DSO 1" option on a transmitter page. This is the default for any transmitter that has not yet switched over.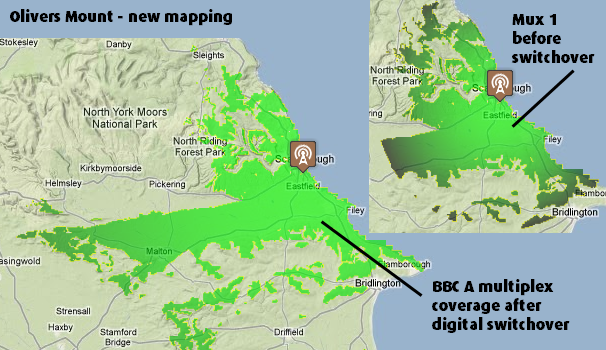 By comparison, this is how the mapping appeared before:




Also, the site now contains the details of the Saorview transmitters in Ireland.


Comments
Tuesday, 21 February 2012

Be aware that HP and VP aerials from the same site may point in different directions. For example, you've done plots for both Hemdean HP and Hemdean VP, but you've used the VP radiation pattern for both. The page currently only shows my VP plot, the HP plot is at http://i1211.photobucket.….png .

Unfortunately I don't think we have plots for all HP/VP transmitters.

Mike Dimmick's 2,486 posts
Wednesday, 22 February 2012

Mike Dimmick: There is a small issue with the transmitters with mixed polarity output, with only one of the two being shown at the moment. I will fix the problem in the next update, so it picks up the correct file to display.

Briantist's 38,901 posts

Brilliant work!much more accurate graphics.
This is invaluable source of information for Aerial installers.Thank you.
Can you make the transmitter icon,a little more transparent?though.

Aerialman's 140 posts
Thursday, 23 February 2012

Excellent stuff Brian

Phil's 39 posts
Phil's:
map
P's Freeview map
terrain
P's terrain plot
waves
P's frequency data
P's Freeview Detailed Coverage
Sunday, 26 February 2012

Phil/Aerialman: Thank you for your kind comments, it makes all the hard work worthwhile!

I'm not sure that the Google Map API allows for the icons to be transparent, I will look into it.

Briantist's 38,901 posts
Your comment please