Better multiplex listing icons plus Storeton Wales and Caldbeck Scotland details

Brian Butterworth published on UK Free TV
The various pages that display the multiplex information for the UK and Ireland digital television transmitters now have a slightly improved format.

First, rather than showing icons for all of the services, the icons are now larger and show just the main television services, as these are what most people are looking for and are the services that occupy the bandwidth.

In addition, the text, adult, shopping and interactive channels are now showing as "plus X others" on the pages - just click the link text to instantly reveal the full details.

Another update, which to be honest required a total rewriting of the code, now allows a transmitter to be in more than one region where this happens. This means that the services for Storeton Wales and Caldbeck Scotland now display the full, correct information.

Please see this example graphic: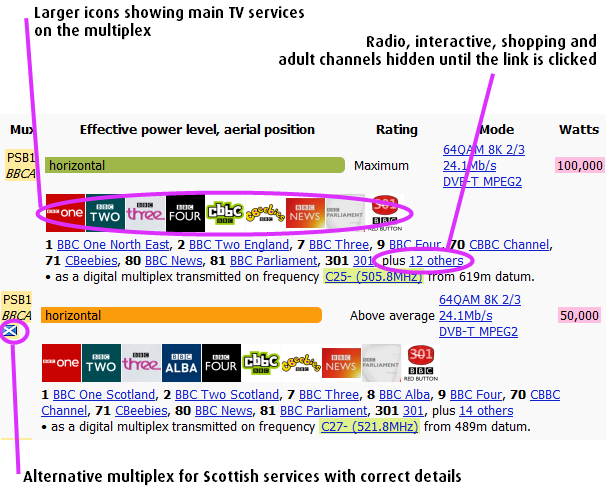 Comments
Wednesday, 28 March 2012

Just a spot of geography, Brian. Storeton isn't in Wales, it's on the Wirral which is definitely on the English side of the River Dee!

Brian Wood's 4 posts

Brian Wood: The use of "Storeton Wales" is so as to distinguish from the Granada services that Storeton transmits. It carries the Wales Region channels towards Wales as well as Granada ones.

Dave Lindsay's 5,724 posts
Saturday, 21 April 2012

I currently have sky RF2 setup on an ATV channel; Can it we setup to use a DTV channel so we don't have to switch between ATV and DTV just to watch sky in other rooms?

Mark's 2 posts

Mark: Hi. Easy answer to your question: no.

Briantist's 38,902 posts
Tuesday, 24 April 2012

Briantist

Thanks - i had expected it to be the case but..

Mark's 2 posts
Mark's:
map
M's Freeview map
terrain
M's terrain plot
waves
M's frequency data
M's Freeview Detailed Coverage
Your comment please