Four regional DAB multiplexes to close in 2013 to allow for better local DAB

Brian Butterworth published on UK Free TV
The government's radio switchover strategy incorporates a plan to match the DAB coverage of local radio stations (both BBC and commercial - see Ofcom - Annex B. Local DAB build-out plans) with that currently provided on FM (see Ofcom - Maps).

To do this, the regional multiplexes will be closed and their frequencies used to do a large-scale replanning, incorporating a new one called 5A.




MXR will close the following multiplexes:


When complete, the new plan looks like: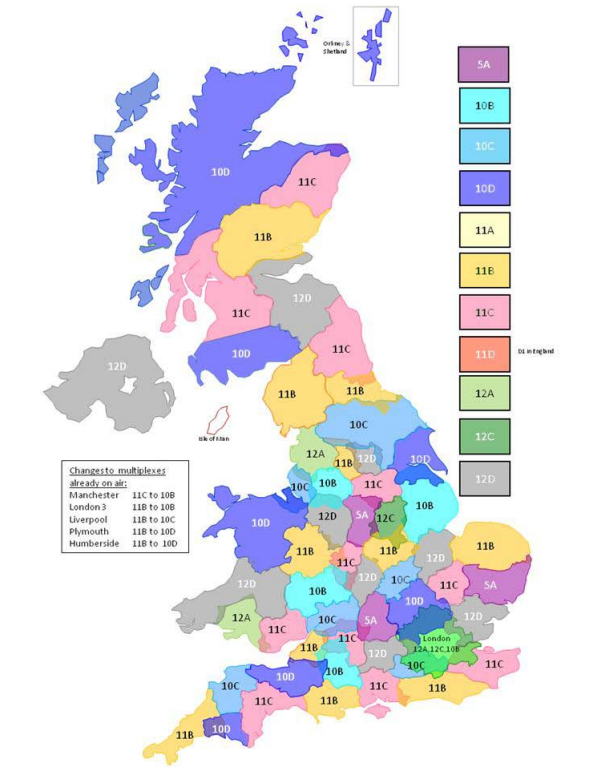 Diagram from
Ofcom - An approach to DAB coverage planning
.
Originally published on 26th September 2012 at 16:24
Comments
Thursday, 27 September 2012

I am still suprised why Freeview box makers don't have DAB built in .. the b/w used on Mux for TV, could be used for TV rather than radio!

Jay's 92 posts

Jay: DAB multiplexes are 1184 kbit/s in the UK [1]

Given that Freeview brings in 24.1+24.1+40.2 plus 27.1+27.1+27.1 = 170Mbps or 173,772kbit/s there is no point adding in DAB to provide 0.68% additional capacity.

It is cheaper and easier to add the audio streams to Freeview.




[1] Digital Audio Broadcasting - Wikipedia, the free encyclopedia

Briantist's 38,906 posts

Mark : I am, on balance, pro-DAB, but you scare me. "Pure's latest UK models will receive DAB+ without the need for an upgrade." If too few have perceived the need to invest in DAB radios to ensure DAB supremacy, how will consumers respond when they learn that they will have to pay again for DAB-landfill and yet again for new DAB+ replacement radios - until the next incompatible "upgrade"?


michael's 869 posts
Friday, 28 September 2012

@Mark

It is true that some recievers will only support up to 192kbs but the DAB spec goes up to 256kbs so those recievers are sub standard.

The BBC has consistantly said they will not be moving to DAB+. There are now too many DAB only recievers to switch in the forseeable future.

I forgot to mention the biggest reason the national FM stations cannot be switched off is car radios.



trevorjharris's 367 posts

It does indeed look as though the status quo will hold sway for years to come : most car-radios being without DAB favours FM. Static DAB receivers are too many to be dumped for DAB+. How many listen to digital radio on their Freeview television? Unless through a set-top box feeding a hi-fi system for arm-chair listening, it would seem to have little appeal. It would make better sense to abandon Freeview radio and keep FM - and local AM in some areas. Webradio, especially with higher bit-rates, offers cost-effective broadcasting and immense choice - and will be even more attractive when 3G and 4G flatrates allow for affordable mobile listening.

michael's 869 posts
Monday, 1 October 2012

I am assuming that offcom may well do yet another draft planning of the local multiplexes to take account of the extra frequencies released by the regional multiplex closures. I can see that dab+ may not be adopted in the near future due to the so many original dab radios in circulation argument, however i think reception and audio quality are still big problems, which should be improved and i am fairly pro dab, it would seem to me that if this is the case one thing that could be done is to see if any more frequencies can be realeased by international agreement (which may not be possible) and at the very least the long talked about 2nd commercial multiplex could be launched and maybe some of the bbc national stations could be taken off the 12B multiplex and put on the new multiplex. I have a vague feeling that when channel 4 initially won the bid for this that the BBC Asian network was planning to migrate from the bbc national multiplex to this new one. I wonder if no one is interested in the second multiplex whether the bbc could just be given a second national multiplex. I wonder whether also it would be possible for DAB+ to be launched in a limited way on any new multiplex

Ian Sherwood's 3 posts

@ Ian Sherwood

The BBC could legally bid for the second national multiplex via one of their companies (BBC Enterprises or BBC Worldwide) but the tight licence fee settlement has ruled this out. They have set aside funding for a further 174 transmitters for their existing national mux, and around £10 million for their one third share of the rollout of the local multiplexes to 90% coverage. Anything else would have to wait until 2017.

The Regional Radiocommunications Conference allocated the VHF Band III frequencies across Europe. The UK doesn't need any more allocations for national DAB multiplexes in Band III, as nobody has the funds to pay for the transmitters. A switch to DAB+ in the UK would mean that up to 20 stations could fit on each of Digital 1 & Digital 2, and that's enough national capacity for a country like the UK.

As for the regional spectrum freed up I don't think this will result in a major replanning exercise due to the costs involved.

I think some of the uses are fairly obvious: the Severn Estuary mux frequency can be used to provide near universal coverage on the SE Wales multiplex, which is only half full. This also improves reception for Swindon & East Devon, because they are no longer co-block with SE Wales.

The West Midlands frequency can be used for Leicestershire, which improves reception on that mux, Wolverhampton & Norfolk (because they are no longer co-block with Leicester).

The closure of the Yorkshire mux improves reception in central Lancashire, while the closure of the NW mux improves reception in Nottingham.

Cumbria & Teeside are currently co-block, so reallocating the NE frequency improves reception on both.



Mark's 181 posts

For the foreseeable future, the bottom line remains the ratio between cost and listener statistics. The plan to entice listeners from FM to DAB is patently failing. "Too many" are too content with FM to wish to invest in an equal number of DAB radios. Internet music downloads are more popular than DAB music, especially with younger generations. I imagine that the legalities will be revised if this would move the good ship DAB forward. Too many conflicting uncertainties!

michael's 869 posts
Tuesday, 2 October 2012

The West Midlands frequency can be used for Leicestershire, which improves reception on that mux, Wolverhampton & Norfolk (because they are no longer co-block with Leicester).

The one problem with this is Leicestershire is East Midlands not West so the local news would not be local.

Ian's 497 posts

"The one problem with this is Leicestershire is East Midlands not West so the local news would not be local."

Piffling minutiae. Ofcom knows best...
Genuflect!

michael's 869 posts
Select more comments
Your comment please