Four regional DAB multiplexes to close in 2013 to allow for better local DAB

Brian Butterworth published on UK Free TV
The government's radio switchover strategy incorporates a plan to match the DAB coverage of local radio stations (both BBC and commercial - see Ofcom - Annex B. Local DAB build-out plans) with that currently provided on FM (see Ofcom - Maps).

To do this, the regional multiplexes will be closed and their frequencies used to do a large-scale replanning, incorporating a new one called 5A.




MXR will close the following multiplexes:


When complete, the new plan looks like: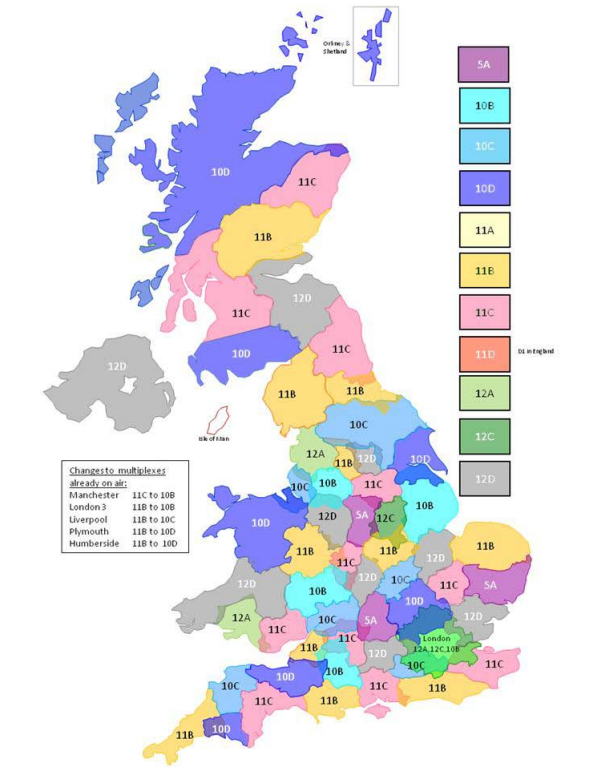 Diagram from
Ofcom - An approach to DAB coverage planning
.
Originally published on 26th September 2012 at 16:24
Comments
Friday, 30 August 2013

Mark, I'm getting a weak, intermittent DAB signal which my Pure One Classic radio seems just able to cope with satisfactorily, but my older Roberts Gemini 12 radio is only picking up national stations. So to listen to Heart, Smooth, BBC Radio WM etc. it looks like going back to FM for me. Had good DAB signal for all of them, before Tuesday. So much for the DAB "improvements"!

Brian's 3 posts

Can anyone help me. When the multiplex used by Capital, Heart, Choice FM etc was turned off a few days ago were these stations moved to another multiplex? And if so, does anybody know which one? 11C, 11D etc?

Now it's been turned off I can't find them at all.

Mark's 1 post

Mark: Choice FM has been removed from DAB in the West Midlands.

Capital & Heart have transferred to the local multiplexes: Birmingham 11C, Wolverhampton 11B, Coventry 12D.

Brian: BBC Radio WM hasn't moved at all (it was always on the local muxes) so I'm not sure why it would have disappeared from your radio since Tuesday.




Mark's 181 posts
Saturday, 31 August 2013

Mark,
Having re-read the instructions for my radio(always helps!) and having done a"System Reset" I can now receive the local radio stations again. However, the signal is weak and I have to extend the aerial fully and move around until I get reasonable reception. This is obviously not conducive to continue using DAB, when I can get a good FM signal leaving the radio where it was before, with a short aerial and no messing about.
Such is progress!

Brian's 3 posts
Tuesday, 3 September 2013

Has the NOW Digital Coventry multiplex moved to 12A? Could anybody tell me? It still says on Wohnort it's on 12D - DAB Ensembles WorldWide | UK Local
Before I had a 3.3m length of coax from the aerial to a F plug cable join (no amplifier) then into a 10m length into my Hi-Fi.
After changing the cables by putting a shorter length of coax from the aerial (1.7m) then going into an amplifier and a 15m length of coax into my Hi-Fi, I did a re-scan of the stations and it found the likes of Touch Radio and BBC Coventry & Warwickshire on 12A.
Could this have been down to High pressure enabling me to receive this?
While listening to it, the signal went after a while and now can't receive anything on 12A at all.
It's transmitters are at Meriden, Leamington Spa & Samuel Vale House (all 0.5kW) and Barwell Water Tower (0.2kW)
I changed the display to show the frequency and it was showing 223.936 MHz. It couldn't be on 12D as I'm already getting Stoke & Stafford there on 229.072 MHz and I can't receive two different multiplexes on the same block.
So thought I might have been gaining an extra multiplex but looks like not now. I did think my improvements may have helped the Central Lancashire multiplex be received better which is also on 12A so perhaps I really am just too far away to have ever had a decent signal from there, whether there's High Pressure interference from Coventry or not. (LL115FQ)

Stuart Owens's 156 posts

Stuart Owens: Ofcom | Tech Parameters still shows Coventry being on 12D.

According to Radio Today | Regional DAB turned off in West Midlands "The Bromsgrove transmitter frequency block will transfer over to MuxCo Herefordshire and Worcestershire from September 2013."

Briantist's 38,908 posts
Stuart Owens
5:23 PM
Wrexham

Brian, So how was I receiving Coventry on 12A from Wrexham then earlier?

Stuart Owens's 156 posts
Stuart's:
map
S's Freeview map
terrain
S's terrain plot
waves
S's frequency data
S's Freeview Detailed Coverage

Stuart Owens: I'm not sure. All the plans say that Coventry & Warwickshire is staying on 12D.

12A is listed for Lancashire, London (Switch) and Swansea.

The "MOU" says only Manchester, Liverpool, Humberside, Plymouth, Ayr, Inverness, Leicestershire and Peterborough get "frequency changes"

Briantist's 38,908 posts
Friday, 27 September 2013
Stuart Owens
12:18 AM
Wrexham

Well I thought 2 nights ago that Liverpool and Manchester were moving to new blocks to prevent co-channel with two local West Midlands multiplexes after the North West multiplex closed but looks like that wasn't the case.
Anyone any idea when they are moving to new blocks now?
Sad about losing Gold and Real XS. Was looking forward to tuning in the Wolverhampton multiplex and trying to see if I can get the Birmingham multiplex also after Liverpool and Manchester move.

Stuart Owens's 156 posts
Stuart's:
map
S's Freeview map
terrain
S's terrain plot
waves
S's frequency data
S's Freeview Detailed Coverage

When will get them back on in Lancashire?

Paul Fulwood's 1 post
Select more comments
Your comment please