Local TV award to Bay TV Liverpool

Brian Butterworth published on UK Free TV
Today, Ofcom announced the licensing of another local television for Freeview.

The service for Freeview channel 8 in Liverpool will be Bay TV Liverpool.

The channel will broadcast from Winter Hill and Storeton transmitters, and give the coverage shown here: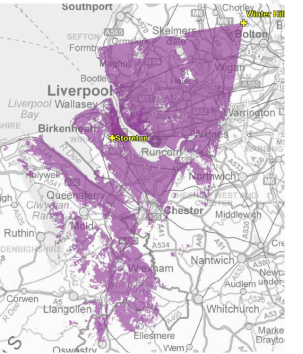 Only Preston, Sheffield and Nottingham are still awaiting Ofcom's decision.
Comments
Thursday, 21 February 2013

does that mean i will be able to pick up the new liverpool bay channel in mold north wales

steve's 1 post
steve's:
map
S's Freeview map
terrain
S's terrain plot
waves
S's frequency data
S's Freeview Detailed Coverage
Saturday, 23 February 2013

steve: Not according to the coverage map.

Briantist's 38,901 posts
Monday, 25 February 2013
N
Nicholas Willmott
3:35 PM

I guess that coverage map is only a prediction. The best bet is to wait until the channel launches and rescan your Freeview receiver to see if you can get it. It may not be quite that simple, you may need to get an aerial rigger in to do a signal test to see if you can get the extra mux from Winter Hill, and if it's strong enough maybe fit a new aerial.

Nicholas Willmott's 80 posts

More detailed coverage map at http://cdn.recombu.com/di….png

I too will miss out on Freeview, but might they all be available via Sky/Freesat? I had assumed Sky would offer one postcode defined local, but this suggests otherwise: Ofcom: Sky's Local TV proposals, Virgin Media and Freesat respond: Updated - Recombu

I wonder what the OFCOM arrangements are for when the local TV 'licences to lose money' default on their carriage payments and end unsustainable local programming, as they all will. (With the possible exception of London).

I expect they will be allowed to become a nightmarish mixture of sub-BidTV shopping and televangelists. In the name of market forces.

woodface's 39 posts
Wednesday, 27 February 2013

I hope these people are taking on the TV channel for the right reasons and deliver what they promise 'peoples tv'...

and don't hand it over to capitalist business people who want it for personal gain...

John Moore's 1 post
Thursday, 28 February 2013
R
Roger Martlew
11:08 AM
Ormskirk

Does anyone know whether this channel will be available by satellite?

It is difficult to tell from the map whether we will be able to receive it. In all probability we are just a few hundred metres north of the petal's line.

Roger Martlew's 16 posts
Roger's:
map
R's Freeview map
terrain
R's terrain plot
waves
R's frequency data
R's Freeview Detailed Coverage
Sunday, 10 March 2013

If they were to put it out on Moel-y-parc and The Wrekin as well they'd leave virtually no gap unfilled

Brian's 6 posts
Your comment please