Which "at800" mobile masts might stop my Freeview working?

Brian Butterworth published on UK Free TV
There are two new features on UK Free TV from today which integrate information from the Ofcom 'Sitefinder' Mobile Phone Base Station Database.

The first is a map of all the locations in the UK which are within 1.5km of a mobile phone mast, and are the areas where "at800" interference may occur. If you're not marked in red on this map, you are more-or-less guaranteed to be free from problems with Freeview and 4G broadband.

The Freeview interference from 800Mhz 4G 2013 map also shows the Freeview transmitters that are going to retune in the coming months (to clear C61 and C62 for 4G).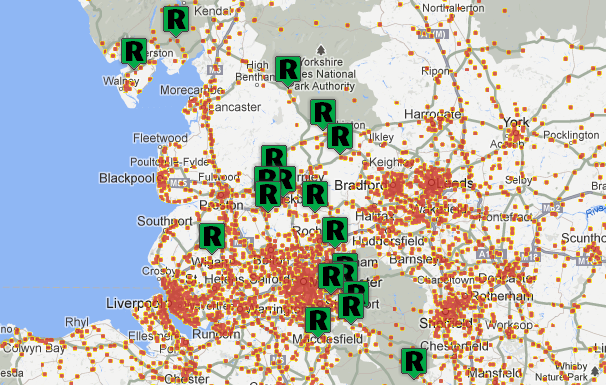 The next feature, which has been integrated into the existing UK Free TV prediction and mapping system – see My Freeview - shows the nearest ten mobile phone masts in addition to the existing Freeview (and Saorview) transmitters and their coverage areas.

Here is an example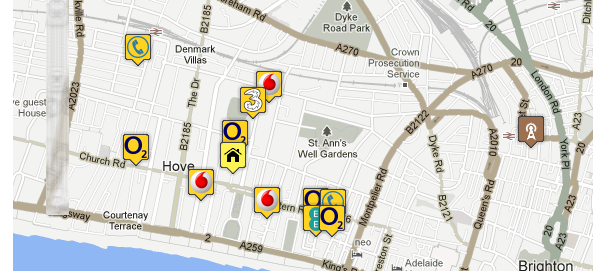 The new yellow icons, which you will need to zoom into the map (using the mouse wheel or the zoom control on the map) to see, show the logos for EE ("Everything, Everywhere"), 3, Vodafone and O2.

Where a site has equipment from more than one operator, a phone icon is shown. There is also an icon for "NetworkRail" who own the masts on their land.

The masts chosen are limited to existing "900MHz" sites for Vodafone and O2, plus all sites for 3, and the "1800MHz" sites for EE.

At the moment, this is the "best guess" of locations for 4G "at800" base-stations.

There is no way of knowing at this time when the different network operators are planning to introduce 4G "at800" services, and they are only committed to providing eight weeks notice of the start date.
Comments
Friday, 13 January 2017

Sasa:

Your relative should check that they are tuned to the Emley Moor transmitter. That uses channel 47, 44, 41, 51, 52, 48, 32 and 34. If they find the TV is tuned to other channels then they are on the wrong transmitter and will experience problems, so will need to retune manually.

ITV3 from Emley Moor is in the multiplex on channel 51 along with several other services, see Which Freeview channels does the Emley Moor transmitter broadcast? for details. If they are getting these other services OK then there could be a fault with their TV set.



MikeP's 3,056 posts
Select more comments
Your comment please