How many Freeview, Freesat, Sky and cable homes are there in the UK?

Brian Butterworth published on UK Free TV
Ofcom have published today the latest Ofcom - Digital Television Update - 2012 Q4 that we have been following for the last decade here on UK Free TV.

As this is the first quarterly survey to be published after the Digital Switchover programme is completed, it is worth looking at the current scorecard.

I have reproduced the most interesting numbers in this Venn diagram.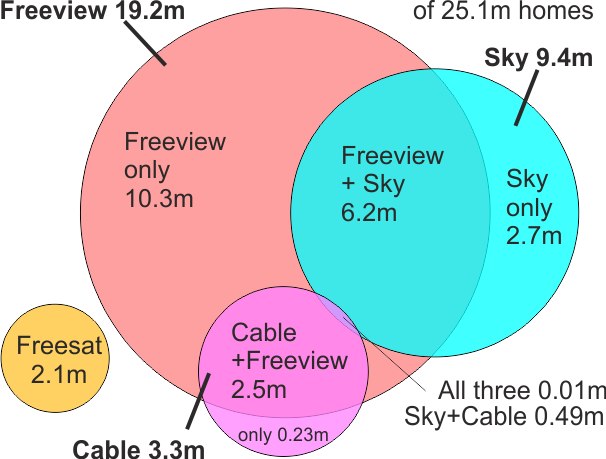 We can see that there are 19.2 million homes with Freeview, 6.2m of which also have Sky and 2.5m of which have cable.

The number of homes with just pay services is small - only 230,000 homes have just cable, and 2.7 million homes have just Sky. Having just Freeview, however is 45 times more than just cable, and four times more popular than having just Sky alone.

And finally - there are only half a million more Sky-only homes than Freesat ones.
Comments
Sunday, 4 September 2016

Why do so many people have Sky, but don't watch it? Viewing figures for Sky are very small compared to BBC1 & ITV 1

Michael's 1 post
Monday, 5 September 2016

Michael: Your not the only one who wonders about this!

Sky is in about 25% of homes, but Sky 1 gets a fraction of BBC1 viewers. Of course, when you look at Sky 1's schedule for last night, there were endless repeats - apart from 8-11pm, everything was a repeat, and I'm not sure about the stuff they showed during those three hours (The Last Ship, Zoo, Ross Kemp). Still, its their money.

MikeB's 2,579 posts

Michael and MikeB:

May I suggest that the viewing figures given for Sky are those for the channels originated by Sky themselves and does not include those for the BBC, ITV, Ch4 and Ch5 services or others not originating from Sky themselves. That suggests that the 'original' output from Sky attracts a much lower audience than does the BBC, ITV, etc.

Also, you should not confuse having a dish fitted does not mean that everyone has Sky services as the same dish is used for Freesat.



MikeP's 3,056 posts

MikeP: Thats the situation I was referring to - I dont expect the figures of Sky 1 to be as high as BBC1 overall (because 3/4 of us cannot get it), but I am surprised just how low it is, considering that the platform is in 20-25% of peoples homes and it offers content not available elsewhere.

The latest BARB figures (BTW - Bakeoff beat everything else by a factor of two - wow!) has BBC1 weekly reach of about 74%. Sky 1 has a 13.6% reach. Since 100% of people can get BBC1, multiply Sky's percentage of homes (25%) by 4 to equal BBC's reach, and your at 54.4%. Weekly viewing summary | BARB

If you use its % overall (.8% ?) and multiply that by 4, then its less than 4%. Channel 5 does better than that. Perhaps the news stuff isn't out yet.

MikeB's 2,579 posts
Select more comments
Your comment please