Want to compare channels on all free TV services easily?

Brian Butterworth published on UK Free TV
If you visit the Compare overview page you can see an at-at-glance guide that shows the TV channels that are first on all systems and then working down towards channels that are exclusive to one system.

The services covered are:


The page looks like this: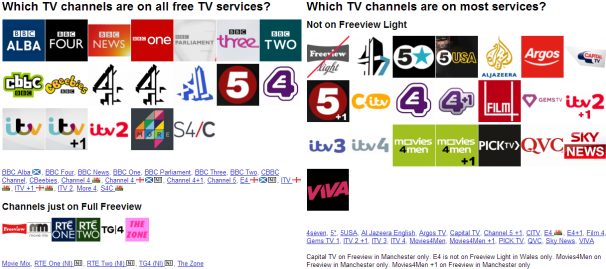 You can click on the channel logos, or on the channel names to find out more about the channel.
If you want to compare the channels on two of the systems against each other, you can see these at
Detailed comparison
.
Comments
Saturday, 4 May 2013

I've also updated the Radio Compare page - Compare overview | ukfree.tv - 10 years of independent, free digital TV advice .

Briantist's 38,899 posts
Tuesday, 14 May 2013
K
Kay Ashton
6:11 AM
Bedford

Evenings of Sunday 12 and Monday 13 May - no BBC FREEVIEW channels on any of our 3 TVs and DVD/VCR recorder between 6pm (earlist TV turned on) and 8pm. Also, ITV3 and some other digital channels. ITV OK until about 8pm on 13 May (did not try on 12th)then severely pixelated. This not the first time this has happened. Ariel professionally installed in roof space. One neighbour known to have CB radio. Checked with neighbours but all the neighbours we know have Sky so not affected. Can you assist, please?

Kay Ashton's 1 post
Kay's:
map
K's Freeview map
terrain
K's terrain plot
waves
K's frequency data
K's Freeview Detailed Coverage
Friday, 5 July 2013

Hi
I'm presently using a Sky disc without a card after many years with BT Vision and infinity where it never worked properly.
Lat night I had to extend the sky cables due a new position of the TV.During the refix I noteiced the TV came back on wit hjust one coax connected ? So why is there two ? Then I also noticed the sky box has a ordinary aerial inlet port. Can you put telestrial TV freeview into the Sky box to feed the TV ?
You may be sasying why bother but the freeview on the Sky box dose not have many channnels as the freeview Iust to have on the BT whne I switched off Vision ?
HJope you can help me out on this one

In anticipation many thanks


Ray

Ray Clarke's 1 post

Ray Clarke: Satellite receivers, including Sky, require a separate feed from the dish for each channel that is being received. So a recorder allows one channel to be watched on the TV whilst recording another. This is the reason for there being two feeds from the dish. As you don't have a Sky subscription the recording part of the box is disabled and therefore there is actually no need to have two feeds from the dish.

The purpose of the terrestrial aerial in on the Sky box is so as to loop the aerial through the Sky box in order to allow it to place an analogue signal onto it so that it may be viewed in a different room. If you are viewing the Sky box only in the room which it resides then connect the TV to it using a scart lead (or HDMI if both devices have it) and don't connect the aerial lead via the Sky box.

The Sky box does not have anything to do with Freeview. The only reason for feeding the terrestrial aerial into a Sky box is as outlined above.

Dave Lindsay's 5,724 posts
Your comment please