Want a clearer search or information about missing Freeview light channels?

Brian Butterworth published on UK Free TV
I have provided several bug fixes and site improvements this week.

There are several "background" fixes the deal with links to the DAB and FM radio pages, and also other comment links.

The search results page now has a "wider" layout: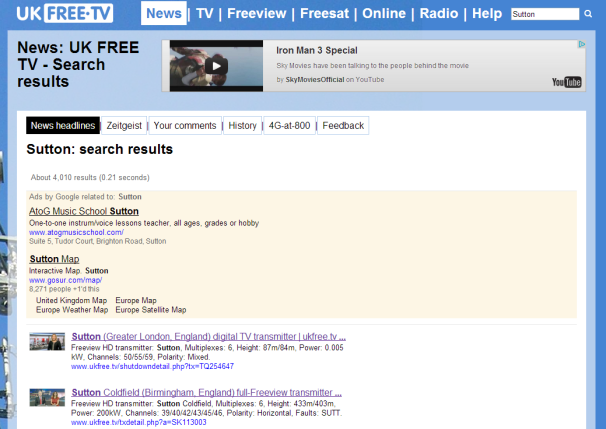 All the pages for the Freeview Light (or public service broadcasting) transmitters now have an explanatory box:



Comments
Wednesday, 19 June 2013

mazbar: Whilst you are correct, Mike Shaw lives on the Welsh side of the transmitter and therefore not able to receive the COMs from it, even if he wanted.

The Storeton transmitter relays the PSB channels from Moel-y-Parc. It broadcasts them directionally, towards Wales, using horizontal polarisation so as to match that of Winter Hill. It also broadcasts the PSB and COM channels as a relay of Winter Hill, these being vertically polarised and radiated in the opposite direction to the Welsh PSBs. For that reason Mike Shaw will not be able to receive them and will probably have to use Winter Hill for them.

Dave Lindsay's 5,724 posts

mike shaw: From your location, Storeton is on a bearing of 19 degrees and Winter Hill 38 degrees. Hence your objective is to have your aerial pointing somewhere between the two, which allows you to receive from both transmitting stations, if this is possible. For this reason aerials of different houses may be pointing in ever so slightly different directions.

Dave Lindsay's 5,724 posts
Monday, 1 July 2013

Suddenly today have no access to Itv channel 4,ch5 amongst others, what's gone wrong? Receive from Cambs and Beds and live just outside Stamford.

Caz's 1 post
Select more comments
Your comment please