The end of the HTV legacy? ITV licence to move HTV West to West Country East

Brian Butterworth published on UK Free TV
Not that it will make much difference for viewers, but from 2015 the historic join between Wales and the Bristol area (served historically by HTV West) will be fixed.

Although ITV has for some years joined the service from Bristol with the service for the South West of England under the "West Country" banner, this has been out of step with the licences.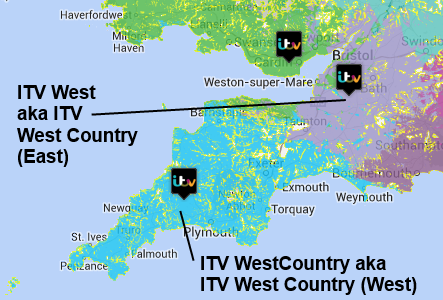 Of course, the plan was to have to seperate licences - one was originally designed to serve IBA transmissions around the Bristol Channel: Bristol and Bath on the English side and another for the West and North of Wales.

However, Teledu Cymru was famously the only IBA company to fail during the "licence to print money" period (see Wales West and North Television) and it was taken over by TWW (Television Wales ad West in 1964) not even 18 months after going on air.

The joined area was then won by HTV, after TWW pulled itself off air in March 1968. See Independent Television Service for Wales and the West - Wikipedia, the free encyclopedia for more.
Comments
Saturday, 31 May 2014

Mark: no offense but wow. a whole 4 minute bulletin before we rejoin bristol. If we Cornish want PROPER local news, we go to the BBC. there is no localness for the Cornish anymore.

(and don't get me started on Local TV...).

tim's 7 posts
Sunday, 1 June 2014

tim: At 6pm there are separate 20 minute bulletins for the West & the South West - the final 10 minutes between 6.20-6.30 is shared.

The two 20 minute bulletins have the same presenters - one of them is recorded between 5-6pm, the other is broadcast live.

This new arrangement came in recently as part of the new ITV franchise settlement.

Mark's 181 posts
Monday, 19 January 2015
T
tomxx10@gmail.com
9:41 AM

I need to talk to someone about a copywrite issue,please.

tomxx10@gmail.com's 1 post
M
Mark Wood
6:54 PM
Stoke-on-trent

tomxx10@gmail.com: Then I would suggest that you contact the broadcaster that you have a copyright issue with - this is an independent website set-up by members of the public to offer help and advice to those who are have technical / reception problems with Freeview / Freesat / Satellite TV / Digital Radio etc.

Mark Wood's 62 posts
Mark's:
map
M's Freeview map
terrain
M's terrain plot
waves
M's frequency data
M's Freeview Detailed Coverage
Select more comments
Your comment please